When Mike and I were planning on what to do for our second wedding anniversary, we both agreed on one thing: with a baby on the way, we can't blow all of our money on a grand celebration. It was looking like we were going to just have a nice dinner somewhere (Read about our dinner at Galileo Enoteca Deli). Then, I remembered that a few months back, I received an invitation from Belmont Hotel Manila for an overnight stay and dinner! It was the perfect time to say 'yes!' to that invitation! It was also the perfect time to have a staycation, not only because it was our anniversary, but it was our chance — probably our last chance! — to relax before the baby comes, which could be anytime soon. Think of it as our second babymoon!
Location
Belmont Hotel is located within the Newport City in Resorts World Manila. It's right across the Marriott Grand Ballroom and just a few meters away from the Newport Mall. It's also within walking distance from the Ninoy Aquino International Airport (NAIA). The hotel actually has a designated runway that hotel guests can use to easily access the airport.
Guests may use the complimentary shuttle services of Resorts World Manila if they wish to go around the complex and to and from the airport. The shuttle arrives hourly and is available 24 hours a day.
Main Lobby
It was the ASEAN weekend when we stayed at Belmont Hotel, so it came to no surprise that the hotel was fully booked. With all the guests checking in and out that day, the lobby looked like a crowded music festival! I thought to myself, "Uh oh, this is going to be a long wait!" But to my delight, when I approached the front desk and spoke to Abby, the Guest Services Officer in charge, it turned out that I didn't actually need to wait very long. She smiled and said, "Mrs. Smith! I was actually expecting you. Your room is ready. I can assist you going there now." Well, that was a pleasant first impression!
Hotel Room
Our Superior Room was small but modern and tasteful. It was cozy and just right for the two of us (make that the three of us!). Space was really not an issue, since comfort, functionality, and cleanliness were more important for us, and Belmont Hotel's room hit all those marks. It provided us with everything we needed: a snug bed for a restful sleep, plus amenities like bottled water (which were replenished twice during our first day), a nice robe and a pair of slippers, and most importantly, free Wi-Fi, which was amazingly fast! It was so fast, in fact, that when I went out of the hotel and into the nearby Starbucks, I could still access the internet from there!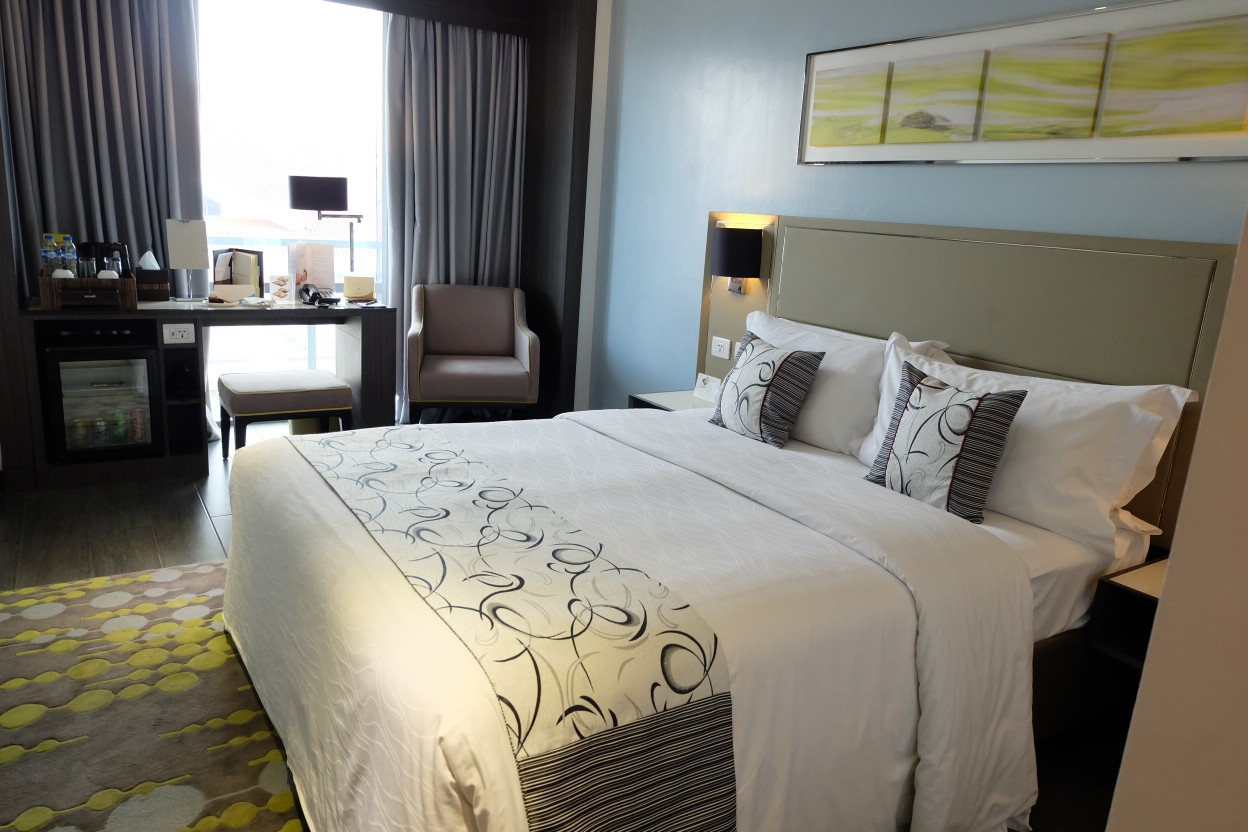 Bathroom
Our room was compact, so obviously, our bathroom was small as well. I excitedly packed my Green Tea bath salts because I was so looking forward to having a bubble bath in the hotel, but my bubble was burst when I saw that the bathroom didn't have a tub! It's okay, though, because the hot shower that we had here was so nice and refreshing! Also, the toiletries and bath amenities were complete, so we didn't really need to worry about anything.
For the naughty ones who want to put on a 'shower show,' you can just pull the blinds up from inside the bathroom, and voila! Instant show! Haha!
Function Rooms
I was given a quick tour of the hotel's facilities, and our first stop was the function rooms. The maximum capacity of their function rooms is 80 persons, so it's an ideal venue for small business meetings or conferences.
Gym and Sauna Room
If you have time to squeeze in a workout, you can head over to the gym. Like the rooms, the gym is also not very big, but if all you need is a treadmill to do cardio or some weights to keep you toned and beefy, it will do! Despite the hotel being fully booked, the gym was not crowded at all.
After a good workout, you can also loosen up those tired muscles (and open up those pores!) in the sauna room. It could probably fit around three persons.
Swimming Pool
If anything caught my eye while looking at Belmont Hotel's photos, it was the swimming pool. Actually, even way before I even knew I was going to stay at Belmont Hotel, I remember seeing photos of the pool in some random person's Instagram account and thinking, "That looks like a pretty pool!"
Unfortunately, I didn't get a chance to take a dip. I actually went up the pool area thrice. The first time I went, we had just arrived at the hotel so I didn't feel like swimming yet. The second time, Mike wasn't feeling well and had to sleep, and I didn't want to swim without him. Also, there were so many people! The third time, it was way too hot and there were even more people than the previous time I went. It just wasn't meant to be, I guess.  I'll just have to be content with seeing it during sunset, when it was at its prettiest.
There's a pool bar in case you get thirsty or if you just want a quick beverage break.
Dinner at Cafe Belmont
Belmont Hotel also arranged for a special dinner for me and Mike at Cafe Belmont. Every Friday and Saturday for the whole month of November, guests can indulge in a French Feast buffet at the restaurant. Since we went on a Sunday, we had a la carte dinner. We went to Cafe Belmont not knowing what to expect, and was just told that the chef, Chef Renee Acol, will be whipping up some of the restaurant's best-selling dishes for us! This anniversary celebration was feeling more and more special!
I felt like a celebrity the moment we stepped inside the restaurant! All the staff knew my name and were addressing me as "Mrs. Smith" even if I didn't introduce myself to them. Every now and then, one of them would come up to our table to ask how we were doing or offer us something, such as a glass of water or more breads.
These are what they served us for our delicious 5-course meal:
Belmont Iced Tea – cranberry, guava juice, and tea base
Mixed Green Salad – lettuce with chicken, tomatoes, and green olives, with three kinds of dressings: mango, balsamic vinegar, and strawberry.
I actually had fun eating this salad because of the variety in dressings! Healthy and yummy!
Green Pea and Broccoli Soup – Summer vegetables soup of France incorporated with pesto and mixed with Gruyere and Parmesan cheese
Believe it or not, out of all the dishes that were served that night, this was Mike's favorite. It was rich, creamy, and tasted really fresh. Since he was sick, eating this made him feel a little bit better.
Baked Herb Chicken – Baked chicken, marinated in rosemary, orange, and garlic sauce. Served with steamed rice or baked herb potato.
I was already getting full by this time, but I couldn't say no to the Baked Herb Chicken. The chicken was very tender and the sauces and spices made it even more palatable. The baked potato and vegetables were also an appetizing addition to the meat. It wouldn't hurt to add more sauce though!
Seared Salmon Fillet – Green tea and sesame seed coated Norwegian salmon fillet in beurre blanc sauce served with poached haricot, carrots, and steamed rice.
This soft slab of salmon was a real decadence for us! The chef seared this seafood wonderfully by giving it a smoky flavor while keeping it juicy.
Strawberry Kahlua Tiramisu – Layered espresso lady fingers and mascarpone cheese, flavoured with Kahlua and strawberry compote, topped with chocolate dust.
Cheese, strawberry, mango, cocoa, espresso, and Kahlua — the melange of flavors in this Italian dessert makes this a sumptuous indulgence! Oh, and it's so fluffy! And big! I couldn't finish mine in one sitting, so I had to bring it up to my room and eat the rest the next day.
We also had a complimentary buffet breakfast at the Cafe Belmont the next day. The selections aren't as vast as those in other bigger hotels. The viands were pretty basic, but were enough to keep you full and satisfied… and sleepy. We woke up really early to have breakfast, and went back to sleep right after breakfast because we were so stuffed!
Since the hotel was full, the management decided to open the restaurant an hour earlier for breakfast that day. Good call! It didn't feel jam-packed at all, and the food was always replenished.
Service
Like I said, I felt like a celebrity during our stay, and not just because of the staff at Cafe Belmont, but because of all the other staff at Cafe Belmont. Once, I was walking down the corridor and asked a random bellman for directions, and he said, "Mrs. Smith, right?" Even a random bellman knew my name! While having breakfast the next day, the Restaurant Manager even came up to us to personally introduce himself. And when we went back to our room from our dinner, we saw that our room was spick-and-span and the Housekeeping guy left two polvorons for us, telling us that it was "just a little good night treat." When I made a reservation, I also told them that I'm pregnant, and they were kind enough to assign me a room that was close to the elevator so I didn't have to walk too far from it. Their gestures were simple but sweet, and they all made Mike and I feel important.
A Happy Anniversary Celebration
We are extremely grateful to Belmont Hotel for treating us to a restful and warm staycation. It was just what we needed at this point in our lives!
I would recommend this hotel for those who want a quick and simple getaway. The room rates and food prices are very affordable, so if you're just looking for a change of environment, a night or two at the Belmont Hotel might just be what you need. It's also very ideal for those who are catching a late or early flight, since it's very close to the airport. No need to stress out about missing a flight or coming home too early or too late from one!
Special thanks to Ms. Anna Talavera for assisting me for this stay!
Belmont Hotel Manila
Address: Newport Boulevard, Newport City, Pasay City, 1309, Philippines
Phone Number: +632 318-8888 / 903-1999
Website: https://www.belmonthotelmanila.com
Email: info.manila@thebelmonthotels.com
E-mail for room inquiries: reservations.manila@thebelmonthotels.com
E-mail for restaurant reservations: fnb.reservations@thebelmonthotels.com