Look up "The Rock Bar Bali" online and you'll get all these search results that say "It's the coolest bar in Bali! or "A trip to Bali is not complete without a trip to the Rock Bar!" True enough, when I announced on Facebook that Mike and I have chosen Bali as our honeymoon destination, one of my friends emphasized, "Make sure you go to the Rock Bar. It's really beautiful there, sister!" she said with great conviction. Since almost everyone was going into raptures about this supposedly spectacular (or perhaps even "the most spectacular") bar in all of Bali, I made it a point to check out this hot spot.
The Rock Bar is located within the Ayana Resort (formerly The Ritz-Carlton, Bali), a world-class destination resort located on a cliff-top land above Jimbaran Bay. This award-winning luxury resort boasts of 290 hotel rooms, 78 pool villas, and an exclusive beach. While I would have wanted to stay here, it was way beyond our budget and so we settled for a visit to the Rock Bar instead.
If there is one thing that the Rock Bar is famous for, it's the sunset. It is known as one of the best places to catch the glorious sunset in Bali, and this is what tourists queue up under the sweltering sun for. The Rock Bar opens at 4:00 PM but guests start lining up as early as 3:30 in the afternoon. We got there at 3:00 and the attendants at the Rock Bar told us to come back a little later so we just walked around and explored this opulent and monumental complex to kill time.
Ayana Resort has 11 swimming pools. Eleven! What are you going to do with 11 swimming pools?! We got to see some of these pools when we wandered around, and I have to say, all of them were beautiful and five-star, even the children's pool!
The Ayana Resort is located in a very secluded area so it's best for people who just plan on relaxing and staying in the hotel instead of venturing out of it. The abundance of pools in this resort should keep guests happily occupied.
We moved on to tour the rest of the resort.
No doubt, the Ayana Resort is monumental! If luxuriousness is what you're after, you'll be pleased to know that the extravagance of this place is unmistakable. However, there are also A LOT of people. Guests from the Ayana Resort and its nearby sister hotel, Rimba, are all over the place. The swimming pools are occupied by both adults and children (funny how there are kids in the adults' pool and there are adults in the children's pool!). And then there are tourists like me who are not staying at the hotel and are just settling for a glimpse of this glamorous hotel instead. After a while, I realized that maybe it was probably a good idea to NOT spend our honeymoon here. It's undeniably grand, no question about that. But I still preferred to spend our honeymoon in a quiet, intimate, and romantic place away from the crowds, one that feels more like home than a tourist attraction.
At around 3:30, we finally started to fall in line to enter the Rock Bar via an inclinator that can take a maximum of 8 persons up and down the cliff. We must have waited a good 30 minutes for our turn to get in the inclinator but because of the sizzling summer sun, it felt like a lifetime! We were literally swimming in our own sweat, and in a matter of minutes, my skin got a little darker and redder and I looked like a baked crab. Good thing we had a bottle of water, at least!
It's really advisable to wear light and breathable clothes when visiting this place. But do note that this posh bar observes a strict dress code: no singlets, board shorts, and alcohol-branded attire. The guy behind us was wearing board shorts (because what else would you be wearing to a beach-side bar, right?) and was asked to change. However, I saw one guy wearing "proper" shorts but with flip flops and he was allowed to go in. So… you can't wear board shorts but you can wear flip flops? What is the hierarchy of "smart casual-ness" at the Rock Bar anyway?
Finally, the inclinator arrived and took us down to the Rock Bar. I was expecting a long, scenic ride but was surprised that it was just about a 30-second trip! "That was it?" I asked. We waited so long for such a short ride! It seemed kind of pointless but it was the only entrance to the Rock Bar. We later on discovered that there was a long flight of stairs at the opposite end of the line for the inclinator, but that could only be used to exit the bar, but not to enter it. A tip: it's really tiring, but take the stairs when exiting the bar after sunset unless you want to wait and fall in line again for the inclinator to take you out of the resort!
In-house guests of the resort not only receive priority access at the inclinator but also enjoy the perks of priority seating at the bar. (Of course!)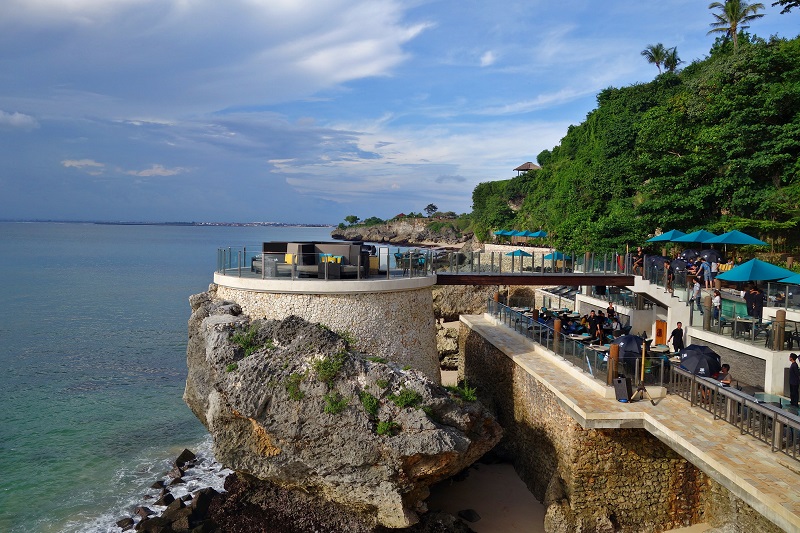 It's easy to see why the Rock Bar is heralded as one of the "must sees" in Bali. Sipping cocktails on a cliff with a view of the Indian Ocean and the magnificent sunset sure sounds like one hell of an experience!
Because of the harsh heat of the sun, all guests are given wet towels to cool themselves. Aside from this, big black umbrellas are also provided so guests can shield themselves from the heat. While that's handy, it's also quite uncomfortable. How can you really relax when you're holding a drink with one hand and an umbrella with the other? Wouldn't it be better to have tables with built-in umbrellas?
Since the best sunset-viewing spots were already reserved for the privileged hotel guests, we settled for this spot instead:
No, we didn't get to lounge on those couches because that would require a minimum spend of IDR 600,000! There was, however, a table for two just right next to the couches and directly in front of the ocean. This was fine with us!
From where we were seated, this was our view:
For some unexplained reason, tripods are not allowed to be set up for photos. However, the staff of the Rock Bar are friendly enough to offer to take photos of the guests. They must be so used to guests frequently asking them to take their photos so they already know the best angles.
Here are some other photos I managed to take:
Beside the Rock Bar is Ayana Resort's Ocean Beach Pool, a sparkling infinity-edged pool hanging on a cliff. This is restricted to the hotel's guests but I was able to sneak in and take one quick photo before one of the staff (politely) escorted me out.
Mike and I ordered 1 beer and 2 cocktails. I only got to take a photo of our second cocktail because we were so parched from the heat that we immediately downed our first cocktail!
With a bar as glamorous as this, we knew that the drinks would cost an arm and a leg. But The Rock Bar makes sure that the sunset is not the only thing guests will rave about, but their drinks as well. We had the Rock Iced Tea in Strawberry Vanilla flavor and the Exotic Delight (A drink made with pineapple, passion fruit, and mango) and both were delicious!
Mind you, we chose some of the "cheaper" drinks on the menu.
Because we had a massage and an in-villa dinner scheduled at 7:00 PM, we needed to leave the Rock Bar already by 6:00 PM. The sun was just beginning to set at that time so this was the closest I got to taking a sunset shot.
I'm sure that if we had stayed a little longer, we would have witnessed the sunset in all its majestic resplendence. But it's okay because whatever we did manage to catch was good enough for us, and anyway, we get plenty of splendid sunsets back in the Philippines too.
And now, the big question: is the Rock Bar really the coolest place in Bali?
I can't answer that because I'd first have to go to ALL the cool places in Bali, right?
So let's rephrase the question: does the Rock Bar really live up to all that hype?
Here's what Mike and I think:
The place is beautiful but as Mike said, "I've seen much nicer beaches and bars in Australia." (Can't argue with that). For me, though I was not wildly blown away by the scenery, I thought it was gorgeous and photogenic and if I ever go back for one thing, it would be for this reason.
We were happy that they have free Wi-Fi in the bar. Great for real-time selfies, Snaps, and check-ins. (Might as well do that if you're paying for the view!)
Cocktails are good but there are less expensive places to enjoy a good drink in Bali. Why pay IDR 100,000 for a Heineken when you can pay IDR 25,000 – 45,000 for it elsewhere?
Drinks and food are overpriced. But at least the staff provide guests with free (although stale) chips in case you don't want to drink on an empty stomach.
Definitely worth going to if you are an in-house guest. If you're not a guest, but if you are extra curious and you have plenty of time in Bali, go for it, at least once in you're life. If you're only spending a few days in Bali, don't bother.
Good service, stupid rules. (Smart casual attire, no backpacks, no tripods… and no explanation for any of these rules? What the heck?!)
NOT worth the 30- to 40-minute queue to get in the bar and definitely not worth the possibility of getting a heat stroke. I'm not saying that I will never ever visit this place again. I don't mind. But I would probably wait to fall in line until the heat is more bearable, which is probably around 5:00 PM or later. Of course, this means that I won't get the most coveted spot for sunset-watching but that's totally okay with me. Who knows, maybe it's just as beautiful (or even more beautiful) at night?
Rock Bar Bali
Address: Ayana Resort, Jalan Karang Mas Sejahtera Jimbaran, Bali, Indonesia 80364
Tel: (62) 361 702 222
Fax: (62) 361 701 555
E-mail: info@ayanaresort.com
Website: www.ayanaresort.com/rockbarbali
Facebook: https://www.facebook.com/RockBarBali/
Instagram: https://www.instagram.com/rockbarbali/
Download the Rock Bar fact sheet here.
♥ ♥ ♥ ♥ ♥ ♥ ♥
For all stories related to our Bali honeymoon trip, visit the link below:
#PuffAndFluffBalimoon