The E! Bloggers Ball, an event by E! Entertainment Television, is the biggest and grandest annual gathering of the country's top social media influencers. To be invited to this prestigious event means that you must be a distinguished blogger and social media superstar, so I was really thrilled (and quite honored) to have been invited. And judging by the cool invite alone, I knew that it was going to be one spectacular bash!
But wait! It gets even more awesome! Play this Instagram video and tell me that getting an invite like this won't get you excited!
The invite literally lights up when you open it, matching the theme of the event, which was 'Come Light Up The Night.' The bloggers who were invited did exactly that: everyone radiated like stars in their resplendent outfits!
I expected this event to be an evening of glitz and glamour, and I was right! Everyone was dressed to the nines, with the ladies working the red carpet in extremely flamboyant and show-stopping ball gowns and the gents all spruced up in their sleek designer suits. One blogger, Rhea Camille Chong, even lit up the night (literally) with her sparkly and illuminated dress… with real fairy lights!
In this event, it's all about looking fine and fashionable. So what does a pregnant lady wear to an event like this? At 26 weeks of pregnancy, a lot of my best formal gowns no longer fit me, but being a practical mom-to-be, I didn't want to buy a new outfit or have one custom-made. Thankfully, I was able to look red carpet-ready thanks to my trusted designers, Weddings By Desiño Dulce, who let me wear one of their pieces specifically for the occasion. I often wear their stunning creations to my event hosting gigs, and their dresses always make me look and feel so elegant! (By the way, top blogger Dani Barretto also wore a Desiño Dulce gown for the event that night!)
I wore a breathtaking red number with elaborate front and back details and a long and graceful train. Even with a baby bump, the dress fit me perfectly! In fact, it even made my baby bump look more lovely! Can I please wear this everyday, even when I'm just doing my grocery shopping? Haha!
As for my hair and makeup, I just did it myself! My gown was impressive enough, so I kept the rest of me simple by pulling my hair back in a classic bun and applying red lipstick.
My accessories were very simple as well. I just wore a pair of small gold earrings and gold Anne Klein bangles (a gift from my former bride Favs), and carried a small nude clutch (a gift from my other former bride, Kat). Oh, and because it's not advisable for pregnant women to wear heels, I was just wearing flats, but you wouldn't be able to see it because of my gown's length.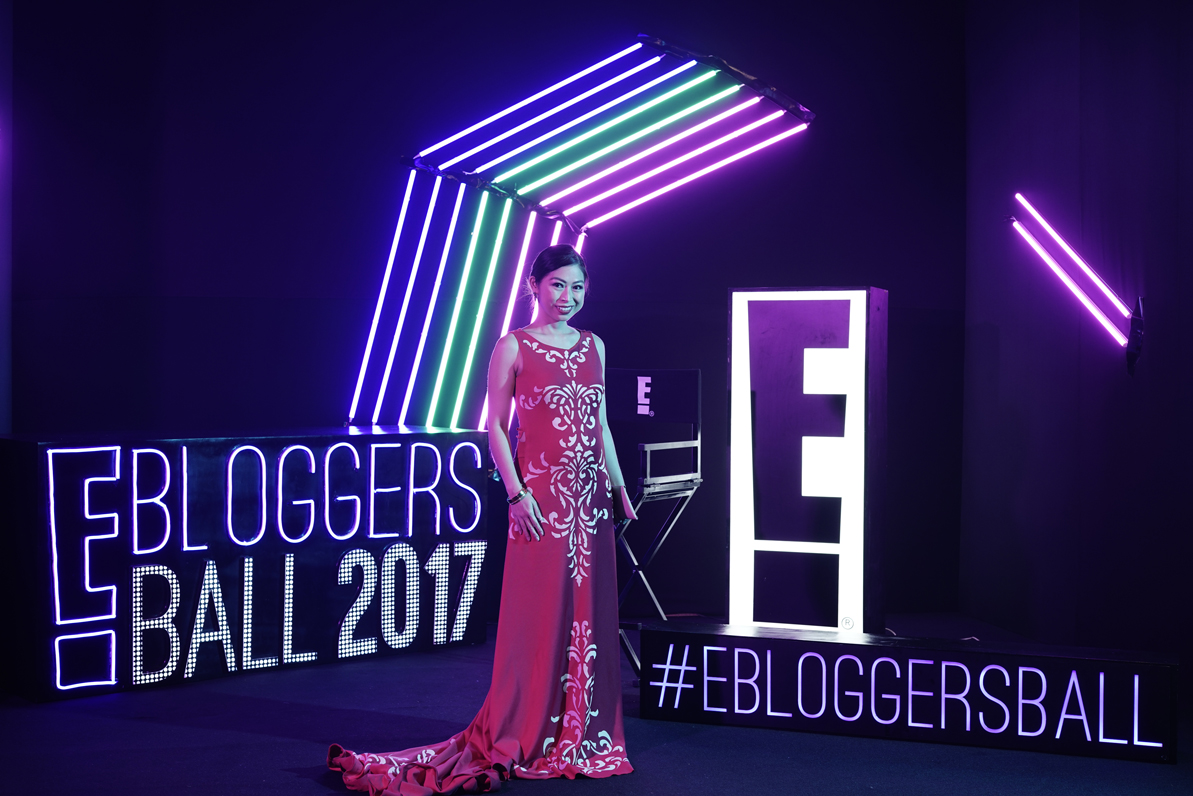 "The idea behind the E! Blogger Ball is to provide a catalyst for our bloggers, vloggers, Youtubers and instagrammers to socialize and have a good time" explained Scott Mackenzie, Vice President, Channels, Asia, NBC Universal International Networks. "We like to think of it as the 'prom' or the 'big dance' for our social media celebrities— a night where they can dress up, let loose and most importantly to celebrate their craft." It sure felt like prom night all over again, with everyone all looking so stylish and letting loose!
My best friend Aspe — who also looked beautiful that night, by the way — was my Plus 1. Having her there made the night more fun!
Our favorite part of the event — aside from the food, of course — was the 360º Selfie! You have to stand on a platform and a camera literally revolves 360º to take a video of you for about 10 seconds or so. It was pretty fun to pose away but also really awkward with all the people around. Haha!
Behind the scenes of the 360º Selfie. See all those people behind us waiting for their turn? It was kind of weird trying to project when all eyes were on us… but we loved it anyway!
While waiting for the program to start, we visited the booths of the event sponsors, such as Incoco, maker of nail polish strips. Made with 100% real nail polish, Incoco Appliqués require no dry time. You simply put the strips on your nail, and you're all done! No mess and no waiting time! Amazing! The designs are so pretty too! I wish I could apply it on my nails but I read that pregnant women are not supposed to be applying nail polish, so Aspe tried it instead.
Bioessence was also one of the sponsors, and they gave away lots of freebies like soaps, an umbrella, a notebook with post-its, and even a voucher for a facial! The girl manning the booth asked us to have our photo behind the booth, so here we are looking like Bioessence receptionists! Hahaha!
Ever Bilena, one of the major sponsors, had a makeover booth… not that anyone there needed a makeover, really, because all the attendees were so dolled up!
We also had some snacks from the snack bar while waiting for dinner to be served. The choices of beverage were really diverse — from San Mig Light beer to Evian, to Haus Blend milk and coffee to Zesto Sunburst tetra pack juices! Let's just say we didn't get thirsty!
They also served Magnum ice cream at the event.
The event was held at the spacious and five-star Grand Ballroom of City of Dreams Manila (my former workplace!).
If there's one thing I absolutely enjoyed most about the event, it's the delicious food! We were served a four-course meal, and each one was so flavorful and beautifully presented!
Appetizer
Tasmanian Salmon Sashimi
Ponzu Jelly, Wasabi, Coriander
Soup
Roasted Butternut Pumpkin & Vanilla Soup
with Crispy Pancetta
Main Course
Slow Braised Angus Beef Cheek
Potato Mousseline, Roast Baby Carrots, Caramelized Shallots and Jus
Dessert
24K Dark Chocolate Dome
Flourless Orange Cake, Kumquat Compote, Grand Marnier Foam
I thought we were still going to be hungry after dinner since it was just a four-course supper, but surprisingly, we got really, really full! Everything we had was so good, especially the Salmon Sashimi and the Angus Beef Cheek.
Since the objective of this event is to recognize the trailblazers of the blogging industry, the highlight of the night was the awarding of bloggers who have made waves in their respective categories. The winners for each category were selected by an esteemed panel of judges comprising of social media icon and TV host Bianca Gonzalez-Intal, Nuffnang Country Manager and Yugatech founder Abe Olandres; Our Awesome Planet founder Anton Diaz; Marketing Director of Ever Bilena; Olive Padilla; and Rex Atienza and Jay Sarmiento of the Stylelist Inc.
THE WINNERS:
Look Who's Trending (Male) – Wil Dasovich
Look Who's Trending (Female) – Jennica Sanchez
Breakthrough Blogger of the Year (Male) – Dee Gee Razon
Breakthrough Blogger of the Year (Female) – Nina Nuguid
Blogger Groupie – The Soshal Network (Vivian Tan, Faye Condez & Camille Buhain)
Blogger Icon of the Year for Travel – The Poor Traveler (Yosh Dimen & Vins Carlos)
Blogger Icon of the Year for Food – The Fat Kid Inside (Erwan Heussaff)
Blogger Icon of the Year for Fashion – Janina Vela
Best Dressed Award of the Night (Female) – Kim Cruz
Best Dressed Award of the Night (Male) – Daniel Marsh 
Congratulations to all the winners!
Thank you, E!, for letting me be a part of this event! As the young ones say nowadays, "It was lit AF!"