"NOOOOOOO!!!"
The dreaded day has come: our last full day in Bali!
If you have read my previous posts about our honeymoon in Bali, you'd know by now how hard Mike and I have fallen in love with this beautiful island. It even came to a point where we were seriously pondering on purchasing our very own villa here. Actually, we still are. So on our final day in paradise, our hearts were breaking, knowing that it was time to go.
On our last full day in Bali, we just took it easy by wandering around Seminyak. We went to Seminyak Beach, Potato Head Beach Club, and had dinner in Sisterfields.
Seminyak Beach
The first thing I thought of when we arrived at Seminyak Beach was: "Are we in the right beach?" Seminyak is Bali's hippest and most happening area, so I was expecting Seminyak Beach to be crowded, especially on a Friday afternoon. Instead, what greeted us was this:
We weren't complaining though! Maybe we were lucky, or maybe we just stumbled upon a less congested part of the beach. Who cares? We were just too pleased that we didn't have to share this lovely beach with a million other people!
If I understand it correctly, if you travel further down to the south of Seminyak Beach, it becomes Legian Beach and then Kuta Beach. We didn't go to Legian Beach and Kuta Beach so I don't know what it's really like there, but from what I've read prior to our trip, Seminyak is the most upscale of the three, Legian is less extravagant than Seminyak but more relaxed and posh than Kuta, and Kuta is… well, let's just say that we've been advised a few times by a few different people to "STAY AWAY FROM KUTA!" Anyway, you could say that Seminyak Beach is a lot like Boracay in the Philippines, which also has its three stations: Station 1 (where the high-end accommodations are located), Station 2 (where the party scene is), and Station 3 (the quietest part of the beach where budget lodging can be found).
Seminyak Beach looks like an ideal beach for surfers. When we went, there were a few people holding surfboards, and some were enjoying the thrill brought about by the strong waves.
Seminyak Beach is the kind of beach I would keep coming back to if I could, even if I don't surf. Maybe I'm getting old, but a "party beach" with loud music, waaay too many people, and waaay too much drinking just isn't my kind of thing anymore. I loved Seminyak Beach because it was peaceful — no big crowds to disturb the ambiance or hawkers to harass us incessantly. It's a beach that I know I could enjoy whether with Mike, my family, or even just by myself.
I also loved how clean the beach was! I did not spot any rubbish floating around the water when we went. Although the waves were a little aggressive, we found Seminyak Beach to be really nice for swimming, especially because the water was clear and the sand was really soft and fine.
The only thing I found strange is that there were no shower rooms or changing rooms here. We asked one of the guards, and he said there was none, so we just sat and dried off before catching a cab back to our villa, where we showered and changed.
Potato Head Beach Club
There's been so much buzz about Potato Head Beach Club, which is said to be one of the coolest and most stylish bars in Seminyak and in Bali as a whole. It was even hailed by Conde Nast Traveller as one of the best vacation spots in the world! So out of curiosity and — as the young people nowadays say — FOMO, we hailed a cab and went to visit this highly acclaimed club.
For me, the highlight of our visit was seeing the architecture of the place.
Upon arriving at the venue, guests will see this elaborate and colorful exterior resembling the Roman Colosseum, made with 18th century window shutters collected from all over Indonesia. This was designed by renowned Indonesian architect Andra Matin.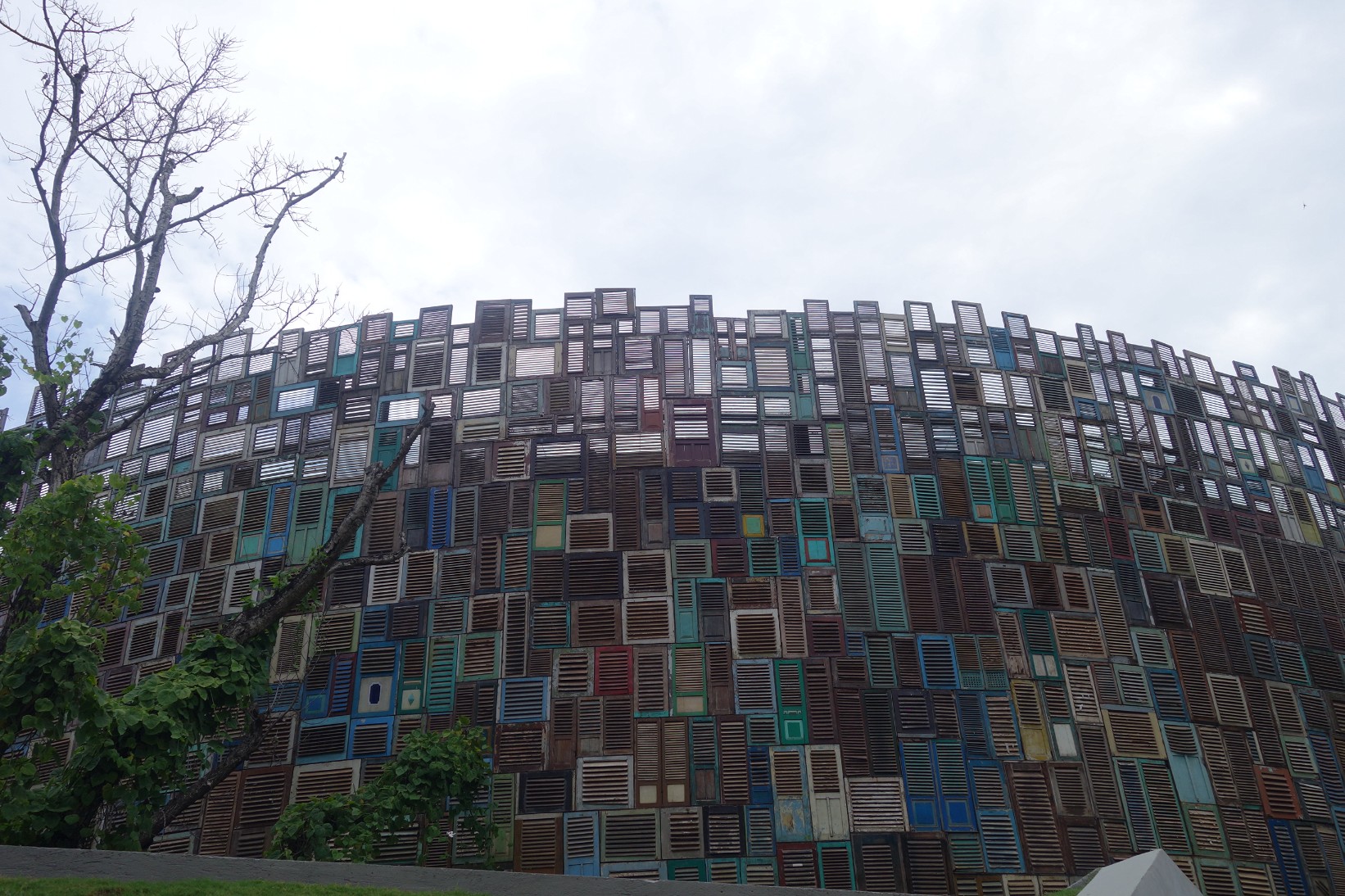 Although Mike wasn't too impressed with the architecture, I was pretty amazed. I thought, "if the outside is this astonishing, I bet it's even more incredible inside!"
Well, here's what's inside…
I thought I stumbled into a taping of an episode of MTV Spring Break.
Flesh. Booze. PDA. Where my party people aaaaat?! Clearly, they're at Potato Head Beach Club!
Party-goers were sprawled on the lawn of the beachfront bar, having some drinks, chatting with their friends, or (in some cases) making out with their partners while listening to the DJ's beats. The vibe here is young, energetic, and hip, and this is definitely where you want to be seen if you dig the party scene.
I can imagine Paris Hilton sipping cocktails in her teensy bikini at PHBC! This looks like the kind of place that the rich kids and A-listers would frequent, with its chic interiors, funky entertainment, and diverse selection of drinks.
Well, Mike and I aren't A-listers and definitely not rich (not yet, at least! Haha!) so we said, "Okay, let's have one drink, then let's leave!"
We paid IDR 65,000 (4.7 USD / PHP 238) for our drinks, which came in small glasses. Because we paid so much for theserinks, we sipped slowly to make them last! I really liked my drink though. It tasted like strawberry smoothie, and I thought that putting it in a bamboo glass was pretty creative. I also liked the frangipani flower, which reminded me that I was still in Bali. Honestly, I almost forgot that I was in Bali while we were in PHBC! I did not see any locals in the bar as it was packed mostly with Caucasians. The whole atmosphere felt more like L.A. than Bali.
Mike's drink was good too, but mine was much better. I actually can't remember now what his drink tasted like!
PHBC also serves food and houses three restaurants. However, we weren't that hungry yet and the food isn't exactly cheap here, so after having our drinks and seeing what all the hype is about, we got our bill and left.
The location and the design of PHBC were great. However, it's not really a place I would go to if I want to relax and savor my time with my partner. It might be a fun place for friends, though, if you don't mind people-watching and paying premium for food and drinks.
Now that I have seen PHBC, I don't really have any desire to go back. For me, once is enough. But if you've never been there before and you want to visit a bar that's considered an institution in Bali, there's no harm in checking it out. Anyway, there is no entrance fee. It's advisable to go there early though because as you saw from the photos, the place gets packed. You may also opt to go there just in time for sunset-watching.
Potato Head Beach Club
Address: Jalan Petitenget No. 51 B, Seminyak, Kuta Utara, Kerobokan Kelod, Kuta Utara, Kabupaten Badung, Bali 83061, Indonesia
Phone: +62 361 4737979
Website: https://www.ptthead.com/
Opening Hours: 10AM – 2PM
Sisterfields Café
When we were finally hungry, Mike and I walked to a restaurant called Sisterfields Café. This is one of the most recommended restaurants on TripAdvisor, so we were confident that our last supper in Bali will not be disappointing!
According to their website, "Sisterfields represents the iconic café culture of Australia, bringing a love of good food and great coffee to the heart of Seminyak, Bali."
Sisterfields has an all-day breakfast menu, and they also serve a wide variety of cocktails and non-alcoholic drinks. If you check their menu, you'll see that most of the food that they serve are healthy. Their mixed juices, which are made with fruits and veggies, are also quite nutritious. After indulging on Babi Guling and Bintangs, a healthy meal in Sisterfields sounded like the perfect and most balanced way to end our Bali food trip!
This restaurant is full most of the time, so it's recommended to reserve a table. We were just lucky that there were plenty of available seats when we visited. While waiting for our orders, I went around to take photos of this restaurant because it was just really pretty! I liked the geometric patterns and the combination of whites and greens in this place.
Sisterfields Dirty Burger – (IDR 90K / USD 6.6 / PHP 330) 160g beef patty, smoked cheddar, pickled onion rings, mustard, aioli, special house sauce, and fries
This was Mike's order. The beef was really tender and juicy, and overall, this dish was pretty filling.
Thai glazed 18-hour Berkshire Pork Belly (IDR 110K / USD 8 / PHP 403) – Peanut, carrot, cucumber, mint & coriander salad, crispy fried shallots, candied chili, nam jim dressing
The plating of this gluten-free dish is just as pretty as the restaurant itself! I loved the colors of this dish, and the flavors were just as vibrant because of the mint and coriander. The pork belly was soft and cooked nicely. The best part would have to be the crunchy slice of fat on top. Yum!
If I do come back to Sisterfields, I would want to have brunch here. There's so much food from their menu that I still want to try!
Sisterfields Café
Address: Jl. Kayu Cendana No.7, Seminyak, Kuta, Kabupaten Badung, Bali 80361, Indonesia
Phone: +62 361 738454
Website: http://sisterfieldsbali.com/
E-mail: hello@sisterfieldsbali.com
Opening Hours: 7AM-10PM
Before finally heading back to our villa, we just passed by Seminyak Square to surprise Komang, the wife of our awesome tour guide / driver Made of Galih Bali Tours. We took a photo with her and sent it to Made on Whatsapp. Made replied, "Who is that beautiful girl?" Haha!
Very early the next morning, Made drove us to the airport for our flight back to Manila. (Nooooo!!!) Before he said goodbye to us, Made gave us a parting gift: a cute dolphin key chain!
All good things must come to an end, right? Wrong! This may have been our last day in Bali, but the wonderful memories linger. There will be no end to the happy feelings we have and we will still have whenever we think of Bali. In fact, it's been eight months since our Balimoon, but until now, as I write this, the feelings are still fresh, and if things go according to plan, we might even go back next year! Bali is the kind of place you can never get enough of. Even after you've left it, it keeps calling you back.
Thank you for the great memories, Bali! We will see you again one day!
♥ ♥ ♥ ♥ ♥ ♥ ♥
For all stories related to our Bali honeymoon trip, visit the link below:
#PuffAndFluffBalimoon