After checking in at Shin-Ōkubo International Hotel, Mike, Paula, Eric, and I excitedly bought our first train ticket in Japan and explored our first destination in Tokyo: Yoyogi Park!
Yoyogi Park
We arrived in Tokyo on a Sunday, and apparently, Sunday is the most favorable time to go to Yoyogi Park. It's the day when the park is the most crowded, but it is also when it is the most dynamic. On Sundays, the park is bustling with the colorful Harajuku culture as plenty of teenage cosplayers parade their off-the-wall garb, dancers in costumes rehearse their moves, Japanese indie bands perform for a crowd, buskers entertain curious tourists, and well, people get boozed. It's definitely the place to be on a Sunday if you want to witness the evocative and eccentric Harajuku youth culture, but probably not the most ideal if all you want to do is relax, be one with nature, and avoid the crowds.
Sadly, we arrived in our hotel at around 3:00-ish, which was little later than we expected, and I knew that during the fall and winter seasons, the park closes at 5:00 PM. We were contemplating on whether or not we should still go to Yoyogi Park or just skip it, but since we only had that one Sunday to visit, we decided to push through with it, if only to see what it looks like. We got there at around 3:30 PM, and by that time, surprisingly, it was already getting dark! (That's one thing I noticed about Japan: it gets dark early!)
Yoyogi Park is a 5 minute walk from the Harajuku Station and located right next to the Meiji Shrine. At 54 hectares, it is one of the largest parks in Tokyo and features a stage for performances and events, flower gardens and lawns, numerous ponds, a cycling center with bikes for rent, athletic fields, and a bird sanctuary, among others. It also houses the Yoyogi National Stadium, which was used for the 1964 Summer Olympics. There is really so much to see in Yoyogi Park, but because we came late, we did not get to see all of the park's features. We only checked out whatever we could in a short amount of time before the sky got darker.
At the entrance, we were greeted by a couple of street performers. Yoyogi Park is a popular spot for actors, musicians, dancers, and all sorts of performers to practice their craft. Apparently, apartments in Tokyo don't allow artists to rehearse at home so they do it in the park instead.
Yoyogi Park has expansive lawns and wide tree-laden spaces so it's really the perfect spot for a picnic, sports, and other outdoor activities. If I had access to a beautiful park like this, I would probably spend a lot of my free time here! Here are some Japanese kids playing frisbee on the grass.
During spring time, Yoyogi Park is a good place to view the cherry blossoms. In autumn, which is the time when we went, the gingko trees turn a beautiful golden color. Since it was already overcast when we got there, my camera was not able to capture the luster of the trees' colors. In person, though, when Paula and I first got a glimpse of the varied hues of the trees, we were wonderstruck. My photos just don't do them justice, but if you see the trees up close, you too, will be in awe (especially when you come from a country where the only colors of trees are either green or brown!).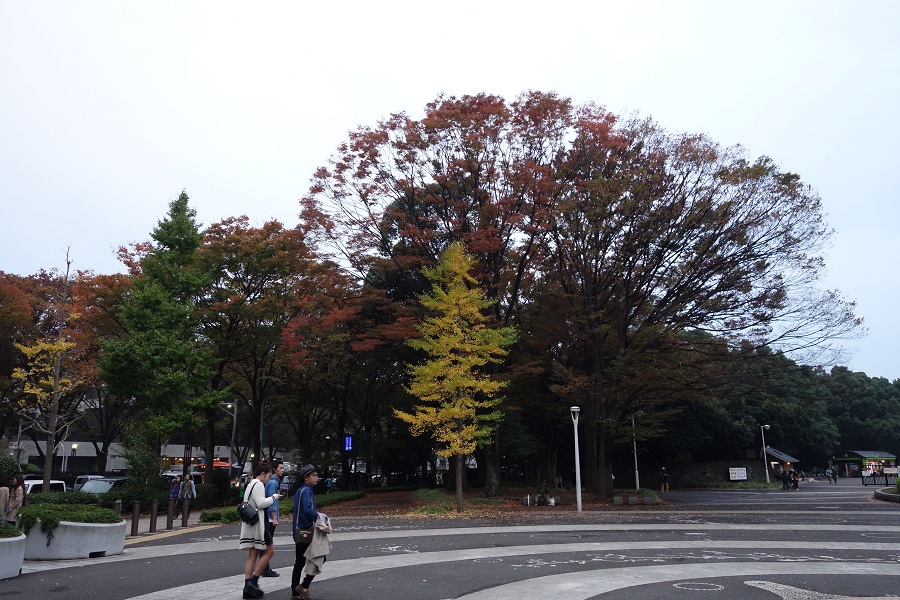 I absolutely love this park, to think that we didn't even get to see all of it! Next time I go back to Tokyo, I would love to come back to Yoyogi Park again… and hopefully, by that time, there will be a third party — our kid! Haha!
Yoyogi Park
Address: 2-1 Yoyogi-Kamizono-cho, Shibuya-ku, Tokyo, 151-0052, Japan
Phone: +81 3-3469-6081
Website: http://www.tokyo-park.or.jp/park/format/index039.html (Translate to English)
Opening Hours: Summer Hours – 5:00 to 20:00 (May to September) / Winter Hours – 5:00 to 17:00 (October to April)
Admission: Free
How to get there: Yoyogi Park is a 5 minute walk from Harajuku Station on the JR Yamanote Line. At the station exit, take a right and walk about 200 meters. You will see the entrance on the right. It is located next to Meiji Shrine.
I really wanted to go to the Meiji Shrine after Yoyogi Park (since they were just next to each other) but Meiji Shrine closes at 4:00 PM in November, so from Yoyogi Park, we just walked straight to Takeshita Dōri (Takeshita Street).
Takeshita Dōri in Harajuku
Takeshita Dōri is a narrow pedestrianized street in Harajuku lined with a wealth of boutiques selling fashionable items, restaurants and crêperies, fast food outlets, and various businesses. It is located just right across from the exit of JR East's Harajuku Station.
Known as Tokyo's hippest clothing street, it is a very popular attraction, especially to both tourists and local teenagers. On weekends, it can get a little packed.
Okay, maybe "a little" was an understatement.
I would say that if you're not a fan of big crowds, you shouldn't go to Takeshita Dōri. But if you don't go, you'll be missing out on the chance to be immersed in the interesting and flamboyant Japanese culture and subcultures including cosplayers, Visual Kei, Decora, and Lolita, so get your ass in there, join the mob, and just enjoy the festival of colors, fashion, and energy. People are generally polite and will not knock you over on purpose.
Gwen Stefani wrote a song called "Harajuku Girls" that goes: "In a pedestrian paradise where the catwalk got its claws / A subculture, in a kaleidoscope of fashion / Prowl the streets of Harajuku." Gwen's got it right! Takeshita Dōri is like a kaleidoscope of fashion where thousands of Japanese youngsters don outrageous, multi-colored outfits, so if you like avant-garde fashion and people-watching, a visit to Takeshita Dōri is going to be a treat! Speaking of people watching, we got a chance to meet some interesting characters, such as:
We passed by a candy store in Takeshita Dōri called "Candy A Go Go," which sells a variety of cute, fun, and brightly-colored confectioneries from around the world. Step inside this happy candy shop with me and delight in the rainbow of sweets!
All that walking (plus the 4-hour flight and the long trip from the airport to the hotel) made the four of us very hungry, so we went around to look for a place to eat. We stumbled upon this funny sign outside one restaurant:
We kept walking further to Harajuku Street and finally found a place to eat called "I Ro Ha" where we ate some Italian udon. Italian udon??? We have never heard of such a thing! I will write a separate blog post about this restaurant, but for now, here's a little preview of what we ate for our first meal in Tokyo. (And, man, that was a delicious first meal!)
The udon dishes we had were quite filling, but I promised myself that I wouldn't leave Harajuku without trying their famous crêpes, so I made sure that I had enough room in my gut for that. These crêpe stands in Takeshita Dōri are always a hit! People line up for these babies, even under the rain, so they must be that good. You choose the number of the flavor you want, pay for it at the counter, and it is served to you like an ice cream cone with a spoon, ready to be devoured.
That crêpe was (literally) a sweet way to cap off our Harajuku trip! But before I end, since half of this blog post is about a fashion district, allow me to post my  travel fashion photo because… I don't usually dress up like this. I never get to wear autumn or winter clothes in this tropical country! Haha!
This is my first outfit in Japan:
Black floppy hat from H&M. It's so chic, isn't it? Mike hates it though. It always hits him in the face when I'm wearing it. And when I tell him to kiss me, he says "Take off your hat first!"
Off-white trench coat from a shop in Ladies' Market, Hong Kong
Jeans from Forever 21. (Got it on sale for PHP 500! Woohoo!)
Black and white striped shirt from Landmark Department Store for only PHP 199. That's right, I'm cheap.
Brown boots from S&H Fashion (Instagram: @snh_fashion). These boots truly are made for walking! Very comfy!
Bag from Kipling, which my sweet aunt bought from Vietnam
That was it for my Harajuku trip… well, not really, because we came back a few days later to buy goodies for ourselves and our families. I did not take any more photos when we visited again, but Paula and I also checked out Daiso, a 4-storey 100 Yen shop in Takeshita Dōri. Food, clothes, household items, toiletries, figurines, hardware, etcetera — whatever you're looking for, Daiso's got it! If you're too lazy to hop from one souvenir shop to another, just go to Daiso, go from floor to floor, and you'll most likely find everything you need… all for JPY 100! (That's PHP 38!) We actually have a Daiso in the Philippines, and I love this store so much, but here, the items actually cost double the prices in Japan! Here, Daiso and others like it such as Saizen and Japan Home Center are called "88 Peso stores" (JPY 240), but in Japan, items that are normally sold for PHP 88 back home only cost PHP 38! How great is that?!
More Japan adventures to come in my next blog posts!
Takeshita Dōri
Address: Jingumae 1-chome, Shibuya-ku 150-0001, Tokyo Prefecture
Opening Hours: 11:00 AM – 8:00 PM
How to get there: Take the Takeshita Exit of Harajuku Station on the JR Yamanote Line