No matter how old you get, you should never stop being a child. I don't mean be child-ish. I mean be child-like. Play. Explore. Wander. Wonder. What better place to do that than in "the happiest place on earth"?! I'm talking about none other than…
Disneyland, of course!
Because we took so much fun photos at Disneyland, this is going to be a 2-part blog post dedicated to the magical land of Mickey and Minnie, Donald & Daisy, Pooh and pals, and more!
Even before getting to the theme park, the ride going there was already a fun experience. There are many ways to get to Hong Kong Disneyland but if you're a huge Disney fan, you are going to want to take the MTR! The train at the Disneyland Resort Line at Sunny Bay MTR station is Cuteness Express! With Mickey Mouse heads for the train handles and windows, and a number of Disney bronze statues on display, the ride to Hong Kong Disneyland is a glimpse of the fun you'll have in the actual rides at the park.
Here's how you can get to the Disneyland Resort by MTR. Travel on the MTR Tung Chung line to Sunny Bay station, then onwards to the Disneyland Resort Station.
And we have arrived! Yahoo! The sky was clear and the weather was fine when we went last end of February. It was already turning out to be the happiest place on earth for us, and we haven't even started seeing and going on the attractions yet!
First things first: before running inside the park in excitement like you've had too much sugar, you must first grab a map for yourself. Actually, grab a map for yourself and each one of your companions, in case one of you loses it. It will be your trusty guide when you want to explore the park (and believe me, it is a big park), find out the show schedules, and locate the nearest bathroom and food joint. Once that's done, go, have fun, and be a kid again!
–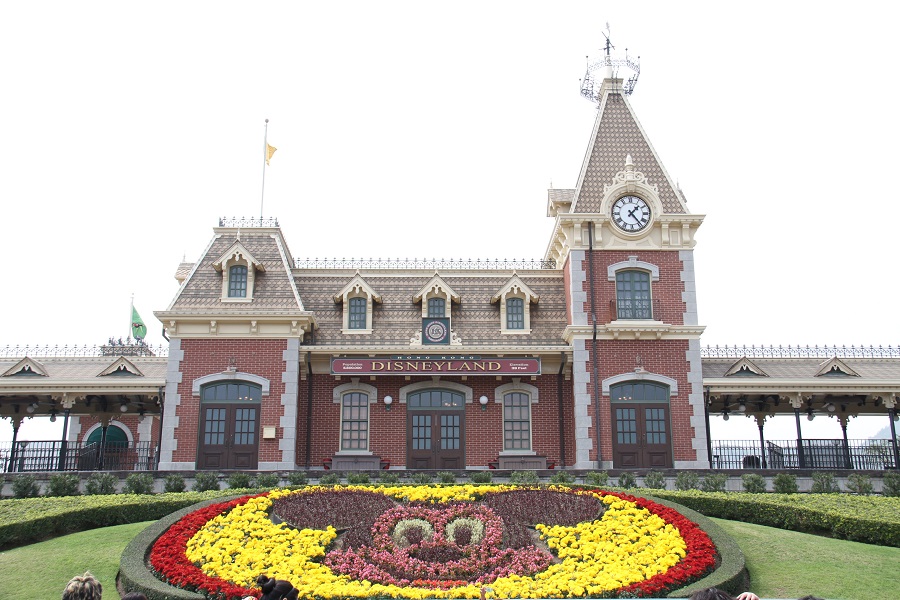 Main Street, U.S.A.
Main Street, U.S.A. takes visitors back to America in the early 1900's. With pretty pastel-colored shops, vintage automobiles, and a classic atmosphere, this part of the park is so charming and photographable. A stroll down this street will make you feel like you're in a different place and era! You'll think, "Am I still in Hong Kong?!"
In Main Street, U.S.A., you can find a collection of shops where they sell all kinds of Disney memorabilia. Here are a few of the Disney collectibles that we found:
The Sleeping Beauty Castle
Every little girl dreams of being a princess. (Sometimes, even little boys dream of being a princess!) At the Sleeping Beauty Castle at Hong Kong Disneyland, little girls' dreams of being a princess come true! The castle is like a cotton candy dreamland during the day — a fairytale structure with soft pink and blue hues. At night, it lights up and transforms into a magnificent fantasy land, and is the setting for the grand nightly fireworks display.
Royal Banquet Hall
We first had lunch at this restaurant inside the park called Royal Banquet Hall, which is like a medieval dining hall that serves American, Chinese, and Japanese food. As you eat, you are surrounded by paintings and statues of famous Disney Princesses.
I was so hungry that I didn't get to take a photo of my food anymore, but I wanted to share with you a photo of my food from when I came here the first time in 2011. It's a Mickey Sushi with corn on the cob, cream puffs, and Mickey-shaped watermelons!
The food at the Royal Banquet Hall is really yummy! There is also a wide selection of dishes to choose from. Dining in Hong Kong Disneyland (or any Disneyland, for that matter) can cost you, though, so be prepared to spend! If you're really trying to save money, I suggest you first have a heavy lunch before going to the park. Eating at one of the restaurants inside Hong Kong Disneyland is a great experience, though, so if you have a little extra cash to spare, check out one of the many themed restaurants inside the park.
Mystic Manor
One of the first attractions we got into was the Mystic Manor at Mystic Point. This attraction can only be found in Hong Kong Disneyland. We got to check out the manor house of an art collector named Lord Henry Mystic and his monkey friend, Albert, who goes with Lord Henry in his adventures.
The Mystic Manor houses an extensive collection of Lord Henry's exotic art and relics, collected from his adventures. We took a tour inside the mysterious mansion via a Mystic Magneto-Electric Carriage and witnessed many of the art pieces come to life. It all started when that cheeky monkey got curious and opened a Balinese music box, which, apparently, caused all of the objects to become animated… and not in a good way!
These photos will give you a slight idea of what you can see inside the Mystic Manor, but really, there's nothing like experiencing the ride yourself and seeing all the inanimate objects magically move! This ride might not sit well with younger children though. It's quite dark inside, and there are is a lot of noise and movement going around. Some images, such as Medusa's growling face or the surge of nasty insects, may be disturbing for some kids. It's definitely no cutesy Winnie the Pooh ride for babies!
Grizzly Gulch
The Grizzly Gulch is Hong Kong's version of the Wild Wild West, complete with golden nuggets, a mining mountain, saloons, and cowboys.
The Grizzly Gulch looks like a quiet little cowboy town, so when we heard loud shrieks coming from somewhere, we looked around to find out where they were coming from. We found the source of the screams here:
The crazy twists and turns, the steep upward slopes, and the big and sudden stomach-churning drops make the Big Grizzly Mountain Runaway Mine Car ride the wildest ride in the Wild, Wild West! A thrilling ride in the mine car will give you the excitement and adrenaline you are craving for. For those who say that Disneyland is only for little kids, they should try getting on this mean mining machine! Mike and Eric got keyed up about this the way Paula and I got keyed up about the fireworks at the Sleeping Beauty castle!
Flights of Fantasy
I am ending Part 1 of my Hong Kong Disneyland blog with something fun, colorful, and fanciful — the Flights of Fantasy Parade! One of the major highlights of Hong Kong Disneyland, this 35-minute spectacle happens every 3:30 in the afternoon and showcases all your favorite Disney characters in kaleidoscopic and florid floats, plus bands and street performers, dancers, acrobats, and more! This parade is basically Disney in a nutshell, and something that shouldn't be missed. Guests are encouraged to go to the parade area 15 minutes or even earlier before the show to be able to secure good viewing spots. We were late, so we got a crappy spot and relied on our camera's zoom function to take photos.
I had a better view of the parade when I went to Disneyland the first time, so I'm going to share some photos that I took from that time, just so you can appreciate the parade better (although, of course, nothing beats seeing it and being there in person!). Nothing has changed since the last time I went, except maybe for the people who portrayed the characters.
…to be continued in Part 2 of our Hong Kong Disneyland travel diary!
Photos by Mike Smith / Miguel Lazatin and me