I've never really given much thought about baby wipes. They're all the same right? They're basically just wet or moist towelettes that you use to clean your baby's poop. If I see a pack of wipes and and I feel that they will do the job just fine, that was good enough for me.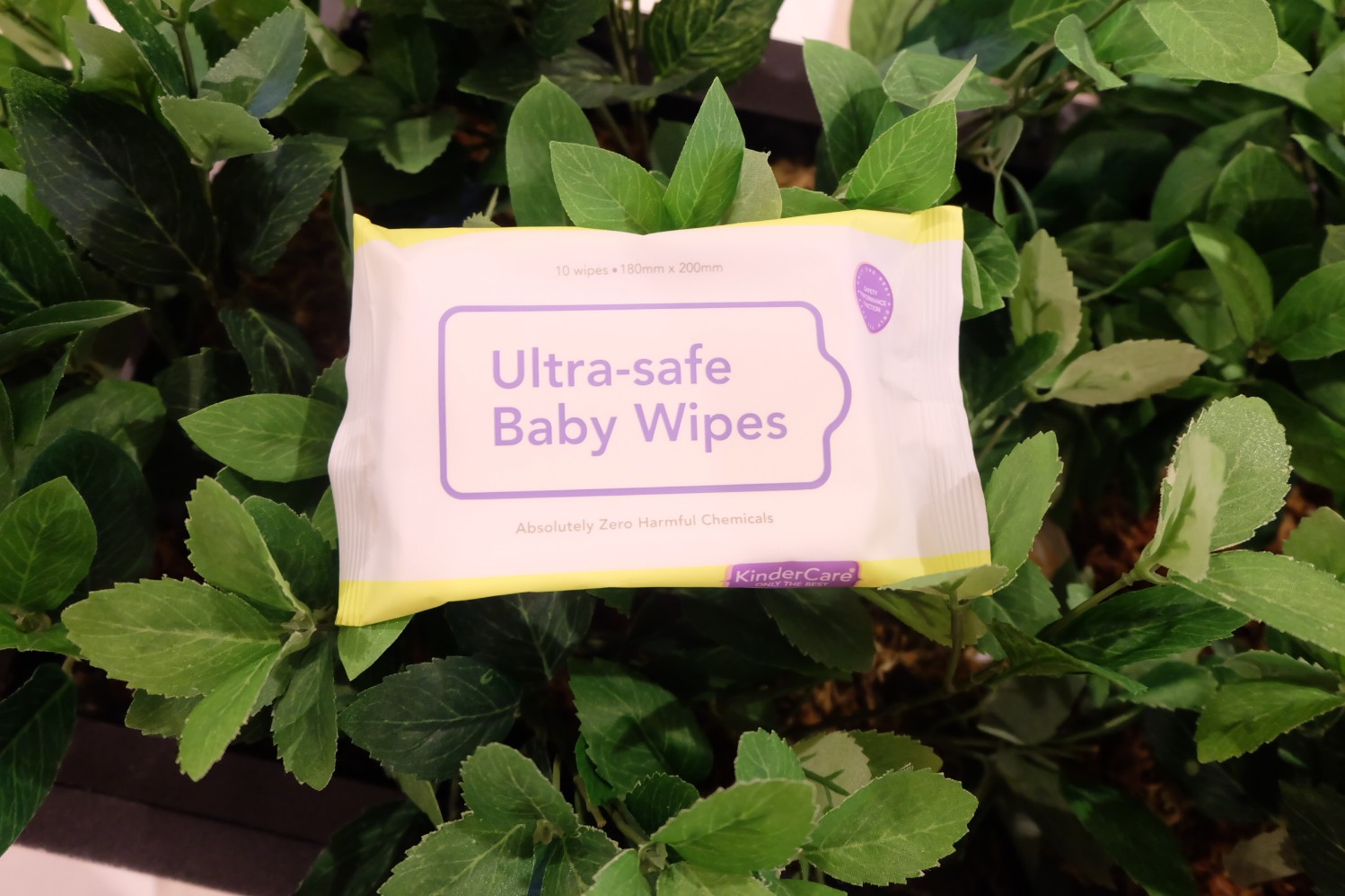 That was before I was invited to a mom blogger event by Kindercare, a manufacturer of ultra-safe baby products including baby wipes. I found out that these are the same guys that created Sacred, the world's first newborn cleanser made especially for the first six months, and Beginnings Baby, the first all-white infant apparel brand created for babies aged 0-12 months. These are brands that Andi used for the first few months of her life and even until now. I can attest to the gentleness of the products from these brands, so I knew that Kindercare baby wipes promises the same care for babies' skin.
When you see Kindercare in a sea of baby wipes in a supermarket aisle, it probably won't be the first brand you'll notice. Its bare-bones packaging is free of eye-catching designs, which tells you that they like to keep things simple and straightforward. And they do. The labels on the pack tell you that these wipes are 'ultra-safe' and proudly communicate that they have 'absolutely zero harmful chemicals.' Those are very big claims, and this might not even blow you away because you'll probably think that you've heard these claims before. After all, aren't all baby wipes like that? All-natural. Organic. Paraben-free. Hypo-allergenic. This is nothing new to you.
What I learned from the Kindercare event, however, is that these descriptions are actually very misleading. How? Some baby wipes are loaded with harmful ingredients like phenoxyethanol, phthalates, propylene glycol, methylisothiazolinone, triclosan, and so on. (Whew! What a mouthful!) BUT if it has EVEN JUST ONE organic ingredient in it, that baby wipes brand can claim to be organic and natural. Sneaky!!! So the next time you see a pack of wipes that say it's natural, organic, and all those other flowery adjectives, be careful. It may not be as baby-safe as you think it is.
Kindercare's philosophy is to give "Only The Best" for your baby. Their goal is to provide mommies and babies with products that are focused on safety, performance, and function. They can proudly say that their baby wipes have none of the nasty stuff. Their wipes are made of soothing and fresh ingredients such as cucumber, chamomile, and pomegranate. According to Gov Daswani, founder of Kindercare, their wipes have the same formulation as The Honest Company wipes and K-mom Premium Wipes, which are two brands that are very gentle and free of toxic ingredients.
We were given samples of the Kindercare wipes at the event, and I'm satisfied with it. It has no scent (zero fragrance!) and no sticky, slimy feel that I find in other baby wipes brands. I feel that these are even okay to use for babies' mouth, face, and hands. With Kindercare, I am at ease, knowing that I am using something that is very mild for Andi's skin. Whatever we put on our baby permeates their skin, so whether that's baby wipes, soaps, or lotions, we have to be very mindful of what it's made of. Some ingredients are even considered endocrine disruptors, meaning, they can mess up the baby's hormones! Some, meanwhile, are irritants, and can trigger rashes. Yikes! So far, after weeks of using the wipes, I'm happy to report that Andi has not had any allergies or rashes. Win!
Kindercare not only likes to keep things simple, but they also want safety to be accessible and affordable too! Kindercare baby wipes are very reasonably priced. Here is their price list:
Ultra-Safe Wipes 25's – PHP 69.90
Ultra-Safe Wipes 80's – PHP 129.90
Ultra-Safe Wipes w/ plastic cover – PHP 139.90
Ultra-Safe Wipes w/ tub – PHP 219.90
Ultra-Safe Wipes 10's – PHP 24.90
Pack of 6 80's wipes (for online purchases) – PHP 715 + shipping fee
If you want ONLY THE BEST for your baby, go ahead and stock up on Kindercare baby wipes! You can buy them at the following outlets:
Robinson's Department Store Ermita
Robinson's Supermarket Ermita
Robinson's Supermarket Otis
Robinson's Supermarket 168
Robinson's Supermarket Cloverleaf
Robinson's Supermarket Pioneer
Mart One North Edsa
Metro Market Market
Ever Commonwealth
M1 Guadalupe
Sta. Lucia Department Store.
Thank you very much to Kindercare and Dette of Millennial Moms for inviting us to this event. You opened my eyes to the truth about baby wipes, and now I know I shouldn't settle for anything less that one with ABSOLUTELY ZERO harmful chemicals!
——— G I V E A W A Y ! ! ! ——–
Andi is happy with her new wipes, but she'll be even happier if she could share some with other babies, so we're giving away a set of baby wipes! So, how to join? Simple! (Just like Kindercare baby wipes):
Follow @scenesfromnadine and @kindercareph on Instagram
Like my IG post about the Kindercare giveaway
Tag three moms or dads in the comment section
That's it! 🙂
Winner will be chosen randomly. Open to Metro Manila residents only.
Giveaway ends on November 19, 2018. Winner will be announced on November 20, 2018.