I know I should have had my hair colored and my nails done a few days or weeks before my wedding, but there was just so much going on during the days leading up to the big day, that I had to put it off until later. Anyway, I was certain that Mike wouldn't love me any less if he saw my roots showing while I walked down the aisle, or if my nails were chipped while he was putting the ring on my finger!
It was only on the night before my wedding when I finally got the chance to get my hair and nails done! I have become so good at cramming! Luckily, my friend / client Christine invited me to avail myself of the services of Lifestyle Salon by Louis Phillip Kee. Luckily also, the salon was just a few steps away from Ascott BGC, where I was staying that night. It was already really late when I got to the salon, and I prepared myself for the possibility of getting to choose only either to get my hair OR my nails done, but not both. Hmm… have luscious locks but cracked nails? Or flaunt my fine fingernails but have two-toned tresses?
Luckily – and yes, that is the third time I am using this word because I really did feel lucky! – the salon staff told me I could do both! Someone would work on my hair while someone else would work on my nails! What a huge relief! (Plus, I get to feel like a queen with my own handmaidens pampering me!)
The Lifestyle Salon by Louis Phillip Kee Experience
Named as one of Spot.ph's Top 10 salons in Manila, Lifestyle Salon's interiors are beautiful and classy. They even offer free Wi-Fi for the comfort and pleasure of their customers. With the sleek mood of the salon and their cozy leather seats, you can already tell as soon as you enter that your experience is going to be truly first-rate.
Louis Phillip Kee is a well-known name in the salon business. He has trained in renowned hair academies in Hong Kong and London, and has been in the industry for more than two decades! With that kind of experience, I was expecting someone with an air of imperiousness. But when I entered, to my surprise, he personally welcomed me and greeted me, talked to me about my concerns, and entrusted me to his best staff.  He was busy attending to customers, but every now and then, he would check up on me to make sure that everything was okay. He would really look at my hair and see if some parts need more attention. I felt so special because the owner himself took the time to take care of me!
The service here was really excellent. As soon as I entered, I was given a glass of cold iced tea, which they would refill whenever my glass goes empty. Unfortunately, I can't remember the names of the two ladies who worked on me (because my wedding was last 2015 and because I'm terrible with names!). But I will never forget how sweet and kind they were to me, how they treated me with utmost care, and how they tried to alleviate my worries after I told them that I'm getting stressed with all the last-minute wedding details.
My Wedding Nails
I have a bad habit of biting my nails (what am I, five?) so my nails were a little short when I got married. Nevertheless, the staff worked around the length and still made my nails look pretty! I had a gel mani/pedi and chose the shade… "Blushing Bride!" ("Rushing Bride" would have been more applicable to me at that time though, since I was really cramming!)
I couldn't help but blush and gush after seeing my nails!
My Wedding Hair
Lifestyle Salon by Louis Phillip Kee are known to be experts in hair coloring. From roots to ombré to balayage, coloring is their forte! One look at my hair and Louis Phillip Kee asked, "You dye your hair yourself, don't you?" Oops! Was it too obvious?
For my hair, I didn't want an outrageous color. I wanted to look like myself on my wedding day so I wanted it to be the same color as I already had, but slightly lighter and more enhanced. I also wanted the roots to be of the same color as the rest of my mane. He suggested a cellophane treatment so that I could achieve shiny and beautifully-colored but natural-looking locks. He noticed that my hair was already dry, and a cellophane treatment will not only do the job of coloring my hair but also repair it and make my locks lustrous again. They also applied highlights on my hair to make the color stand out.
And the result…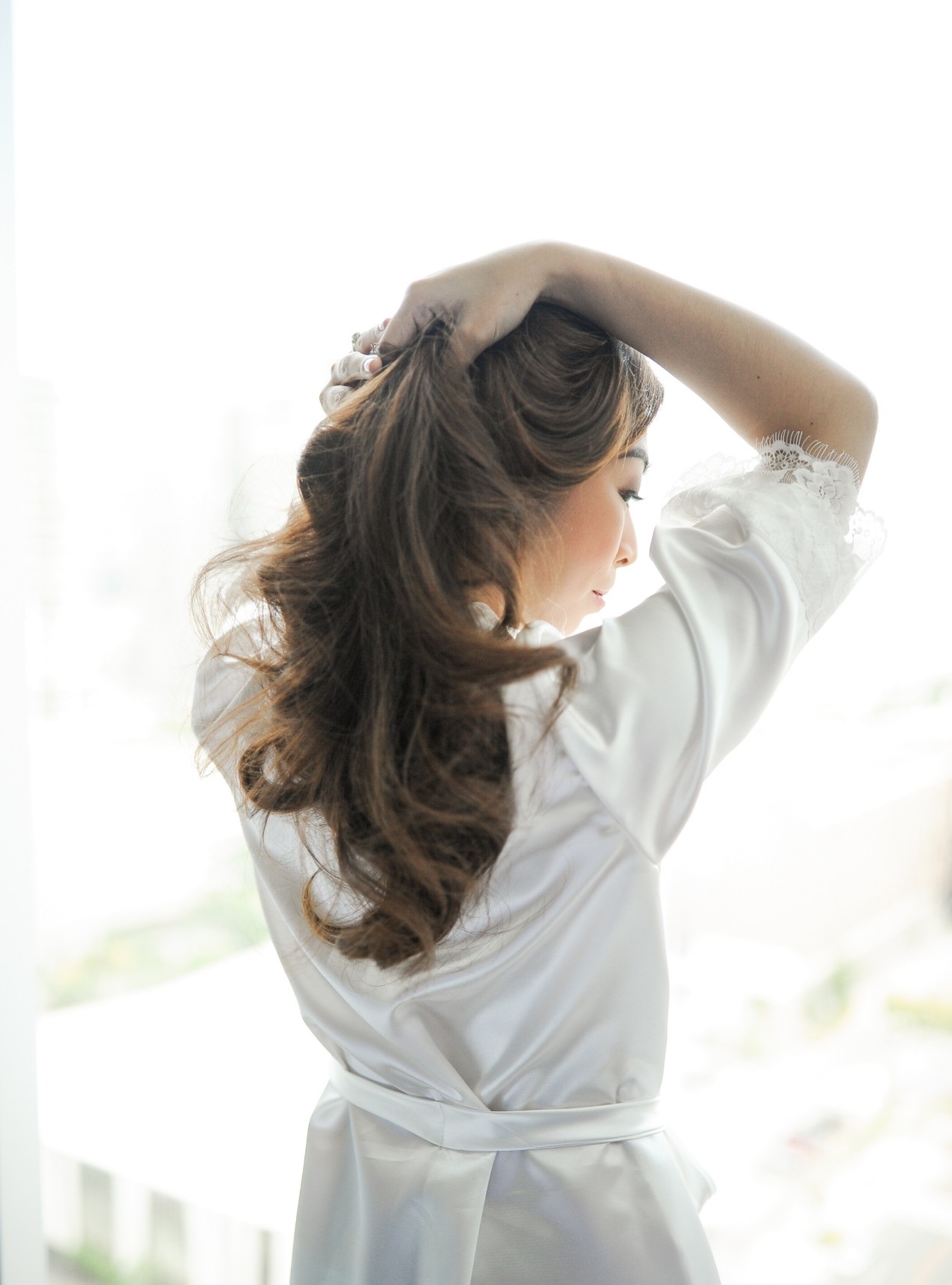 Note: These photos were taken after my hair was curled by my hair and make-up artist.
Wedding-ready, thanks to Louis Phillip Kee!
Since I went to the salon late at night, I was the last customer left! I think they extended their operating hours just for me! They did not try to rush things. I was there for hours because they were really meticulous about giving me great service and ensuring that the results would be perfect.
I was so happy with the outcome! When I went back to Ascott, my mom kept commenting on how nice my hair looked!
Lifestyle Salon and Louis Phillip Kee saved me! They certainly made me look wedding-ready in such a short amount of time!
I would totally recommend them for all brides-to-be looking for a salon to prettify them for their wedding day. Every bride deserves to feel beautiful on her big day, and I can say that Lifestyle Salon by Louis Phillip Kee can make that wish happen!
Brides-to-be, make sure that you visit a reputable salon! You don't want any hair disasters just before your big day, do you? If something goes wrong, you might not have any more time to do some damage control. With Lifestyle Salon by Louis Phillip Kee, you can trust them with your tresses and avoid any stress!
Thank you, Louis Phillip Kee and Christine Li, for this wonderful wedding gift!
A special treat from me and Louis Phillip Kee!
Get a 15% discount on services from Louis Phillip Kee when you use the code NADINEELITE18! Valid until May 6, 2017 only!
Lifestyle Salon by Louis Phillip Kee
Address: Unit 120 Forbeswood Heights, Rizal Drive cor Crescent Drive, Bonifacio Global City, Taguig
Phone: 8564848/8563388
Website: http://lifestylesalonph.com/
Facebook: https://www.facebook.com/lifestylesalonbyLouisKee/
Operating Hours: 10:00 AM – 8:00 PM daily
Photo Credits: Zeus Martinez for the wedding photos / Lifestyle Salon's Official Website for the salon photos
Special Thanks to Louis Phillip Kee and Christine Li for this
Bridal Robe by: Bridehouse Philippines
DISCLAIMER: I received the treatments for free. All opinions are my own and are not influenced in any way.