A lot of people associate Bali with the movie "Eat Pray Love," which is based on the international bestselling book by Elizabeth Gilbert.
For our honeymoon in Bali, we thought that our theme should be "Eat Sleep Love." Our romantic getaway would be spent mostly by filling our stomachs with Bintangs and Nasi Gorengs (EAT), hibernating in our hotel room (SLEEP), and… you know, activities husbands and wives normally do when they're spending their honeymoon in an exotic and romantic holiday destination (LOVE). In our case, that included watching a show on National Geographic featuring people swallowing a live fish whole and drinking a glass of "shake" made from blended frog. How sexy.
So our first activity in Bali was definitely true to our theme: EAT. First order of business after arriving at the airport was to have a taste of our first Indonesian meal.
Our driver / tour guide Made brought us to Sanur to have breakfast, since Sanur was not part of our itinerary and he thought it would be good for us to see what it's like there. Sanur is a seaside town in the southeast part of Bali, about 30 minutes away by car from the Ngurah Rai International Airport and about 20 minutes away from Kuta, Legian, and Seminyak. It is a coastal expanse of beaches in Denpasar, although the several beaches located here are collectively known as "Sanur Beach."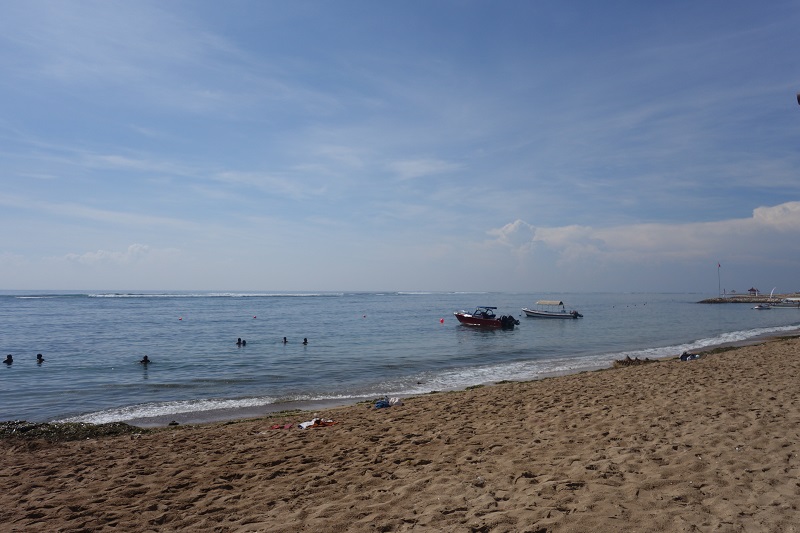 When Mike and I got dropped off at Sanur Beach, the first thing I noticed was how quiet it was. I read somewhere that Sanur is occasionally referred to as "Snore" because the pace here is quite slow. It really does have a relaxed ambiance, and it possesses a certain idyllic charm. I can totally imagine myself and Mike retiring here! I think this place is perfect for older people who have outgrown the party scene.
The beach was clean, with jukungs (traditional fishing boats) resting on the coastal line. Beach chairs are also available for anyone to rest on while enjoying the view of the clear waters, watching the kids playing and swimming in the ocean, reading a book, or taking a nap. This is the place to be if you want to relax on a lazy summer afternoon or just be sedentary for a while.
There were plenty of beachfront restaurants at Sanur and Made just told us to choose whatever appealed to us most. Suddenly, this Balinese girl appeared out of nowhere and started chatting me and Mike up. She was quite sweet and friendly, and even volunteered to take our photo.
Not really knowing where to eat, she told us to follow her to a restaurant called Bennos, which, according to her, was quite popular with tourists. She just asked for one thing in return: that we visit her shop after we finish eating.
Bennos has a large menu to choose from, including omelets, salads, steaks and grilled items, chicken, seafood, and of course, Indonesian food!
Mike ordered the Chicken Satay for IDR 45,000 (around PHP 160).
My first meal in Bali was none other than the Nasi Goreng Ala Bennos, also priced at IDR 45,000.
Bennos is a good choice for people who want to enjoy an affordable meal overlooking the beach. Just like Sanur Beach in general, the restaurant has a laid-back atmosphere and is a good place to chill out. Mike and I felt so relaxed and comfy at our spot while sipping our fruit juices and listening to the soft sound of the waves. And at the time we visited, which was at a Tuesday morning, there were only 4 customers in the restaurant, including us two, so it was really peaceful and quiet. We had a nice "ahhh… this is the life!" moment at Bennos!
*Note: Most of the fruit juices we ordered in Bali were LITERALLY fruit juices, that is, they were made with blended fresh fruits… just the way they should be! But if you're really thirsty, you might want to ask the servers to add ice to make the drinks more refreshing. Also, I noticed that the drinks are not too sugary… and maybe some of them don't even have sugar at all!
Bennos Restaurant
Address: Sindu Beach Market St. No 42, Sanur, Denpasar, Bali
Phone: 081-138-5880
Immediately after we paid our bill, the girl who led us to Bennos asked us to check out her shop at the "market." The "market" was actually an area somewhere in Sanur Beach lined with stalls selling all sorts of merchandise, mostly clothes and accessories. We really had no intentions of shopping on our first day in Bali, but because she was really nice to us, and she looked really desperate (desperate enough to sit in a corner of the restaurant and wait around for us to finish our meal, while watching us like a hawk!), we agreed to go with her.
I must admit, there were lots of nice items being sold at the Sanur Beach market. I swear I could hear some pretty dresses calling out to me, saying "Buy me!" but I fought every urge to shop. The girl would present me with all sorts of clothes and I firmly said "no" to each one. Meanwhile, she also tried to convince Mike to buy all sorts of things from her shop – board shorts, shirts, and finally, a singlet with a logo of Bintang in the front. She offered it for IDR 250,000 (around PHP 875)! At that point, I was really ready to leave. Mike and I said, "sorry, no, that's too much for a singlet!" I reasoned out that in the Philippines, we could get something like that for around IDR 60,000 (PHP 200)! It was a looong time of haggling, and I  kept giving Mike a look that said "let's go!". Finally, the girl gave up and sold the singlet for the price we wanted. I asked Mike why he even bought something, and he said "I felt sorry for her." Aww! My husband may look like he can pulverize someone with just one swing of his fist, but his heart can be soft!
We didn't stay very long at Sanur because we still had other places to go to. But if WHEN I go back to Bali, I might consider exploring more of Sanur. It's a pleasant place to wander around and relish the sights and the sea breeze. Though it's not exactly free from tourists, it's an ideal place to recharge and enjoy a mellow holiday. It's also a fitting choice for a family holiday, so if we have a little Mike and a little Nadine by then, we'd probably bring them here!
How to Get There: Rent a private car with driver / guide. I recommend Galih Bali Tour.
♥ ♥ ♥ ♥ ♥ ♥ ♥
For all stories related to our Bali honeymoon trip, visit the link below:
#PuffAndFluffBalimoon