Ready for some meat madness?
Korean restaurant Soban K-Town (which is from the same group behind Sariwon and Sibyullee) is calling all meat lovers to try the new Mega Meat BBQ Set for 4, which comes with a whopping selection of meats including 300g of fresh beef belly, 180g of marinated beef belly, 180g of fresh pork belly, 180g of soy garlic pork belly, 180g chili bean pork belly, and 180g fried chicken. Each set is served with a maximum of 4 unlimited white rice, soup, and a set of 6 side dishes.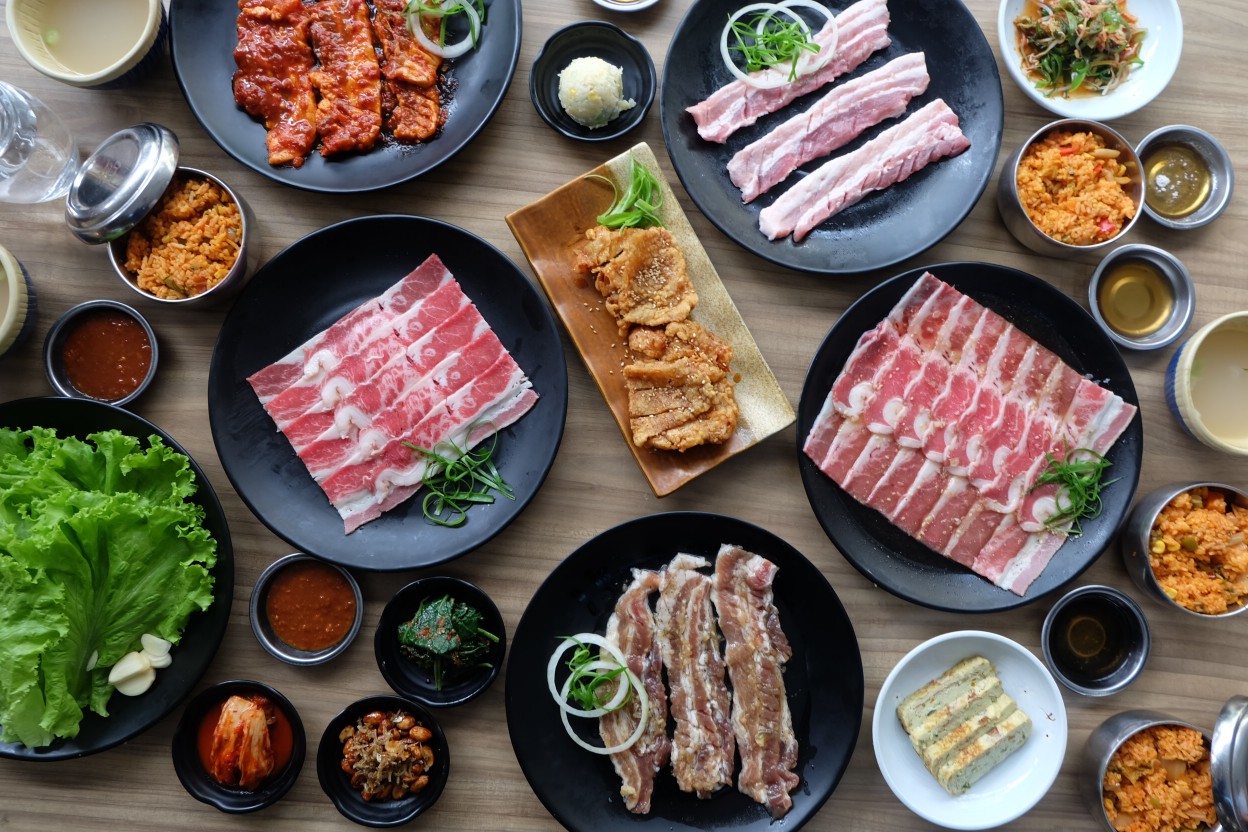 Each slab of meat is freshly cut, fully flavored, and perfectly grilled. Sometimes, you are served a multitude of meats and yet you cannot tell the difference between one and the other. With Soban's Mega Meat BBQ Set, each kind of meat is immersed in its own unique marinade, so each flavor is distinct and robust. They're so flavorful that you don't even need rice to eat them with. They're good enough to eat on their own, and you're going to have a hard time stopping yourself from eating them all!
The meats are served with two sauces that enhance the flavors of the meats: the woo sauce and sesame sauce.
You may upgrade to Kimchi Fried Rice for just PHP 20. Their delicious kimchi fried rice is made with homemade kimchi cabbage and fresh vegetables. Low heat tolerance? You can choose from medium to hot!
The meats are the real stars of the show, but the sides are also real scene-stealers! You can get full just by munching on the side dishes such as their Kimchi, Pamuchim (Salad), Gyeran Mari (Egg Roll), Gamja Sarada (Potato Salad), Kangkong Doenjang, Meoichi Bokkeum (Roasted Peanuts with Anchovies), and Sangchoo Geotjori (Lettuce with Sesame Vinaigrette).
Soban takes pride in their Kimchi because it is homemade. Their version is not as spicy as compared to other local Korean restaurants because they follow the recipe from their Korean partner in Seoul. And because the Kimchi is given time to ferment a few days before serving, you can really taste the flavors in every bite.
Customers are also given the Sangchoo, which makes for an enjoyable eating experience. You may get 1 piece of lettuce, dip the meat in Samjang (their homemade mildly spicy soybean dip), place it in the lettuce, add garlic and salad, and wrap it.
If it's your first time eating at a Korean restaurant or trying a Samgyupsal set, don't worry because Soban's very attentive and friendly servers will just be right by your side, firing up the grill, cooking the meats for you, and explaining everything to you. But if you prefer to do it yourself, they will be happy to teach you, and you may also refer to this guide below:
The Mega Meat BBQ Set is strictly for 4 persons only (so make sure you bring people who can eat a lot!), but really, with such hefty servings of meats and sides, it can feed an entire family and they will all go out of the restaurant feeling full! For PHP 2,000, you will get your money's worth and more. Who needs an unlimited BBQ set when this is more than enough to fill your bellies? Plus, no need to wait in long lines!
But what if you really cannot finish everything on your plate? The good thing about Soban is that – unlike some Korean restaurants — they allow customers to take out their food. Nothing wasted here!
If you're a fan of meats or Korean food, you will definitely get a kick out of the Mega Meat BBQ Set. Head over to Soban and have a meaty K-Town feast! Meat you there!
Important to Note:
As mentioned, the set is strictly for 3-4 persons only. Every additional headcount must add a corresponding Solo Set or A la Carte BBQ from the grill. (Only children below 3 ft., maids / nannies, bodyguards, and drivers are exempted)
Please note that sharing for the unlimited items is not allowed.
Soban K-town Grill is located at Eastwood Mall, Alabang Town Center, Greenbelt 3, SM North EDSA, Robinsons Place Manila, and soon in One BHS & SM MegaMall.
Follow @soban.ktown on Instagram for more details!