Golden Lake Restaurant was the first restaurant that Mike, Paula, Eric, and I ate at when we arrived at Hong Kong. Paula said she and her family have dined there before, and the food was cheap and good, which is always a winning combination!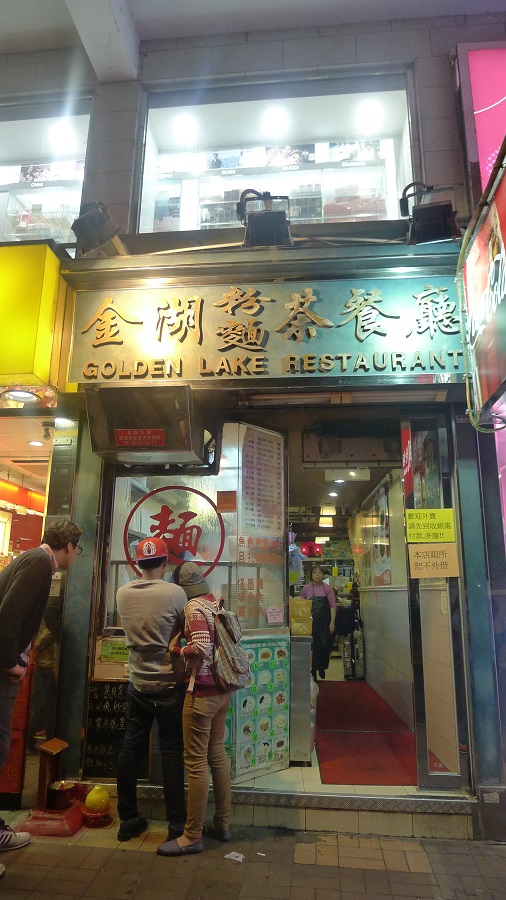 It's no Tim Ho Wan, where you'll see a long line of customers waiting outside for 4 hours (seriously?!), but I did see a couple of curious folks checking out the joint from the outside. It was also kind of packed inside, and that's a positive indication that a restaurant is actually good.
Here's what I've observed in many Chinese restaurants: if it looks seedy, there's a good chance that the food is tasty. I'm not saying that the Golden Lake Restaurant is downright shoddy, but it's no fine dining restaurant. In fact, when we entered, this was the first thing that greeted us:
Once, I ate at this hole-in-the-wall Chinese restaurant and my friends and I ordered some dim sum at 4:00 in the morning. The cook / waiter who brought the plate of dim sum out to us came out wearing nothing but a pair of grungy pants and his sweaty and hairy nipples. Gross, but the dim sum was really good! I just tried hard not to think thoughts of the cook making it with his own blood, sweat, and tears… especially his sweat… that was a lot of sweat!
Anyway, don't worry because the staff at Golden Lake Restaurant are a lot more well-groomed and presentable, and though it's not the fanciest food place in the block, the food is actually delicious. These are the dishes that we ordered:
For our first authentic Chinese meal in Hong Kong, these dishes did not disappoint. They were all flavorful, the meats were tender, and the servings were big. Not bad for something that cost us less than HKD 50! If you're hungry, craving for some appetizing, no-frills Chinese chow that costs next to nothing, Golden Lake is a good place to go to.
Below are the different kinds of food and drinks that they serve in Golden Lake. They have English descriptions of the items in their menu so you don't have to worry about whether you're eating chicken… or chicken testicles.
Golden Lake Restaurant:
Address: G/F, 35-37 Hoiphong Road, Tsim Sha Tsui, Hong Kong
Phone: +852 2302 0428
Photos by Mike Smith / Miguel Lazatin and me