Breathtaking.
Words will not be enough to paint an accurate picture of the Ulun Danu Beratan Temple, but that word — breathtaking — might be the most accurate word for it.
The amazing scenery at this marvelous water temple made my heart stop and my jaw drop, and — to a great degree — took my breath away.
The Ulun Danu Beratan Temple is a famous and major Shivaite and water temple situated at Lake Beratan in Bedugul, a mountain lake resort area in the Tabanan region of Bali. It was built in 1663 by the king of Mengwi for the lake goddess Dewi Danu. Water is considered as a sacred gift in Bali, and hence, there are numerous water temples built in the island.
As soon as we arrived at the temple, we immediately noticed that the hot Bali summer air suddenly felt significantly colder.  The temple is located 1,200 meters above sea level, hence the cooler climate.
The Ulun Danu Beratan Temple is clearly a majestic temple, but it also has some quirky elements that seem to say to visitors: "Hey, I'm serene and splendid but I know how to have fun too!" Here, you'll find a statue of a bear, a marble owl next to a lamppost gawking at you, and trash bins shaped and designed like veggies! How fun!
One of the first things that caught our eye when we entered the temple gates was this Buddhist stupa, said to bring religious harmony in Bali. Inside the shrines are statues of the lake goddess Dewi Danu and Dewi Sri, the rice goddess. If you read my blog post on Jatiluwih Rice Terraces, which is the place where we came from before going to the Ulun Danu Beratan Temple, you would have read that rice is a major crop in Bali and is also considered a gift from the Gods.
After seeing the Buddhist stupa, we walked to the area where the Penataran Agung Temple lies. This temple is devoted to Tri Purusha Shiva (Shiva, Sadha Shiva, and Parama Shiva).
In this section, temple buildings characterized by the distinctly Balinese black thatched roofs can be found.
If you go up the temple buildings, you will see all the luxurious details in it, such as the ornate diagram of the Nava-Dikpāla, which literally means "guardians of the nine directions." In Hinduism, it is believed that there are deities that rule a particular direction in space. 
The nine guardian gods of directions are collectively known as Dewata Nawa Sanga (the "Nine guardian devata). If you ever see a Balinese wearing a multi-colored bracelet made of yarn, that bracelet is representative of the Dewata Nawa Sanga. They wear it to receive blessing and protection from the nine gods.
As we advanced toward the lake, the whole environment felt unreal. The temples walled by fresh hedges appeared to be floating magically on the placid lake, and the enormous mountain range served as the perfect and grandest backdrop. The heavy fog hovered dramatically over the scenery. It was a spellbinding sight! It felt like we were staring at an enormous painting — a beautiful, moving, and larger-than-life painting!
Mike said that this attraction reminded him of Japan because of the cold temperature, the decors, and the structure of the temples. I agree, although to me, it felt like we were in a different world entirely!
Visitors can have fun by engaging in some lake activities. They can go fishing, have adventures on speed boats, ride the jukungs (traditional Balinese fishing boats), or sail away in a swan pedal boat.
We walked around and arrived at the Pelinggih Dalem Purwa (Dalem Purwa Temple), one of the main shrines and a place to worship the goddess Dewi Durga, who is considered the goddess of war, and Dewi Ludra (Rudra), the god associated with the wind and storm.
The most fascinating feature in the Ulun Danu Beratan Temple is the Tengahing Segara Temple, which is comprised of two shrines with 11 roofs dedicated to Vishnu and Dewi Danu. This monumental tower is a true Balinese landmark. Do a search on the Ulun Danu Beratan Temple and almost every single photo that appears showcases this remarkable gem.
Behind the Tengahing Segara Temple is the Lingga Petak Temple, a smaller tower with three tiers. It is said that this tower stands on a holy well which produces holy water that can only be drawn by the priests.
I have completely fallen in love with this temple!
Speaking of 'love,' our driver and tour guide Made said that this is where he and his wife went on their first date when they were still in the 'getting-to-know' stage. I commended him and said: "Good move bringing her here!" The gorgeous spectacle in this attraction radiates romance that I can imagine myself getting married here. In fact, some people do get married here and have their engagement photos taken here.
So far, everything about this temple has been wonderful — the breeze, the scenery, the nature, and the spirituality of the place! But what made it extra memorable for me were the deer!
Baby animals are the best! No, wait… feeding baby animals is the best! I'm not even sure if the feeding of deers is an activity offered in the park because it's not stated in their website. I think I was just lucky that I had the chance to give them some treats because we arrived just in time for their feeding session.
I held out a leaf for them to snack on and they happily munched on it. Cute! When I patted one of them, its body vibrated! I don't know what it means when deer vibrate, but I have a guinea pig and when guinea pigs vibrate, it's their way of vibrating and it could mean that they're happy. Maybe it's the same thing for deer! I hope they were happy. I know I was!
There is just so much to see and do in this temple that I could spend hours here! Whether it's admiring the shrines, or getting close to the animals, there is a wealth of activities that could keep you entertained and engaged here. And let's not forget the gorgeous gardens!
The shrines, especially the ones standing right above the lake, are the "face" of the Ulun Danu Beratan Temple. But aside from these, the gardens of this temple are a sight to behold as well. Hundreds of trees, as well as colorful and pretty flowers, spruce up the park and give it a calm ambiance. I already felt much healthier, happier, and energized just by being in the midst of all this nature and breathing in the clean and fresh air. I bet if one lives in Bali and visits this temple everyday, he will be physically, emotionally, and spiritually healthy and may live long!
Before exiting the temple, Made let us explore the beauty of the place on our own, just me and Mike. It's not really essential to have a tour guide walk you through this temple, and if you feel like going around on your own, that's perfectly fine. However, it is advisable to have a driver take you there if you are coming from the other main tourist areas in Bali because of its distance.
The Ulun Danu Beratan Temple is one of the most photographed temples and attractions in Bali. I have come across many pictures of this place and most of them were absolutely stunning, and yet, I can say that looking at those photos could not even come close to the feeling of actually being there. I could spend hours in this temple and never want to leave. In fact, I didn't want to! I couldn't count the number of times I oohed and aahed while marveling at the place. It's the perfect spot for everyone — friends who want to enjoy a relaxed day out, families with kids, families with seniors, couples on a date (or a honeymoon, like us!), and "soul searchers" and people who want a sanctuary to enjoy their solitude. Because it is such a phenomenal attraction, it is often frequented by locals and tourists alike. But despite the crowds, it is still, to me and Mike, one of the most tranquil and enchanting temples in Bali. This is one of our favorite temples in the island and we would come back in a heartbeat.
Oh, and *ahem, husband!* I wouldn't mind getting married here again. 😉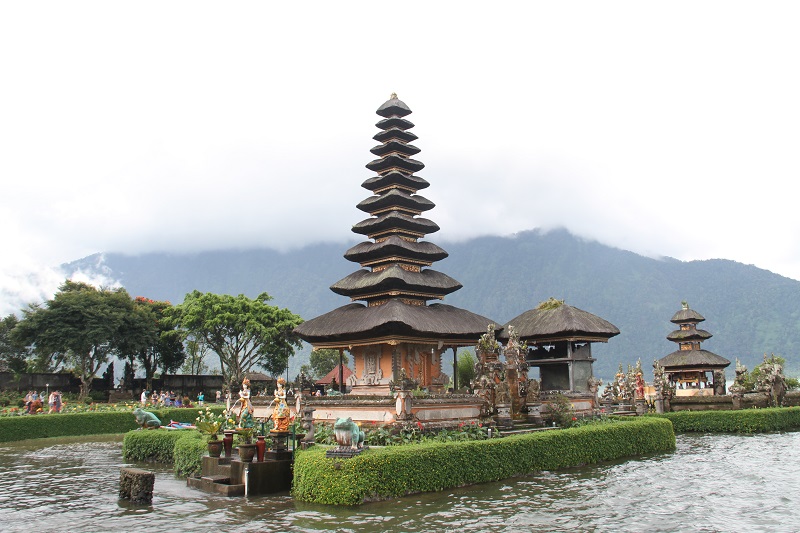 Ulun Danu Beratan Temple
Address: JDesa Candikuning, Kec. Baturiti, Kab. Tabanan, Bali'
Phone/Fax : (+62)368 2033050
Mobile : (+62)81 239 55 9999
E-mail : info@ulundanuberatan.com
Website: http://ulundanuberatan.com/
Admission:
– Children (locals): IDR 7.500 / PHP 27 / USD 0.57
– Adult (locals): IDR 10.000 / PHP 36 / USD 0.76
– Children (tourist) : IDR 15.000 / PHP 54 / USD 1.15
– Adult (tourist) : IDR 30.000 / PHP 108 / USD 2.29
How to Get There: Rent a private car with driver / guide. I recommend Galih Bali Tour.
♥ ♥ ♥ ♥ ♥ ♥ ♥
For all stories related to our Bali honeymoon trip, visit the link below:
#PuffAndFluffBalimoon