When I was pregnant, I had a self-imposed clothes ban. In an attempt to be frugal and practical, I vowed not to buy maternity clothes even when my bump ballooned. I didn't want to blow all my money on pieces that I would only wear for a short period of time. It was quite a challenge when nothing fit me anymore. In fact, there was a point when I exercised in a dress (paired with running shoes! How fashionable!) because even though I actually lost weight instead of gaining it, I could no longer squeeze into my workout pants, no matter how stretchy they were.
Trying to fit into my work clothes was another dilemma. As a host for weddings, debuts, and corporate events, my work 'uniform' meant gowns and formal dresses. I was in a tight spot (literally) as I tried my very best to cram my pregnant body in those gowns. Mike even tried helping me by zipping me up, but after a few futile attempts, he just gave up and said, "It won't close!" I insisted, "Try again!" He did. It still wouldn't close.
"I have nothing to wear!!!" I exclaimed. That was true and not true at the same time. My closet was jammed with a lot of formal gowns and formal dresses. I was tempted to buy a new gown, but I looked at our limited living space and my already crammed closet and thought, "How will I dump another gown in here when there's no more room?" I was really trying to minimize clutter in our home and in my life in general, and buying and keeping another gown went against that goal. Plus, we needed space for the baby's wardrobe.
How I wish I knew about Gown For Rent then! It would have easily solved my problems! Gown For Rent has a collection of more than 200 gowns to choose from for people like me who don't want to spend a fortune on a brand new gown and have limited storage space at home. They carry beautiful, elegant, and fashionable gowns and dresses for every occasion, with some as low as PHP 300! They even rent out wedding gowns for brides on a budget.
Why Rent a Gown?
Gown rental is best for those who don't want to splurge so much on a gown that they may never wear again. Even for someone like me who always has to wear gowns, this is a great option too. It's such a pain to store and maintain my gowns. Dry cleaning costs add up too. And because my gowns take up so much room, I have to limit buying other clothes because my closet can only hold so much outfits. With Gown For Rent, you don't need to worry about storage and maintenance. They dry clean the clothes for you! That also answers the question: "Is it hygienic to rent a gown since other people use it too?" They make sure that the gowns are thoroughly washed and dry cleaned before making them available for rent.
Elegant Maternity Gowns For Rent
With a variety of gowns in their showroom, it's impossible not to find something that will suit your budget, taste, and event. They even have chic maternity gowns! I was able to try some of their maternity gowns and I felt so fabulous in them! The fabrics were top-notch and the designs were really elegant.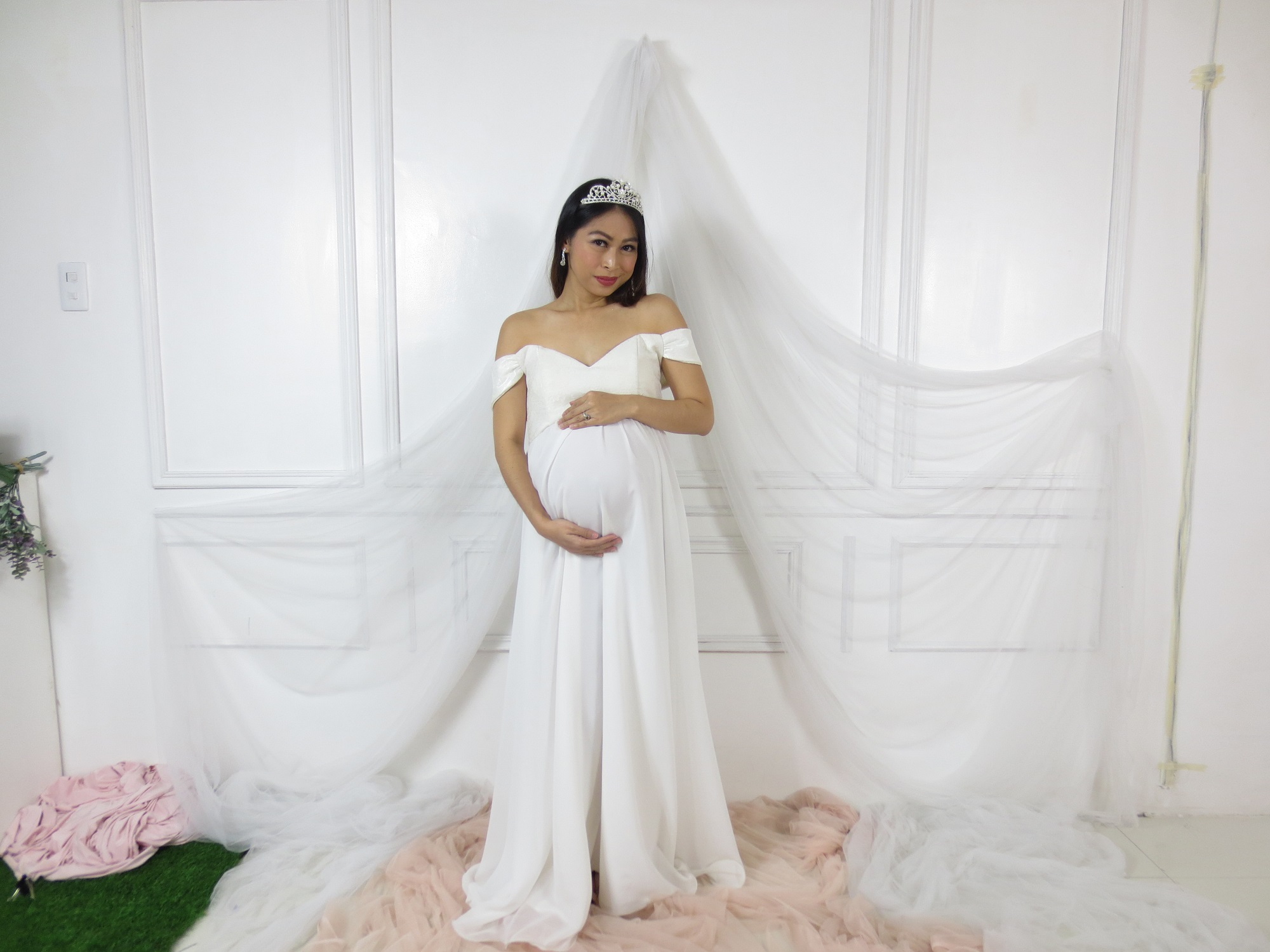 How to rent a gown
Renting a gown is easy! Just go to the Gown For Rent website, pick the design you fancy, check its availability and size, reserve it, then book an appointment for your fitting! No time to look for accessories that match your chosen gown? Not a problem! Gown For Rent also has accessories that you can borrow!
20% Discount on any gown for rent
If you've got an important event coming up and need something pretty to wear, you're in luck because I'm sharing my special code which lets you get 20% off any item of your choice from Gown For Rent! Just apply the code GFRNDS115 when you book a gown.
GIVEAWAY: Rent a gown for FREE!
You can also get a chance to rent a gown for FREE! Just follow these simple mechanics:
Follow @scenesfromnadine and @gownforent on Instagram
Look for my photos with the hashtag #gfrgiveaway and #scenesfromnadinegfr
Tag two of your friends in the photo
Contest is open to Philippine residents only.
Giveaway runs from February 24 to March 24, 2018
The winner will be announced on March 27, 2018