Hellooo! It's been ages since my last blog post. Sorry for not updating this site as much. I've just been a bit preoccupied with motherhood, work, and creating videos for my Youtube channel. (I'd love it if you can subscribe!)
Anyway…
It's time to finally break the blog hiatus, and what better topic to write about than the very first Millennial Moms Content Creator Meetup? If this is the first time you're hearing about Millennial Moms, simply put, they are a community OF moms and FOR moms spearheaded by my friend and schoolmate, the lovely and generous Dette Zulueta. If you're a mom, I highly suggest following them on Instagram so you can enjoy awesome perks like prizes, freebies, event invites, and the best perk of all… friendship and support from other moms! (Read: Millennial Moms #MomTribe Meetup 2018)
The invite-only event was held at the Alice Tea Salon in Ortigas last September 4, 2019, and was supported by mommy bloggers / vloggers / Instagrammers. Millennial Moms partnered with UV Care and 59s Philippines, two brands that specialize in UVC sterilization. With the alarming outbreak of illnesses in the country these days such as dengue and hand-foot-and-mouth disease, it was so timely for us to attend an event for products that address these worrying and immediate health issues. As paranoid moms, we were all really interested in finding ways and learning more about products that will help us protect our kids from sickness.
I was familiar with some of the items that UV Care and 59s carry, but at the event, I was impressed to see just how wide the range of their products is! From portable vacuum cleaners to pocket sterilizers that you can carry with you in your, uh, pocket, they literally have everything you can ever imagine to combat those nasty bacteria, whether in the home or outside the home. I wish I was able to take more photos and videos, but it was a struggle to document the event while running after a toddler (and making sure she doesn't get lost or break things). Here are some of the items I managed to take photos of:
The famous Pocket Sterilizer Wand from UV Care! It comes in so many juicy and delicious colors!
Look how it fits nicely in my diaper bag! It's not mine, unfortunately! I just borrowed it to demonstrate how compact it is. Don't worry, I returned it right away
The UV Care Pocket Sterilizer Wand and Portable Germ Zapper can sanitize those toys, books, and pretty much anything that comes in contact with your child. Want!!!
Matchy matchy with the Pocket Sterilizer. If you really want to be fashionable, consider getting one in each color so you can match it with your outfit! 😉
Spot the UV Care Super Power Vacuum, a cordless, lightweight, and hand-held vacuum which can suck out dust, dirt, molds, and insects from your car, bed, or floors! Also in the photo is the ultra-light 2.5 kg Multipurpose UV Sterilizer Lite, which can be used for baby bottles, breast pump parts, small toys, gadgets, make-up brushes, and so much more! Sorry for the blurry photo, but as you can see, my child keeps moving around!
Does the UV sterilizer actually work? In this demonstration, they brought in dirty tap water and showed us the bacteria breeding on it. We saw them moving around in hordes, which was kind of gross! They ran the pocket sterilizer over the water and in seconds, we saw the bacteria dispersing and slowly dying, until most of them vanished! Whoa! We were all gobsmacked!
Toy Sterilizing Bag from 59s! Have you ever heard of such a cool invention?! If you live in a small space and have no room for a big toy sterilizer, this is for you.
The 59s UVC LED Milk Sterilizing Box is no ordinary bottle sterilizer. I love its clean, minimalist design and portability. Perfect for cleaning bottles especially when you travel!
I was praying that I would win this 59s UVC LED Sterilizing Bag because I feel like it was really made for me! Haha! I'm always on-the-go (plus, I love the color pink) so I need this in my life! I could sterilize practically anything with it anywhere I go!
Modeling the 59s UVC LED Sterilizing Bag and the UV Care Pocket Sterilizer. See how I can carry all these with ease WHILE carrying my heavy toddler?!
It was such a fun event, complete with delicious (and free!) food and drinks, plus lots of catching up with my mom friends. But the highlight of the event was — without question — the Instagram contest! Dette informed us that two lucky moms will be going home with a prize from UV Care and 59s simply by posting the best photo or video on Instagram. (It's a meetup for content creators, after all, so uploading some content was pretty much a given!) It was so funny because while we moms would usually be busy swapping stories at events, this time around, we were all on our own, busy on our phones as we uploaded our photo or video entries on IG and thinking of a good caption to go along with our post, and trying to do it FAST because there was a deadline to beat! If you happened to drop by the venue and did not know us, you'd think we didn't know one another. Galit-galit muna! Haha! It's understandable though… the prizes were big-ticket items that we all wanted to win for ourselves, so 'eyes on the prize'… or in our case, all eyes on our phones!
HERE ARE MY ENTRIES:
This was the first one. This is a very realistic post, if I may say so, because cleaning Andi's toys is really a task that eats up so much of my already very limited time! (Thanks, Rachelle of @wondermomma.ig and Shishi of @shisamom for taking and art directing my photo!)
Here's my second entry. This was was actually a last-minute post. Just a few minutes before they announced "time's up!," I somehow managed to have these photos taken and upload them, JUST RIGHT BEFORE MY CAMERA'S BATTERY DIED ON ME. Whew! Talk about adrenaline rush! But I guess anything is possible if the prize is worth winning!
Note that the things inside the bag are all mine and Andi's, except Peppa. I stuffed it with two lipsticks, one pressed powder, one mobile phone, two pieces of baby clothes, a baby bottle, and a stuffed toy. Isn't it incredible that it can hold this much stuff and sterilize it in seconds?! That's 59 seconds, to be exact (hence the name 59s!)
All the entries were really good! All the moms' posts really underscore the extraordinary germ-zapping powers of UV Care and 59s products and how convenient they are to use, especially for busy moms.
It must have been my lucky day because I WON!!! My prize was the Milk Bottle Sterilizer. I can't wait to use it!  We'll be traveling soon so I'm thinking of bringing it with us. Thank you so much, Dette and 59S for choosing me as the winner. I still can't believe it! I think it was a good combination of wearing red (a lucky color) + bringing Andi (my lucky charm) + the shoulder exposure. Hahaha!
Unplanned twinning with Kristine Tan (@kristinebernadettetan). Even our prizes were twinning! She also won the same prize but at a different event. (Pic c/o Kristine)
With Diana (@dianathemama), Tetz (@tetzsagustin), and Kristine (@kristinebernadettetan)
With my fellow moms / content creators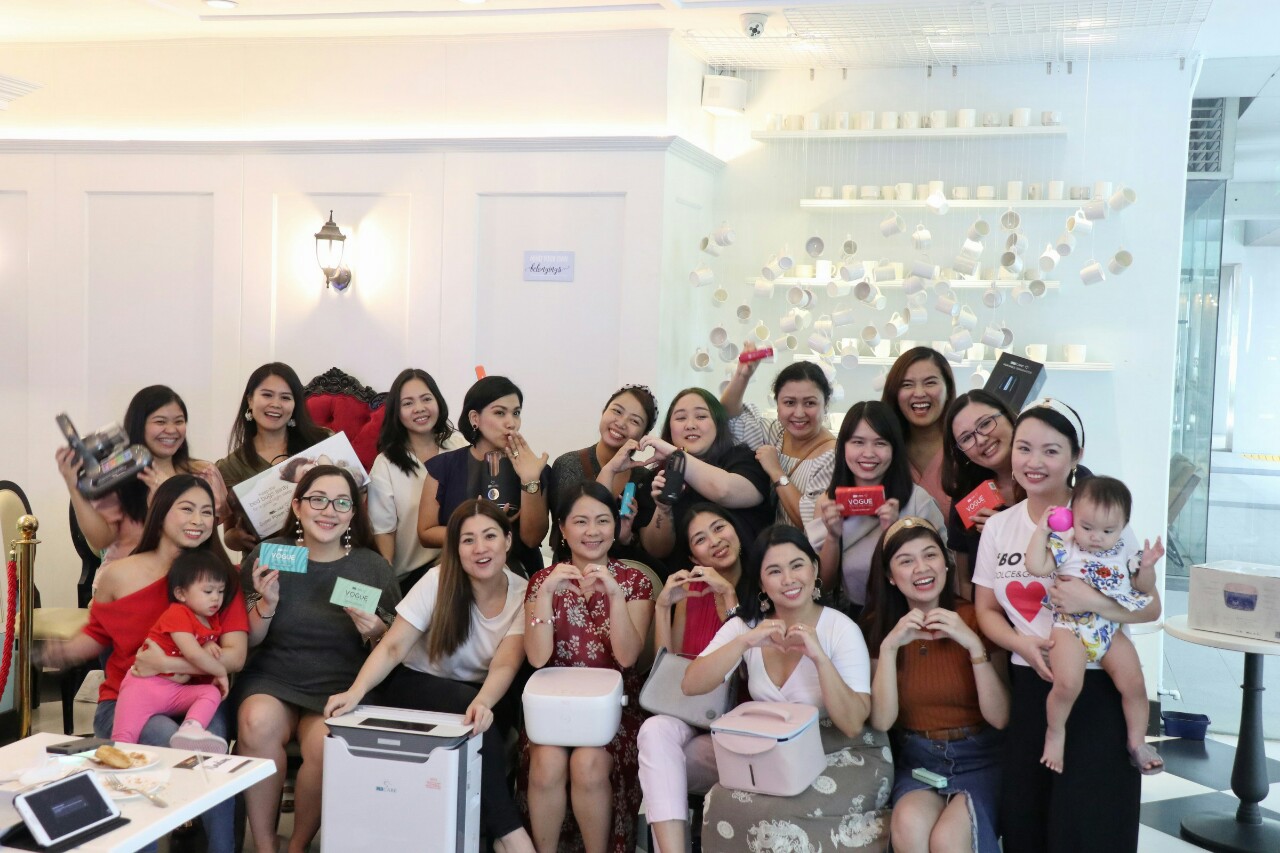 It was really great seeing everyone and meeting new mom friends! 🙂
Thank you again and congratulations to Millennial Moms, UV Care, and 59s for putting together this enjoyable afternoon for us moms! Looking forward to more!
Remember, everyone… SPREAD LOVE, NOT GERMS! 🙂 Follow UV Care and 59s on Instagram to find out more about their products.