Once upon a time, Mike and I experienced being models for a day…
That time was our pre-nuptial / engagement shoot.
Our parents and our parents' parents probably never had something like this back in the day. But now, a pre-nup shoot is done by a lot of engaged couples to get people even more excited about their upcoming wedding day.
Believe it or not, as much as I love having photos taken, a pre-wedding shoot wasn't high on my list of priorities. It just seemed like such an unnecessary expense, especially when we were trying to pull off a pocket-friendly wedding (referring mostly to Mike's pockets. Hehe). But when I was inquiring with different photographers, one of the photographers I inquired with, Zeus Martinez, who happens to be my schoolmate from UA&P, said to me that if I choose him as our wedding photographer, he would give us the prenup / engagement shoot without any extra charge. Photographers charge from PHP 20,000 or more for a pre-nup photo shoot session, so my eyes twinkled when he said he could give us a free shoot! That meant that we were able to save that money and spend it on other more important things for our wedding! What a beautiful gift!
Because my schedule was so hectic during the stages of our wedding planning, I had to put off our engagement shoot until just a month before our wedding. It was such a challenge trying to find the right venue, and for a pre-nup shoot, the right venue is everything! I was originally eyeing the Pinto Art Museum, which is overused, I know, but still lovely and it's also a place that Mike and I have never been to before. But at the time I inquired, which was in 2015, they were quoting me between PHP 7,500 to 15,000 for the use of the place! Are you effing kidding me?!
In the end, I realized that maybe it would be wiser to choose an indoor venue since the weather was really unpredictable during that time. (As expected, it was raining cats and dogs on the day of our shoot!) One thing Mike and I both strongly agreed on was that it had to be within Metro Manila only. Out of town venues were spectacular, sure, but they were out of the question. We just couldn't be bothered sitting through traffic for hours just to get to our destination and having to pay our suppliers an out of town fee. Besides, we're really not the type of people who enjoy posing in our tuxedo and ball gown while standing on the edge of the cliff while dramatically gazing into the horizon. No offense to those who dig this sort of thing, but us? *chuckles* I'm laughing just thinking about it! It's just not "us." I think that if we DID do this, I'd just be chortling all the time (much to the chagrin of our photographer!). Also, let's be honest, when have we ever actually stood on the edge of the cliff in our fancy clothes while dramatically gazing into the horizon? Never.
We also just wanted one location. Some couples have as many as three or four locations, and some of them even go out of the country for a shoot! Wow! That's great, and I admire their dedication to have amazing photos, and if money is no object, why not, right? For us, though, one was enough, thanks.
After endless searching, I finally found THE place!
THE VENUE
This is Exploreum, and it was PERFECT!
You see, we had a space-themed wedding, and the cosmic vibe and science feels of this place definitely matched our wedding theme! Best of all, no one else has EVER had an engagement shoot here before. We were the very first couple to do it!
People who have seen our pre-nup photos have asked us, "Cool place! Where is this?" And they couldn't believe that this is located just inside the Mall of Asia (MOA)! Even I couldn't believe it when I discovered it! I'm sorry but I HATE going to MOA. It's too crowded for my taste. But finding this place was like unearthing a hidden treasure! It's not fancy and probably won't knock your socks off, but for us, it was just what we were looking for: indoors, accessible / within Metro Manila, affordable, simple, fun, and space-y!
Exploreum houses a variety of interactive exhibits and galleries including life-size displays and fun technology. Science freaks or even just those with inquisitive minds are sure to have fun discovering something new here as they all get fascinating hands-on learning experiences.
They also have a huge Dome Theater which plays different space-based shows and presentations every 30 minutes. We were hoping to have a shoot in the theater while a space adventure show was playing so we could get a cool background for our shot, but when we went in, the show that was playing was one called Big Bird Adventure. So, uh, no. Haha!
Since we were the first couple ever to hold an engagement shoot in Exploreum, the management let us use the place without the rental charges. We only needed to pay a minimal entrance fee for each person involved in the shoot. The tickets were only at PHP 250 each, and since there were seven of us, our total expense for the pre-nup shoot amounted to only PHP 1,750!
Here are more reasons why we don't regret having our shoot here:
✓ Accommodating staff
Prior to the shoot, I got in touch with Isabella Manjon of Exploreum who helped me with the approval of the shoot permits. We only communicated through e-mail and text, but when Mike and I arrived, everything was seamless. She was not there on the day of the shoot, but she made sure that all the details were properly endorsed to the staff. Thank you, Isabella and the rest of the Exploreum team!!!
The staff greeted us warmly, and they just let us do our own thing. They didn't get in the way, police us too much, or pressure us to hurry up, but whenever we did have questions or concerns, they were happy and willing to help.
✓ Sense of privacy
Even though our shoot fell on a Sunday, it was not crowded at all! There were a few visitors and even some kids here and there, but we still felt like we had the place all to ourselves!
✓ Variety
In choosing our venue, Mike and I wanted a place that was new to both of us because we wanted to explore together… and we sure did a lot of exploring at Exploreum! There was a lot to see inside. We're really like big kids who love to play and wander, and the displays and gadgets at Exploreum got us curious and engaged.
✓ Great photo opportunity spots
We wouldn't have chosen this venue if we didn't think that it would look cool in photos! (For this reason, I think the adults might enjoy it as much as the kids do!)
HAIR, MAKEUP, AND OUTFITS
An engagement shoot is every couple's chance to be stars for a day, and also a good excuse to look good or look glam. Some couples even hire a professional stylist just for this important shoot! But because Mike and I were trying to tighten our belts – and also because we were lazy – we just used whatever we already had in our own closets.
We only had two outfit changes. (Only one location and only two sets of clothes?! Told ya we're lazy!)
My first outfit was a dress I bought online from Apartment 8. It wasn't actually a newly bought dress. I've had it in my closet for ages but I've only worn it once. This galaxy dress totally complemented our space-themed pre-nup shoot and venue!
As for my second outfit, which was a simple blue dress, I got it from my sister's closet. Hehe! Thanks, Alexa!
For my hair and make-up, it was done by the late Val Villarin and his partner Michael Angelo (or Mike). Some make-up artists charge extra for a trial or pre-nup hair and make-up session, but Val's package — which was already super affordable to begin with! — already included free hair and make-up service for the pre-nup, so again, I got to save a lot of moolah! I went to Val's studio in Quezon City early in the morning to get dolled up, and they went with us to the pre-nup location.
I didn't really have any pegs for my pre-nup look (laaaazzzyyy…). I just knew that I wanted to look like myself but maybe a little cuter. Haha! When I host weddings and other events, I really pile on the gunk to look "show- and spotlight-ready." But for our pre-nup and wedding, I just wanted light and simple make-up, and Mike (Husband Mike, not Makeup Mike) wanted the same thing. He hates it when I paint my face and will not even kiss me if I have makeup on! So before heading to Val's, he told me "Don't go too crazy with the makeup!" When the photos came out, I think my makeup was a little too light, actually. Maybe I should have gone a little bit crazy with the makeup!
Working with Val and Makeup Mike was a pleasure. Both of them were punctual, jolly, and generous with their compliments, saying things like "Kahawig mo si Cristine Reyes!" ("You look like Cristine Reyes!" Not true though.) and "Ang gwapo ni Sir!" ("Sir is so handsome!" This one's true). Makeup Mike, especially, was such an angel. He was more than just a hair and make-up artist. He was a kind and concerned friend who helped out throughout the shoot. He would fix my dress, carry my bag for me, give us encouragement, and at one point, he even assisted the photographers with the lighting! Zeus even joked that he could be a good addition to the photography team! Makeup Mile really went above and beyond what was expected of him, and both Husband Mike and I love him!
THE PHOTOGRAPHERS
Aside from having an excuse to look pretty and feel pretty for one day, what is the point of having a pre-nup shoot, really? People say that it's also an opportunity for the soon-to-wed couples to get to know their photographers more and be comfortable with them. So is that true? Well… for us, it's hard to say. The pre-nup and the wedding are VERY different from each other. At our wedding, after our ceremony, we were tired, hot, hungry, and we really just wanted to get the post-nuptial pictorials over and done with so we can party with our guests at the reception. So to be honest, whatever we "learned" or "experienced" at our pre-nup didn't really have much bearing for the post-nuptial pictorials. Also, even from the very beginning, we were already pretty comfortable with Zeus. We got the chance to talk to him in person even before booking him, and even online, he was always accommodating and warm, so it was impossible NOT to be comfortable around him. At the shoot, he and the rest of his team – Vitt Salvador and Carlo Mancia – were also very nice to work with. They were all gentle, soft-spoken, and polite, so even though it was our first time to do a shoot like this, we didn't feel intimidated. They were also very reassuring. No matter how nice they are, we still felt weird and awkward about posing for photos, but they would say things like "You're doing great!" or "That's beautiful!" so that helped us gain confidence, at least. Who knows if those compliments are true?! Who cares? They worked!
If we could do it all over again, I think the only thing Mike and I would change is that we would do for more "fun" shots. Mike and I are weird, crazy, and playful people, but if you didn't know us and you saw our photos, you wouldn't think that we're weird, crazy, and playful people. I don't know, maybe we tried to be TOO professional, so we ended up looking too serious in our shots? Or maybe we got so comfortable with Zeus and team that we actually started to enjoy all that projecting and posing? It just never occurred to us to do some zany poses at the time!
THE EXPERIENCE
When I was contemplating on whether or not we should have a pre-nup shoot, my best friend highly suggested that we have one because she said that if we don't, I might regret it. I'll tell you what I'll regret: paying PHP 20,000 (or more) for a shoot! Haha! Seriously though, I can say that it was an interesting experience. Mike and I have TONS of photos together from our travels, events, and everyday lives, but an actual photo shoot with professional photographers directing us? That was new to us! I've had photo shoots before, but having one together with my fiancé is a unique feeling. Surprisingly, Mike – who doesn't enjoy having his photos taken and has never modelled for a shoot before – turned out to be more of a pro than me! He was so focused and easy to work with. On the other hand, his not-so-professional bride-to-be kept giggling and moving around. Sometimes, when he takes my photos, he'd tell me "You're a sh*t model." Ouch! Haha!
So would I have regretted it if we didn't have a pre-nup shoot? I don't think so.
Looking back, though, I'm glad we did. It's something to show and tell the kids someday, and we got to create new memories at the shoot. Mike and I are just so grateful because thanks to our wonderful suppliers, we got everything practically for free – the shoot, the hair and make-up, the clothes, and the venue.
Here are some more photos! Big thanks to our photo team for the cool cosmic captures!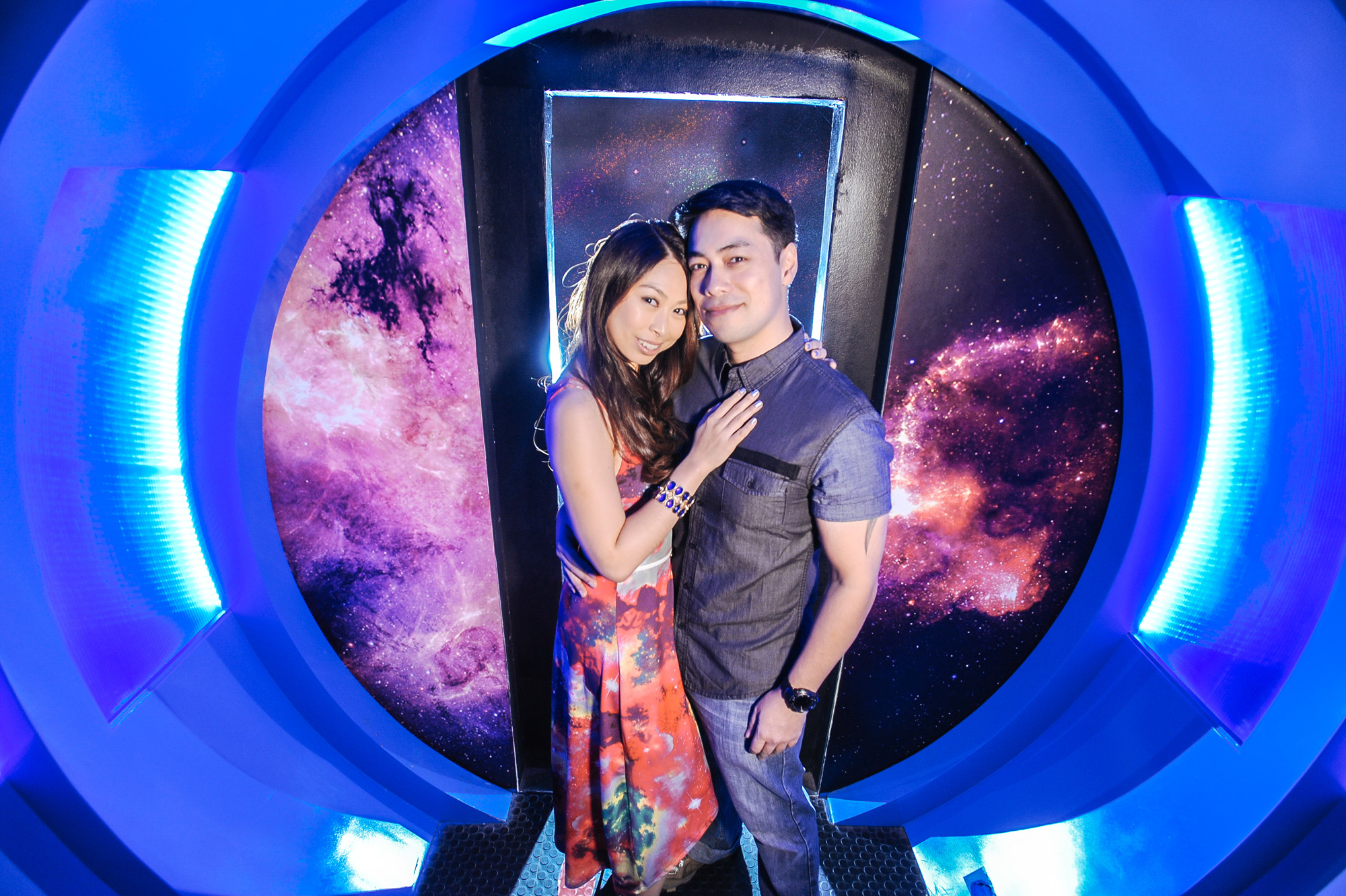 Suppliers / Vendors:
Pre-nup Shoot Location: Exploreum
Photographer: Zeus Martinez Photography
Hair and Make-up Artist: Val Villarin and Michael Angelo
Exploreum Philippines
Address: SM Lifestyle Entertainment, Inc.11th floor Mall of Asia Arena Annex Building, Coral Way corner J.W. Diokno Boulevard, Mall of Asia Complex, Pasay City
Phone: Operations – +63 (2) 863-2781 / Ticketbooth – +63 (2) 863-6783 / Infobooth – +63 (2) 863-6784
Website: http://www.exploreum.ph
Disclosure: Exploreum sponsored the venue for our shoot. All opinions are my own and are not influenced in any way.