I can't believe I just turned 31 a week ago! But what I really can't believe is that I still haven't blogged about my 30th birthday trip in Hong Kong last year. I've been meaning to write about it, but haven't found the time due to the busyness of this event called "life." Since exactly a year has passed since then, I've decided that the time is NOW. Better late than never, right?
Before I narrate our adventures around this animated city, allow me to first rave about our our home in Hong Kong because this nifty nook is an attraction in itself.
If you're into art, you're going to love Hop Inn at Carnavron. It's more than just a hostel — it's a "living art space." Each corner in this hip hotel is a "beautiful mess." Once you hop inside Hop Inn, you'll be greeted by the doodles and scrawls on the walls, and you'll know that you have found one unique crash pad in Hong Kong!
(Zoom in on the photos if want to see the doodles up close)
There are two Hop Inn locations: one in Hankow, and one in Carnavron. For my 30th birthday trip with my fiancé Mike and our friends Paula and Eric, who was also celebrating his birthday on the same date as mine, we chose to stay at the Carnavron site. They've been awarded lots of times by TripAdvisor and Hostelworld, so they're always fully booked. We were lucky that we were able to secure rooms for ourselves!
It was clear from the moment we stepped outside the elevator and went inside their rainbow of a reception area that Hop Inn is a hotel with a personality! It's a hotel that lets you wonder, create, and have fun!
Rooms
During the initial stages of looking for a hostel, what really caught my eye were the photos of the whimsical rooms in Hop Inn. I'm all for minimalist and elegant hotel rooms, but I'm also a fan of anything colorful, offbeat, and artistic, and the rooms in Hop Inn were just that. Each room is unique, with illustrations on walls and doors by different local artists.
We were not allowed to choose a room, which was okay with me because I like surprises… I was just hoping that it would be a pleasant surprise! I'm glad we actually got a good room, and one with fun drawings too!
The rooms are pretty small, to be honest. As you can see, there is just enough space between the bed and the bathroom, and just some room for your luggage. But really, all you need is a place to sleep, rinse, and… you know, do your "business." Also, either the walls were a little thin or Paula and Eric (who were staying in the next room) were just really loud. Sometimes, I could hear them laughing and talking from the other room!
What I liked about the rooms, though, is how clean they are. The problem with some cheap hotels is that you would get that feeling that you will contract AIDS just by touching the sheets. For a cheap backpacker's inn, Hop Inn's rooms are really tidy! Every day, while we were out exploring the city, the staff would always make up our room and if we asked, they would replace our used towels and sheets with fresh ones. It was nice to come home to that, especially after a tiring day of touring. We would usually leave the room looking like the aftermath of a hurricane, but when we've arrived, all of our things were arranged nicely in one corner.
Bathroom
The rooms at Hop Inn have their own bathroom. As you have seen in the photo above (the one with the freaky-looking emoticon),  the glass in the loo is see-through. No worries though. There's a curtain that you can pull to separate you and the outside world, so there's nothing for them to see except your sexy silhouette. (A silhouette of you doing the number 2 is much sexier than actually seeing you do the number 2 in the flesh).
Their shower works just fine and you'll be relieved to know that there is hot water. They also provide toiletries (soap and shampoo) so no need to bring your own. You can also request for a hair dryer at the reception area. They don't provide slippers, though, so bring your own!
Wi-fi
There is wi-fi in all parts of the hotel, and the signal is quite good in the rooms, too! We were also lucky that our room was right next to the reception area (where the wi-fi router is most probably hooked) so the connection was super!
Common Room
Normally, when I choose my lodging when I travel, the only things I really care about are: a) the location, b) the cleanliness, and c) the price. I couldn't care less about insignificant things such as an impressive common room. I'll be out the whole day, anyway. Who has time to loll around in a hotel lounge?
Apparently, when you're staying at Hop Inn, you will find time to loll around their lounge. Why? Because Hop Inn's common room is anything but common!
What makes Hop Inn's common room so cool?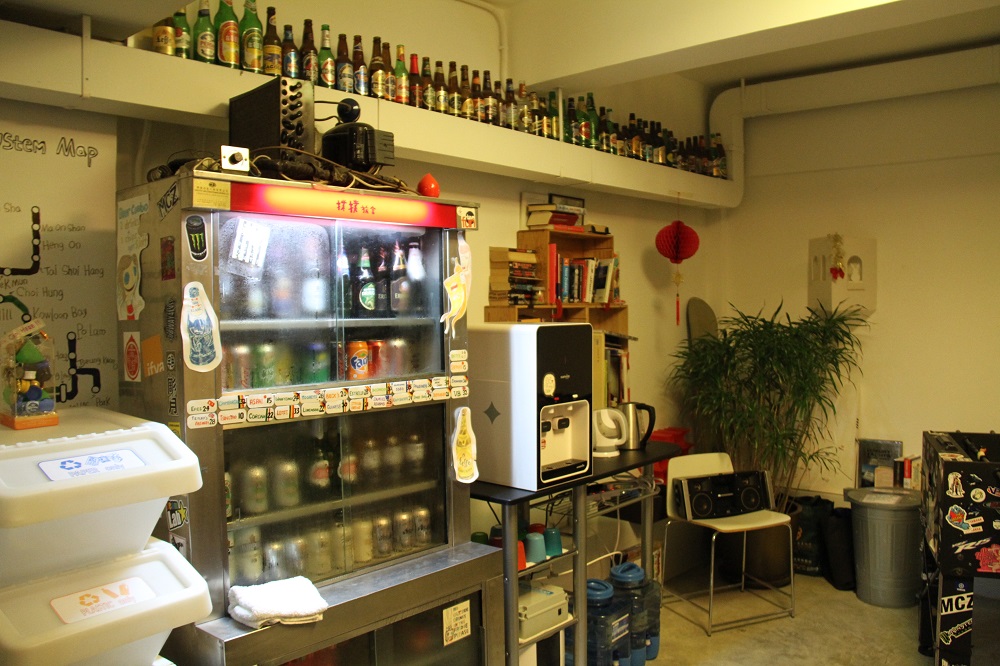 An iPad can also be borrowed from Hop Inn upon request.
While having fun is very much encouraged when in this lobby, remember that Hop Inn is still a resting place, and some guests just want to relax and sleep. So… a little consideration, please, especially after 11 PM!
Location
Hop Inn is conveniently located in the heart of Tsim Sha Tsui,. By foot, it is only 5-8 minutes away from the major tourist spots like Avenue of the Stars, the Star Ferry, Kowloon Park, the Hong Kong Art Museu, Hong Kong History Museum, and more. By MTR, you can get to places like Temple Street and Lan Kwai Fong in just 5-10 minutes, while you can reach hot spots like Disneyland and Ngong Ping Village in less than an hour! It's also just a few steps away from the Tsim Sha Tsui and East Tsim Sha Tsui MTR stations.
If you like shopping, you will love Hop Inn because you are just a hop away from shopping malls and the best shopping streets in Tsim Sha Tsui, which include Granville and Nathan Road. You can even walk to Canton Road, a posh road lined with some of the most well-known brands like Gucci and Dior (for the really loaded) and H&M (for the regular folk, like me… and maybe you. If you're loaded, you probably wouldn't be bothered reading about a hostel because you've already booked a suite at The Four Seasons!).
There are plenty of eating places around Hop Inn, ranging from fine dining restaurants to dingy-looking eateries that serve delicious, authentic Chinese grub. If you get hungry in the middle of the night, there's a street food stall right in front of the hotel where you can get down with the locals as you savor Hong Kong's street food. There's also a 7-11 just right below the hotel.
Service
From my very first e-mail conversation with Ellen, one of the first persons from Hop Inn who took care of my online booking, I was already pleased with the service and friendliness of the hotel staff. They spoke English very well so it was not hard at all to deal with them. They would smile at us whenever we passed by, and would answer all of our questions patiently. One of them didn't even judge me when I grabbed a handful of candies from the reception counter! (Hey, they were free for the taking!) I had this horrific incident where I was bawling like a baby because my camera's SD card (which contained all of our photos from the trip) got corrupted. I bugged the front desk people and asked if they can help me, or if I can test my SD card on their computer, and they were willing to help. In case you're wondering, Mike and Eric worked relentlessly at recovering my photos, and I'm happy to say that they were retrieved! The quality is not as great as the original, but that's better than nothing!
Security
Hop Inn may be all about fun and relaxation, but they can be very serious about security. There are CCTV cameras around the place and the guard locks the gate of the ground floor during ungodly hours of the night. Mike and Eric got locked out one night and I don't know how they got back in but they said the guard was being a bit Hitler-like when it came to security. That could be a good thing, I guess. At least you know you're safe from the robbers and your vacay in HK won't turn into a holiday from hell!
Price
You can check their room rates here, but since rates vary depending on your preferred date and the occupancy, always make sure you inquire first so you can get the most precise rates. For our stay last February 26 – March 2, 2014, our room rate for a double room was HKD 690 / PHP 3,926. For 4 nights at Hop Inn, we only paid a total of HKD 2,760 / PHP 15,700! Per person, per night, that's only HKD 345 / PHP 1,963. (Please double check if my computation is correct. I suck at Math.)
If you ever find yourself Hongkong-bound soon and in need of a hostel that's cool, casual, crafty, and cheap, I think you will be happy at Hop Inn at Carnavron!
Hop Inn at Carnavron:
Address: 9/F, James S. Lee Mansion, 33-35 Carnarvon Road, Tsui Sha Tsui, Kowloon, Hong Kong
Phone: (852) 2881 7331
E-mail: enquiry.hopinn@gmail.com
Website: http://www.hopinn.hk/ (Even their website is cute!)
Facebook: https://www.facebook.com/HopInn
Twitter: https://twitter.com/HopinnHK
Instagram: http://instagram.com/hopinnhk
Pinterest: http://www.pinterest.com/hopinnhk
Photos by Mike Smith / Miguel Lazatin and me