Still looking for the best Christmas gift ideas? Well, I don't know about you, but I think chocolate is ALWAYS a good idea! I personally don't know anyone who doesn't like chocolates (and even if they can't have it, they still try to sneak in one or two!).
Le Tao, makers of the famous rich and milky cheesecake from Japan, came out with more irresistible treats for those with an undeniable sweet tooth. They also come in a very elegant packaging, so if you plan on giving these as gifts, the moment they open the package, they'll be oohing and aahing!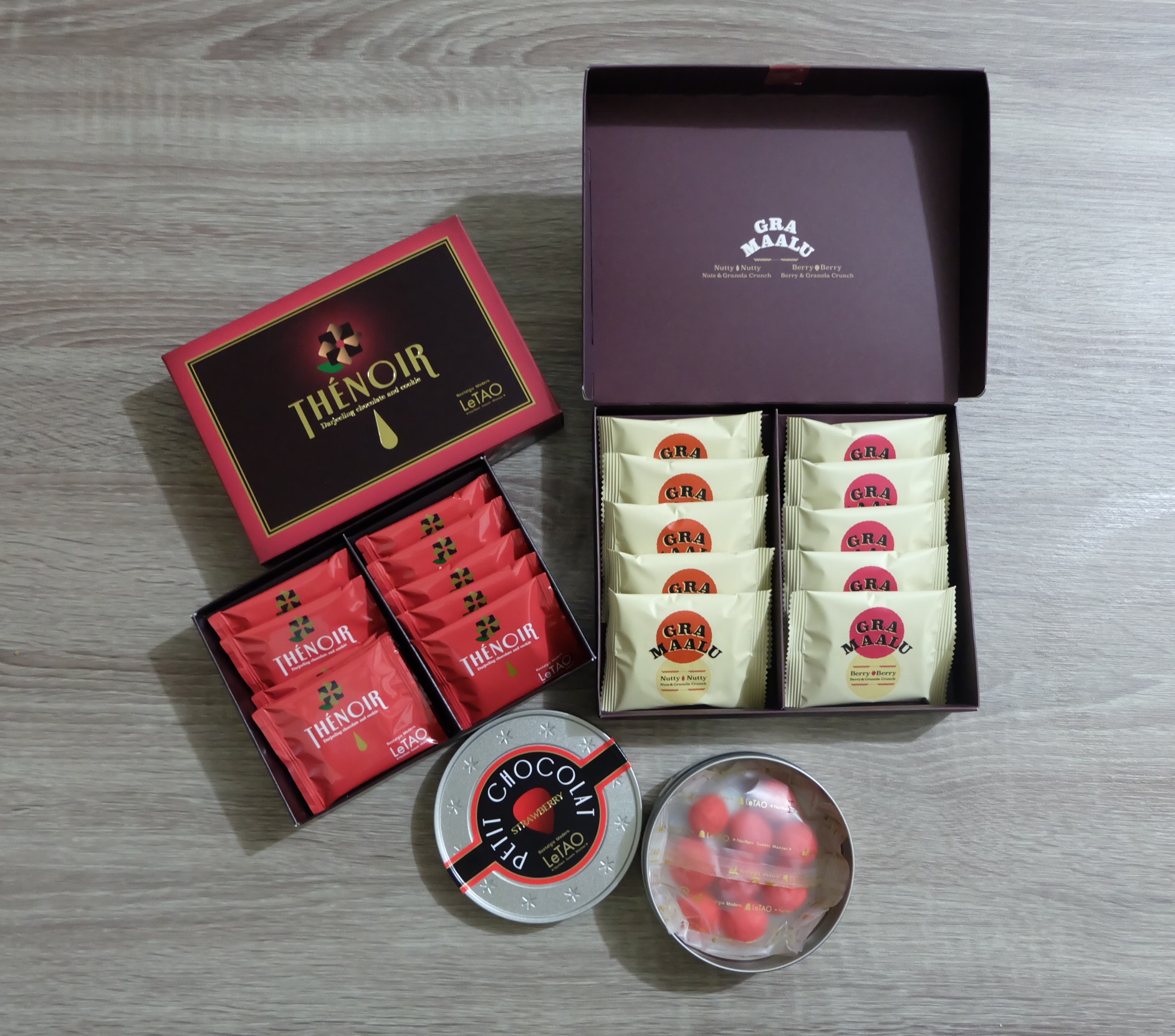 Petit Chocolat – Strawberry
Sink your teeth in these bite-size pieces of pure heaven! Free-fried strawberry coated in white chocolate? Seriously, how can you not love this marriage of tangy / sweet?
If you're wondering why there are only four pieces in the photos, it's because Mike asked if he could have some before I got the chance to take a photo of everything. I told him he can have a few, but leave some for me because I still had to take photos. Well, he was obviously addicted to these and only left four pieces for the pregnant lady with crazy cravings for sweets! And when I finally tried them myself, I quickly forgave him for eating most of it because I finally understood: they're just too delicious!!!
Gra Maalu
Another tempting treat from Le Tao is their Gra Maalu, a crispy and light-as-air combo of oat granola and feullantine, a kind of thin, crushed crepe. Because it's so light and made with healthy ingredients, you really won't feel so bad about having one… or two… or more!
The Gra Maalu comes in two variants: The Nutty Nutty and the Berry Berry.
The Nutty Nutty has, made with a hazelnut paste, has a pleasurable chocolate taste. The Berry Berry is a delectable and milky medley of sweet white chocolate and sour raspberry powder. Can't decide between the two? Get the assorted box and enjoy both flavors!
Thénoir
TheNoir is the perfect afternoon indulgence with its opulent chocolate flavor infused with aromatic Darjeeling tea. The unique flavor in every bite of these crispy and exquisite cookies is one that you surely won't forget!
Complete your Christmas shopping list and head over to Le Tao's pop-up store at Level 2 of Greenbelt 5! Get a hold of these decadent desserts until supplies last!
Follow @letao_ph on Instagram and check out #letao_ph for more information.
Disclosure: The items were given to me by Le Tao Ph. All opinions are my own and are not influenced in any way.