Hey, everyone! It's been pretty quiet here in the blog, hasn't it? With all the tasks I've been juggling lately, it's been a struggle to find the time and energy to write. Anyway, today, I decided that I should probably break the silence and share one of my recent projects with you.
A few months ago, I was chosen by LinkedIn to be one of their talents in their Hero video. I am 101% sure that most of you are familiar with LinkedIn and you most likely have a LinkedIn account. But in case you're not, let me acquaint you with them. LinkedIn is a social networking platform that connects professionals all of the world. Through LinkedIn, members can explore employment opportunities, showcase their professional profiles, and develop their skills by reading articles or watching videos from various thought leaders.
They came out with the Hero video with the goal of reminding everyone to stay positive despite the uncertainty caused by the coronavirus pandemic. With so many people experiencing job losses and struggling with their businesses, LinkedIn reminds us through their video that we can surpass these challenges and that we are #InItTogether.
(Watch the LinkedIn Hero video here)
The video is only 1 minute long, but the interview and shoot — which were done last June — actually took longer! I thought it would be fun to share the interview with you as some of you may be in the same boat as I am. I actually typed my answers before the interview so I'd have a guide during the shoot… So here they are!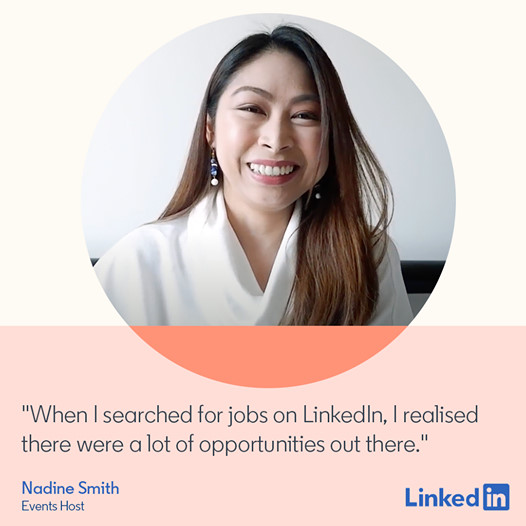 INTRODUCTION
Tell us something interesting about yourself.
I wear different hats – I'm an event host, a voice over artist, and a digital content creator. I am also a mom of a two year old baby girl. I own a blog called ScenesFromNadine.com where I write about motherhood, lifestyle, food, travel, and some personal stuff.
How are you feeling right now?
I'm actually feeling pretty good! I'll admit that there are days when I do feel down and disheartened because of the situation that we're in. I think that's normal. But there are also days like today when I'm feeling positive and hopeful. When I realize how blessed I still am despite what we're going through, that's when I feel lighter and more optimistic.
COVID REFLECTIONS
How did this pandemic change the way you work and live?
This pandemic has really changed the way I work. I've been relying heavily on technology these days that I cannot imagine how I could even survive without it. [Most] of my live events have been postponed, but thankfully, more brands are now considering shifting to digital events. In fact, I recently hosted [some] corporate events via Facebook live.
As for my voice over work, instead of recording in a studio like I used to, I just record at home, in my bedroom, and send all my voice files to the production houses via e-mail.
Tell us about the new normal challenges that working moms face
As a freelancer, the challenge for me has always been how and where to find gigs. Unlike regular employees, we have to proactively search for new projects to keep us afloat. And now, with this pandemic, the challenge just got a little tougher as work got a lot leaner.
On top of that, as a working mom, the one thing I am constantly struggling with is juggling all my responsibilities. To live and earn, I have to keep working and keep looking for work. But on top of that, I also manage our household. I do most of the house work, from cleaning to cooking. I also look after my daughter. I play with her, feed her, home school her. Sometimes, the mom guilt sets in. Am I doing enough? Am I doing too much?
Working from home also has its own challenges, especially when you have an active toddler who always wants your attention. I'd compose an e-mail and she'll go under my work desk and play there, of all places! Or when I'm doing a voice recording, I have to hand her over to my husband and tell him to make sure that she doesn't scream or run around because I need absolute silence.
Tell us your experience losing work as a live event host because of the pandemic.
A lot of businesses and industries have been devastated by the pandemic, but I have to say that the events industry is one of those that have been hit the hardest. Event hosting was a job that I really loved. I was passionate about it. This job gave me a sense of purpose and fulfillment. So when it was taken away from me without warning, I was really heartbroken. I watched as my events got called off or put off one by one. It's tough, and not knowing when my industry will recover and when things will go back to normal makes it even harder.
FINDING A SOLUTION
What can we do now? How do we cope and adjust? How do we remain positive?
Now, I think the best thing to do would be to adapt and embrace change. We have to accept that this is the new normal. Things that worked for us before might not work for us anymore, so we can't get too stuck on the past. We have to keep evolving. We have to move with the times and do things a little differently.
The good news is that all is not lost. Even for someone like me whose career has been greatly affected, it's not the end of the world. Opportunities are out there… we just have to seek them. There will always be someone who will need our skills, our knowledge, and our talent. We just have to be resourceful and creative.
How do you find inspiration from the thought leaders you've watched on LinkedIn? 
I've watched some videos of thought leaders on LinkedIn and what struck me was that these are successful, self-made career men and women, yet they are human just like us. These people are now working from home too, and they seem to be doing it really well. And if they can do it, we can too. It can be done by anyone! One of the thought leaders I watched even mentioned that he has seven kids at home and he is just doing the live video in his bedroom since he didn't have a separate home office. My setup is pretty similar (except that I only have one kid and not 7!), but working from home is absolutely possible! In fact, the thought leaders I've watched on LinkedIn even said something like working from home is the new way of life, but BETTER. There's no more need to brave the traffic for two hours just to get to work. You can get things done in the comfort of your own home.
One of the things that really struck me from the LinkedIn video I watched was when the thought leaders talked about work-life balance, which still applies even when you're working from home. As a working mom, I think it's very important to do my work well, but it is even more important to spend time with my family and fulfill my duties as a homemaker. After all, my family is my 'why.' At the end of the day, why am I doing all of this? I'm doing this for them.
A BETTER LIFE MOVING FORWARD
What have we learned and how can we move forward?
First, we should utilize technology. At a time like this, technology really is our ally. Everything can be done with our smartphones and computers – e-mails, messages, interviews, meetings, and even events! Imagine, thanks to technology, we don't even need to go out to look for jobs. Websites like LinkedIn make it easier for us to explore possible sources of income and connect us to potential employers.
Second, we have to constantly improve ourselves and equip ourselves for the new normal. Even though the world stopped, our learning shouldn't stop. We can start a hobby, take online courses, or watch thought-provoking videos such as the ones in LinkedIn. That way, if we are presented with a good opportunity, we are ready for it.
How did finding freelance jobs on LinkedIn help you fulfill your role as a mother? 
Because of Covid-19, I lost my bread and butter, which is hosting events. But while my events got cancelled, the bills did not. My responsibilities to my child did not. I still need to be strong and provide for her, pandemic or no pandemic. So I have to constantly find ways to earn somehow.
They say that knowledge is power, and LinkedIn really empowered me with the knowledge of the job opportunities that are available out there. Discovering that there are many promising job openings despite this pandemic gave me some assurance that there is hope. In a time of uncertainty, LinkedIn has eased my feelings of anxiety about the present and future.
<End of interview>
Are you on Linkedin? Has it helped you in your professional journey? If you haven't tried Linkedin yet, it's about time you set up an account and open yourself up to a world of opportunities! I have friends and acquaintances who landed jobs thanks to Linkedin, and some of them did not even search for those jobs. It was the employers who found their profiles and reached out to them! Linkedin is really such a big help, especially if you are seeking work during this challenging time.