The Grand Baby Fair is the event for babies, kids, and parents that moms and dads are going nuts for! Now on its 9th year, the baby fair promises three days of exciting programs, raffle prizes, lots of freebies, celebrity guests and baby experts, over 200 participating brands, and up to 70% discount on great selections. It's not called a GRAND baby fair for nothing!
This year's Polynesian-themed baby fair started last January 25 and will run until today, January 27 at the SM Megatrade Halls 1, 2, and 3. Expect to see the halls transformed into a festive luau, complete with ladies in grass skirts, people with leis around their necks, giant tiki totems, torches, and palm trees!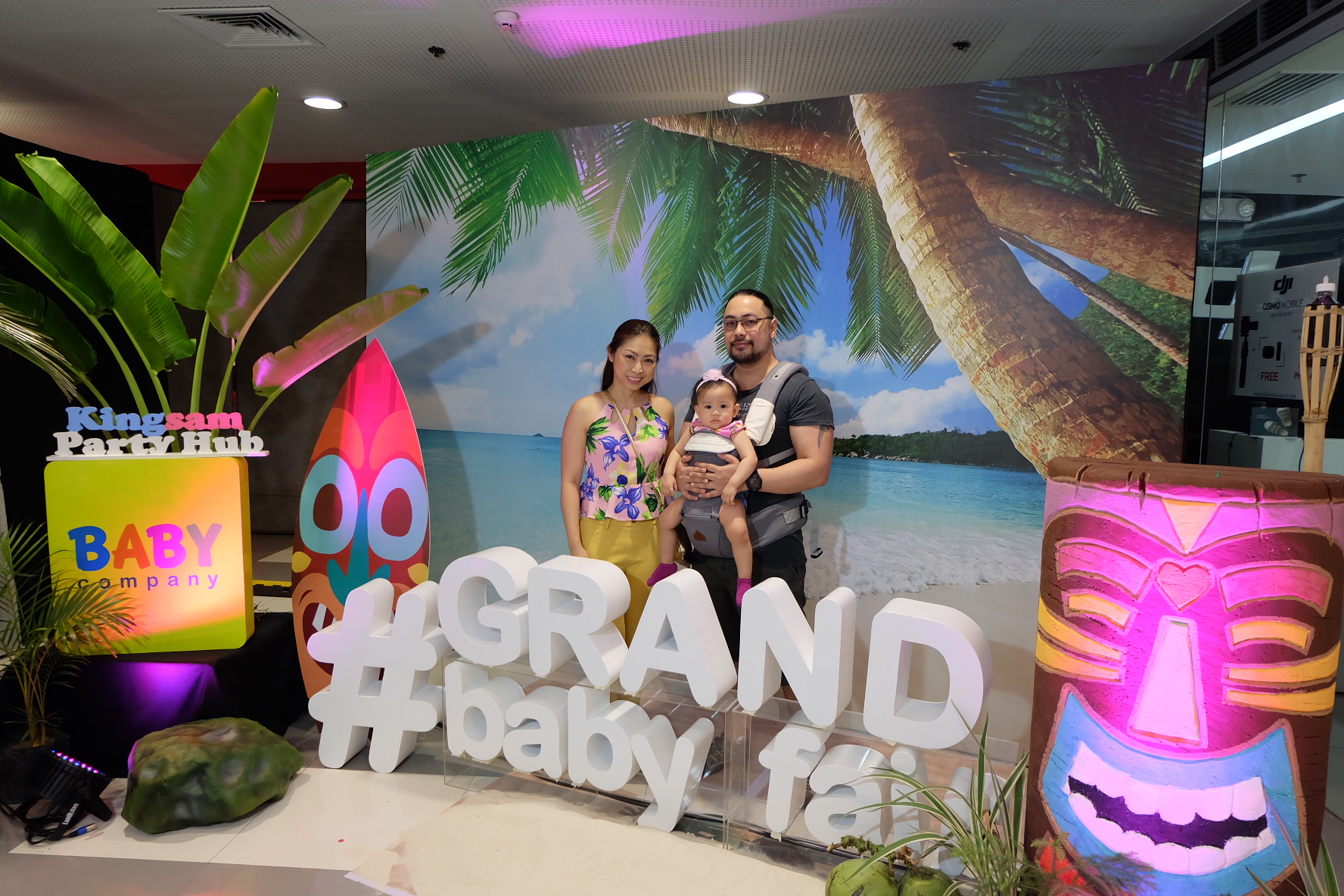 Here are just some of the participating brands and deals you can score at the Grand Baby Fair. Believe me, this barely scratches the surface. I couldn't take photos of all the stalls because I was busy scouring the area for good promos!
Tiny Buds
Cusina and 123 Baby
Infantino
Cetaphil
Foldaway
Combi
Nature to Nurture
Pigeon
i-Angel
Huggies
Nivea Baby
Goo.N
Pampers
Baby Dove
Cerelac
Philips Avent
Mamy Poko
Orange and Peach
It's not uncommon to see shoppers carting around boxes and boxes of products. Some customers really hoard baby items and make the most out of the discounts being offered at the baby fair. I myself wanted to grab everything in sight, but I challenged myself to just stick to the essentials (in an effort to be a minimalist). Here is my humble haul:
I got all of these for a total of only PHP 2,060! Not bad, huh?
And here are the contents of the swag bag:
The Grand Baby Fair is like a marathon. You need to come prepared — physically, emotionally, and mentally! So if you are planning to go, here are some things you may need to consider:
WHAT TO WEAR?
Definitely wear something comfortable! You will be doing a lot of walking, cart-pushing, and squeezing your way through crowds, so make sure you wear something that allows you to do all these with ease. If you're up for it, you can also dress according to the theme! You might just win a prize!
EAT BEFORE YOU SHOP.
You need energy to shop so make sure you've had a hearty meal before going to the baby fair. There are a few food carts inside, such as Tender Juicy (hot dogs) and Potato Corner, but that's it!
CARRIER > STROLLER
Leave the stroller at home and bring your carrier instead. It will be hard to push a stroller around when you're trying to fight through throngs of busy shoppers. A carrier lets you move around more freely. A carrier is especially handy when your going by yourself. It's not fun to wheel BOTH a stroller and shopping carts at the same time! Speaking of going by yourself…
BRING A SHOPPING BUDDY
…if possible. An extra hand to help you with the mountain of stuff and your baby (if you are bringing him/her) is such a big load off your shoulders! I only had two shopping bags, one baby bag, and one baby (yes, I say 'only' because there were other shoppers there who must have been carrying ten bags!!!). And yet, it was already a struggle, to think my husband was there to help me! Plus, it's good to bring another person if you need a second opinion on an item you're thinking of purchasing. But wait… About bringing your baby…
BABY: TO BRING OR NOT TO BRING?
This is entirely up to you. Obviously, if your baby is really tiny, like 1 week old, it's not advisable to bring him/her and expose him/her to a big crowd. But if, like me, you have no choice (and no helper to look after your baby), then bring away! A friend of mine also brought her 2-year old because she was needed to get a new stroller and her son needed to test drive it to see if he'd like the stroller.
BRING A BODY BAG
Bring a small body bag for your valuables that you can just wear over your chest at all times. Keep this bag close to you and in front of you. It's also easier to reach for your wallet this way  instead of rummaging through your diaper bag in a sea of baby stuff (unless it's Daddy who's going to pull out his wallet, then no worries. Haha!)
GET THERE EARLY
Expect that there will be a lot of people any time of the day, but I noticed that the later it got, the busier it got as well. Also, you know what they say about the early bird catching the worm. Some stocks are limited, so if you're eyeing something in particular, you get first dibs if you get there before everyone else. Case in point: I was there around lunch time on Friday, which was officially the first day of the sale, and yet when I was looking for medium-sized Pampers, they were all gone!!! Similarly, a friend of mine was looking for a specific Joie car seat, and when she got there on a Saturday, she was bummed to find out that the model she wanted was already out of stock.
GET SOCIAL
Don't forget to follow @babycompanyph on Instagram and Facebook and check out the official baby fair hashtag to see the latest updates on the sale! Be alert because sometimes, this is where they announce exclusive promos or extension of promos.
CHECK YOUR STOCKS
Before going to the baby fair, check which essentials you still have a lot of and which ones are running out. That way, you won't buy too much of something which you eventually will end up not using (e.g. buying too many small-sized diapers when your baby is going to grow out of them real soon) or buy something you thought you didn't have when you could have used your shopping budget to buy something else that's more urgent or necessary. Making a list helps too (although I didn't do this!).
FACILITIES FOR MOM AND BABY
Baby Company thinks of the needs of both mom and baby, so they provided a breastfeeding and changing station inside the hall. It's a bit tight, but it's clean and it does the job! They even provided a pack of baby wipes for the changing table.
BRING YOUR MOM CARD
This is very important! Present your Mom Card and who knows? You might just get more good deals!
——————-
It was a tiring but fun day of shopping, and I'm glad we went! Thank you for having me and my family, Baby Company!
Know more about the baby fair by checking out the hashtags #GrandBabyFairYear9 and #BabyCompany