It wasn't easy looking for a classy but affordable hotel in the Jimbaran area of Bali. Accommodations here are mostly international chains, five-star resorts, and luxurious villas. What do you expect from a place known as "the Beverly Hills of Bali"?
And then I stumbled upon The Astari Villa & Residences, and it was LOVE.
Staying true to its reputation as "The Hidden Gem of Jimbaran," the Astari Villa & Residences is a serene boutique hotel tucked away in a peaceful location and encompassed by nature. With a total of only 20 rooms, it's the perfect hideaway for those who seek a low-key getaway.
Guests can choose to stay in the Astari's Deluxe Rooms or Suite Rooms, both directly overlooking the pool and plush trees and shrubs. These rooms and suites are perfect for families, friends, or solo travelers because the rooms are spacious and come with a kitchenette where guests can prepare their own meals.
The main pool at the Astari is lovely, tranquil, and impeccably clean, and it's the perfect spot to enjoy a lazy, laid-back holiday. If you want to go all out lazy, you can also enjoy your snacks and drinks at the pool chairs. Also, according to the Astari, if you see a coconut hanging from a tree, you can ask the staff to pick it and serve it to you so you can enjoy fresh coconut juice. Ah, the little joys in life!
The Deluxe Rooms and Suites, as well as the main pool, are all very pretty! But since it was our honeymoon, we thought we'd live it up a little and splurge a little on our own private villa.
They had a 3 days/2 nights Easter Package for a 1-Bedroom Private Pool Villa which included:
Daily Breakfast for 2 persons
Personlized Airport pick up and drop off services
One-time Romantic Easter Dinner
One 1-Hour Balinese Massage for 2 persons
10% discount for local wines
Romantic Room set up with rose petals
Welcome fresh tropical fruits
Unlimited Wi-FI Access in the room and the public areas
Welcome drink & cold towel upon arrival
Scheduled shuttle to Kuta, Nusa Dua & Jimbaran area
Afternoon tea from 15.00 – 17.00 pm
All of this at a staggeringly low price of IDR 3,925,000! What a steal!
The promo had actually expired already but Ayu, the Resort Manager, was kind enough to extend the promo to us even if we booked at a later date. And because we did not require airport transfers, we only paid IDR 3,265,000! Some hotels would charge this much for just a one-night stay with breakfast and nothing else! But for this rate, we were covered for TWO nights plus we got all these fantastic inclusions that would normally cost a lot on their own! We really struck gold with the Astari!
The private villas are located in a separate wing, away from the Deluxe Rooms and Suites, and are hidden away within a garden compound. To get to the villas, guests have to walk through a narrow passageway surrounded by vibrant green plants and trees. The location of the private villas make you feel like you're a world away from everything else!
We stayed at the Villa Manggis, named after the purple mangosteen fruit. To be honest, for the price we were paying and for the fact that it was only a 3-star hotel, Mike and I weren't really expecting much from the Astari. Before we booked our villa, we checked their website for photos of the property, and he said, "Their photographer is really good!" We thought it would be one of those places where the photos were enhanced and looked better than the real thing. But when we opened the door to our villa, our jaw dropped when we were greeted with this: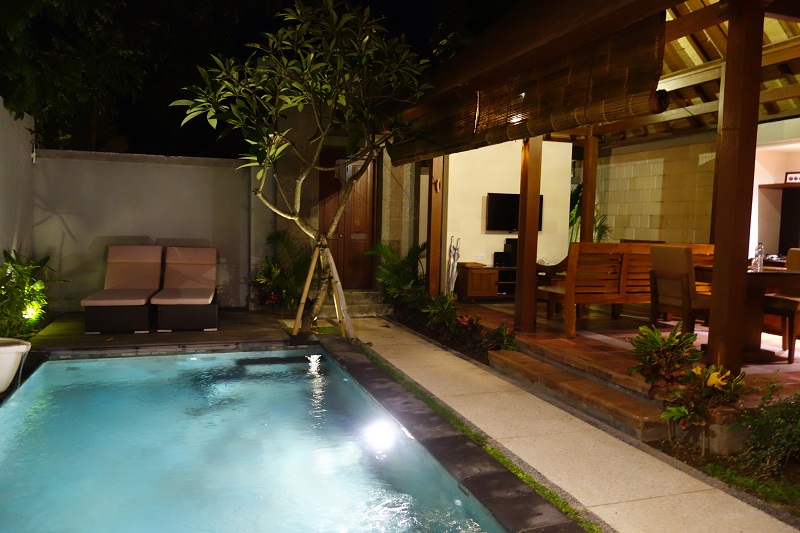 What was that word I was looking for? I believe it was "WOW!!!"
That was all I could manage to say when I laid my eyes on our astonishingly beautiful "love nest." We had a huge and comfortable bedroom overlooking a lovely private pool, our own spacious living room and dining area, and a gorgeous and enormous en suite bathroom, and we couldn't believe that we had all of this to ourselves! 😍😍😍 Happy honeymoon indeed!
Mike and I kept telling each other, "I wish we had a house like this!" For two nights at least, we were able to experience what it was like to live in a dream home.
The Bedroom
Just look at this photo below. I don't think I even need to tell you how beautiful it is!
The moment we plopped down on that comfortable bed, we knew: we were home! The size of the bedroom is just perfect for a party of two — roomy enough to give it a feeling of grandeur, yet not too humongous so the atmosphere is still cozy. The modern design blended with Balinese touches really lends elegance and a peaceful sense of intimacy to the bedroom.
The room also has a work desk and plenty of storage space, a TV, and a closet which is situated in a separate area.
In the space where the closet is, just behind the bedroom, is another work desk right next to a little "garden." Not one but TWO work desks! I'm guessing that there are two just in case both guests need to work at the same time. Good luck with getting any work done here though! You'll probably just bum around on the soft bed or respond to the tempting call of the beautiful pool!
Wi-Fi is also available in all the rooms, regardless of the room type, as well as the common areas. The signal is much stronger in the main wing, though. During our stay, the Wi-Fi signal in our room fluctuated quite often, maybe because our villa was far from the main wing where the modem and router were set up. Perhaps there should be a separate modem and router just for the area where the villas are.
The Bathroom
"Did you see the bathroom?!" Mike asked in amazement. "It's HUGE!!!"
You could sleep in this massive bathroom! This is one of the biggest and prettiest bathrooms I have ever seen! Though there won't be any Ferragamo or Acqua di Parma shampoo and shower gel bottles for you to take home (don't tell me you haven't done this at least once in your life!), in terms of size and design, this bathroom could rival the bathrooms of some 4- or 5-star hotels I've stayed at.
The bathroom is stunning at night and just as fantastic during the day. At daytime, you don't even need to turn on the lights because it's already bright, thanks to the natural light shining through from the ceiling. The plant pots also make you feel like you are bathing outdoors, next to nature.
The Outdoor Living Room and Dining Area
We spent most of our time in the bedroom but the outdoor living space was sensational! It was simple and homey, but still made us feel like we were living in the lap of luxury. I wish we could have stayed longer to enjoy this part of our villa!
There's a TV, DVD player, phone, and some snacks in the living room. Mosquito coils and umbrellas are provided. Towels for swimming are also replaced everyday. What else could you possibly want and need?
The hotel has a restaurant in the main wing but if you want to enjoy your meals in the comfort of your own villa, that's perfectly okay too! You can even cook and prepare your own meals in your own villa. A fridge, microwave, kettle, and stove can be found in the kitchenette in the dining area.
The Pool
The moment we entered our villa and saw the glistening blue pool, all I wanted to do was jump right in!
The pool was definitely one of the best features of our villa! It was so clean and well-maintained, the water temperature was always nice, and the size was just right for two people. Water trickles from two small fountains and the pool had soothing water jets. We went swimming both during the day and night, and on both occasions, it was wonderful!
The pool at the main wing is great but nothing beats having your own private pool! Skinny dipping? No one will see you so strip away! Sexy time in the pool? Go for it… because YOU CAN! Photo shoot by the pool? Go ahead, no one is around to watch you (or judge you)!
Seriously, the guest rooms and suites are neat, but if you are celebrating a special and intimate occasion, get a pool villa! It's totally worth the extra splurge!
The Food: The Asri Resto & Bar
We started our day with breakfast at the hotel's restaurant called The Asri Resto & Bar inside the main wing of the hotel. The restaurant is small but it's a good and quiet place to enjoy a meal.
For the two days that we had breakfast at the restaurant, they served rice, fried noodles, eggs with a side of bacon, salad, tomatoes, potatoes, one kind of sandwich, and baked breads like croissants. They also had fruits, cereals, and French toast.
Mike and I love the Astari to bits but if there is one thing we wish they could work on, it's the breakfast food. The food choices are a little limited. While the taste of the food was not exactly what I would call "horrible," it was bland and forgettable. In fact, when I was reading reviews about the hotel, the comments were consistent: the breakfast needs a boost. The lunch and dinner meals have more positive reviews, though. I can say that the one dinner we had here was excellent, but more on that later.
The Spa: Lestari Spa
Okay, here's the thing: don't expect a high-end spa with luxe amenities, koi ponds, and indoor waterfalls. The Lestari Spa is really just a small massage room with two massage beds just right behind the Asri Restaurant. Look at the photo of the restaurant again, below. See those two doors right behind the counter? Yup, that's the "spa"!
Because the top of the spa was open, my husband said he could hear "the Russians swimming by the pool" in front of the restaurant (He was very specific. I didn't hear anything because I was too "in the zone"). It was not really that noisy but he said that it would have been much nicer if the massage room was completely enclosed to achieve a more calming ambiance.
The spa was small but it had all the essentials for a satisfying massage, including two shower rooms.
As for the Balinese massage which we got, it was nice and relaxing – just what we needed after a long and tiring day! The polite and attentive therapists would ask us if we were okay with the pressure and if we were comfortable. The poor therapist who was massaging Mike was sick that day though so she was coughing during the massage, which was a little distracting. Overall, however, we had a good experience at the Lestari Spa.
In-Villa Romantic Dinner
Our honeymoon at the Astari was made even sweeter with the romantic room setup and private in-villa dinner prepared by the hotel staff. It felt like Valentine's Day in April!
The touches in the room and bathroom were simple but cute and thoughtful. Outside the bedroom though, they really went all out with the romantic setup! Rose petals were scattered on the floor and glimmering candles were placed on the corners of the pool. Our cozy home was instantly sexified!
A charming candlelight dinner setup for two was arranged by the pool side. They even put up traditional Balinese umbrellas, hung strings of flower garlands, and lit up torches to doll up the place. The Astari did a great job at making sure that we celebrated our honeymoon in the most special way!
Mike and I eat out all the time but we usually just go to casual dining restaurants. Candlelight dinners are very rare for us so our dinner at the Astari was really something else! To have a unique and pretty dinner setup organized especially for us — and no one else but us — complete with our very own dedicated server in the comfort of our own private villa, that was definitely one remarkable and memorable date night!
Though the breakfast at the Astari was a bit of a washout, the four-course dinner we had was terrific!
First course: New England Seafood
Creamy soup with fresh Jimbaran seafood and vegetables.
Yes, the soup was indeed creamy and the seafood and veggies were fresh! The dish was simple but it had a delicious milky taste and the textures in this dish were precise. We loved this!
Second course: Bread and butter
We also snacked on some breads and bread sticks while waiting for the main course. Mike enjoyed these bread sticks and said they were pretty fun to eat.
Main Course: Grilled Fish Blanco
Fresh white fish fillet with orange chili sauce, cherry tomato, and mashed potato.
What better way to celebrate a happy occasion than with a beautifully presented dish that radiates zest and exhilaration? The bright colors in this dish were enough to get me all excited. The tender and palate-pleasing fish and the creamy and delectable mashed potato were enlivened by the refreshing taste of the orange chili sauce. This one was a winner for us!
Dessert: Black Rice Pudding
Served with coconut milk and brown sugar
I didn't think we would get full by just eating soup, some breads, and one main course, but surprisingly,we did! But who'd be crazy enough to turn down dessert?! Not us! This was not the first time we had black rice pudding in Bali. We even have this in the Philippines (a dish we call "champorado"). The Astari's version of the Black Rice Pudding was done pretty well, and the sweet and fresh fruits plus the coconut milk made this dessert extra delightful.
As if the dessert and the entire dining experience were not sweet enough, the Astari sweetened the night even more by gifting us with a heart-shaped honeymoon cake! This was not originally part of the Easter dinner but the Astari just went out of their way to give us an unforgettable honeymoon.
This special romantic dinner was one of our favorite moments from our trip!
The Service
The Astari aims to be "the ultimate Balinese home away from home" and I can really say that they succeeded in making us feel that way. As soon as we arrived at the hotel, we were given welcome refreshments and were cheerfully assisted by the hotel staff. The unmistakable and genuine Balinese hospitality shines through every staff member at the Astari — every single time, we were always greeted warmly. Ngurah, the server who attended to us at our private in-villa dinner was like a bouncing baby boy! His good-spirited nature and happy disposition rubbed off on us. He was very proactive — he would refill our drinks whenever he saw that they were running out, he volunteered to take our photos, and he was always ready to serve. He was also very professional. I felt sorry for him because he was just standing while Mike and I ate so I told him: "Please rest and just sit at the lounge. We're okay, really!" but he politely refused. We also appreciate Sanny, one of the hotel's front desk agents, who saved us when we had an issue with a local cab driver. We got a cab from the hotel going to the Rock Bar at the Ayana Resort and mistakenly paid IDR 212,000 for a 10-minute ride! (The fare was only IDR 21,200 but cab meters in Bali automatically have an extra zero in the fare so it showed as IDR 212,000. What the hell?!). Sanny called the cab company and tracked the driver for us and told him to come back to the hotel to return the money to us. When the driver arrived, he and Sanny were talking in Indonesian so I can only understand bits and pieces of their debate, but from the little Indonesian that I did comprehend, I knew that Sanny was defending us. Bless him! Ayu, the very efficient and accommodating Resort Manager, made it possible for us to have the most pleasant holiday at the Astari. She was very patient and professional in answering my inquiries and our stay was seamless because of her. I never got the chance to meet her and we only communicated through email and Whatsapp but she coordinated everything so well!
The Location
The Astari hotel is located in a quiet area away from the noise of the main street, but is close enough to major areas of activity, which are just a short cab ride away. It is only a 5-minute drive from the Jimbaran Beach. The Rock Bar at the Ayana Resort is only 10 minutes away by car. It also only takes 20 minutes to get to and from the Ngurah Rai International Airport so this is the perfect hotel to either start or end your trip in.
The hotel also provides complimentary shuttle service (drop off only) to the following places and with the following schedules:
Kuta Area
Discovery Shopping Mall
10.00 am
Nusa Dua Area
Bali Collection & Benoa
02.00 pm
Jimbaran Area
Jimbaran Beach
10.00 am, 02.00 pm & 05.00 pm
Airport Pick-Up and Drop Off
Available at anytime for US$ 15/trip for 2 person & US$ 20/trip for 3-5person
Villa Activities and Facilities
Guests of the hotel are entitled to daily complimentary afternoon tea from 3:00 to 5:00 in the afternoon. It's too bad we were never around to sample their teas and cakes!
Other activities, although not complimentary, are also offered by the hotel. A special poolside or in-villa candlelight dinner can also be arranged. The setup for the standalone dinner would most likely be more ornate than the one we had since ours was only part of the Easter package (although we were already happy with ours!). The villa also offers BBQ dinners, Balinese cooking classes, and classes that teach guests to make Balinese offerings. They can also organize private tours around Bali for you.
Have you ever received a gift and felt so happy even before you've actually opened it? And then when you finally open it, you're bowled over because you got MORE than what you thought or hoped you'd get? That is what it felt like when we spent our honeymoon at the Astari. What we thought would be a good stay turned out to be a GREAT and amazing stay!
The name "Astari" is a combination of two Indonesian words: asri (which means "beauty") and lestari (which means "everlasting"). Without question, the beauty of Astari will last with us and our memories forever!
The Astari Residence and Villa
Address: Jalan Karang Mas Sejahtera, Gang Kencana Selatan No. 1. Jimbaran – Bali, 80362 Indonesia
Phone:+62 81 337 229 971 | +62 361 895 2197 | +62 361 895 2198
Fax: +62 361 8952004
Email: info@theastari.com
Website: http://www.theastari.com/
Facebook: https://www.facebook.com/TheAstari/
Instagram: https://www.instagram.com/theastarivilla/
♥ ♥ ♥ ♥ ♥ ♥ ♥
For all stories related to our Bali honeymoon trip, visit the link below:
#PuffAndFluffBalimoon