Seminyak is sooo different from the previous areas we stayed in during our Bali trip. Unlike the traditional and artsy town of Ubud with its arts and crafts, cultural dances, and rice terraces, and the sleepy town of Jimbaran with its fishing villages and seafood restaurants by the beach, Seminyak is much busier and more modern. With plenty of high end hotels and villas, shopping centers, restaurants, bars, and clubs, it's impossible to get bored in Seminyak!
On one of our free days in Bali, Mike and I explored Seminyak and got to know this bustling urban area just a little bit better.
Seminyak Village
There are waaay too many malls already in the Philippines, so the last thing we wanted to do was to go to a mall in Bali. But we went anyway because we needed to do two things: (a) go to a reputable money changer and (b) pay a surprise visit to the wife of our driver / tour guide Made. Well, we didn't get to accomplish any of those things so we just walked around to see what the mall looked like. Well, we discovered that it looked just like any other high-end mall anywhere else in the world.  This mall houses designer boutiques and galleries, upscale restaurants, and a spa on the top floor. If you're really curious, just visit the official Seminyak Village website.
We really appreciate how spacious, airy, and sparkling this mall is! It was such a breath of fresh air for us, since most of the malls in the Philippines can get really crowded. We also liked the pretty kids' area at the ground floor of the mall. We saw children bonding with their folks, sitting on big pillows on the floor as they draw and color.
For me, the coolest part of the mall would be The Marketplace, which was like a posh little bazaar within the mall selling all sorts of knick knacks, from jewelry to artisanal soaps. You can find so much neat baubles here, but expect them to be a little on the pricey side. If you have the budget and you don't feel like shopping in the roadside souvenir shops, this is a fine place to buy goodies for your loved ones back home. But if you're on a tight budget, you may want to explore other less fancier shops. The money changer is in this part of the mall too. And if you are a parent who needs to do your "errands" (i.e., go shopping), this seems like a goodplace to dump leave your kids. They can doodle and color while you look for the perfect bag or pair of shoes. (I probably wouldn't do this to my own kids though, but I guess Bali is pretty safe!)
Seminyak Village
Address: Jalan Kayu Jati No. 8, Kuta, Badung, Bali
Phone: (0361) 738 097
Website: http://www.seminyakvillage.com/
Seminyak Square
Just right behind Seminyak Village is Seminyak Square, a shopping arcade with casual dining restaurants and cafés, a hotel, and some art and souvenir shops. Compared to the ritzier Seminyak Village, Seminyak Square is more targeted to budget or mid-range travelers.
The Mega Art Mega Mart inside Seminyak Square is where Mike and I got some of our souvenirs. They have everything you could possibly want to buy and take back home: magnets, bags, coffee, tea, snacks, clothes, massage oils, and more! There's even a fish spa area where fishies can chew off the dead skin from your feet!
Seminyak Square is a pretty happening place, with live bands playing, stalls selling all sorts of fashion items, and a nice garden at the center. If I lived around Seminyak, I would probably find myself hanging out here a lot.
Seminyak Square
Address: Jl. Kayu Aya, Seminyak – Bali 80361
Phone: +62-361-732106
Email: marketing@seminyaksquare.com
Website: http://www.seminyaksquare.com/
This is what the streets of Seminyak look like…
Gelato Factory
In the middle of exploring, we felt like getting something refreshing, so when we chanced upon this gelato place called Gelato Factory, we went in and took a little break.
It was a cozy place to mellow down with a sweet treat. The flavors of the gelato range from the usual ones to the more uncommon ones like Amarenatta and Dragon Fruit, which is what I got. Nothing too crazy like Bacon or Green Mango and Shrimp Paste! (Yes, those are real gelato flavors!) It was our first time to try Dragon Fruit ice cream and we really liked it! It wasn't too sweet and had a really fresh taste, which was a light fruity flavor. Yum!
Gelato Factory also serves smoothies, different kinds of coffee, and breakfast food like waffles and crepes.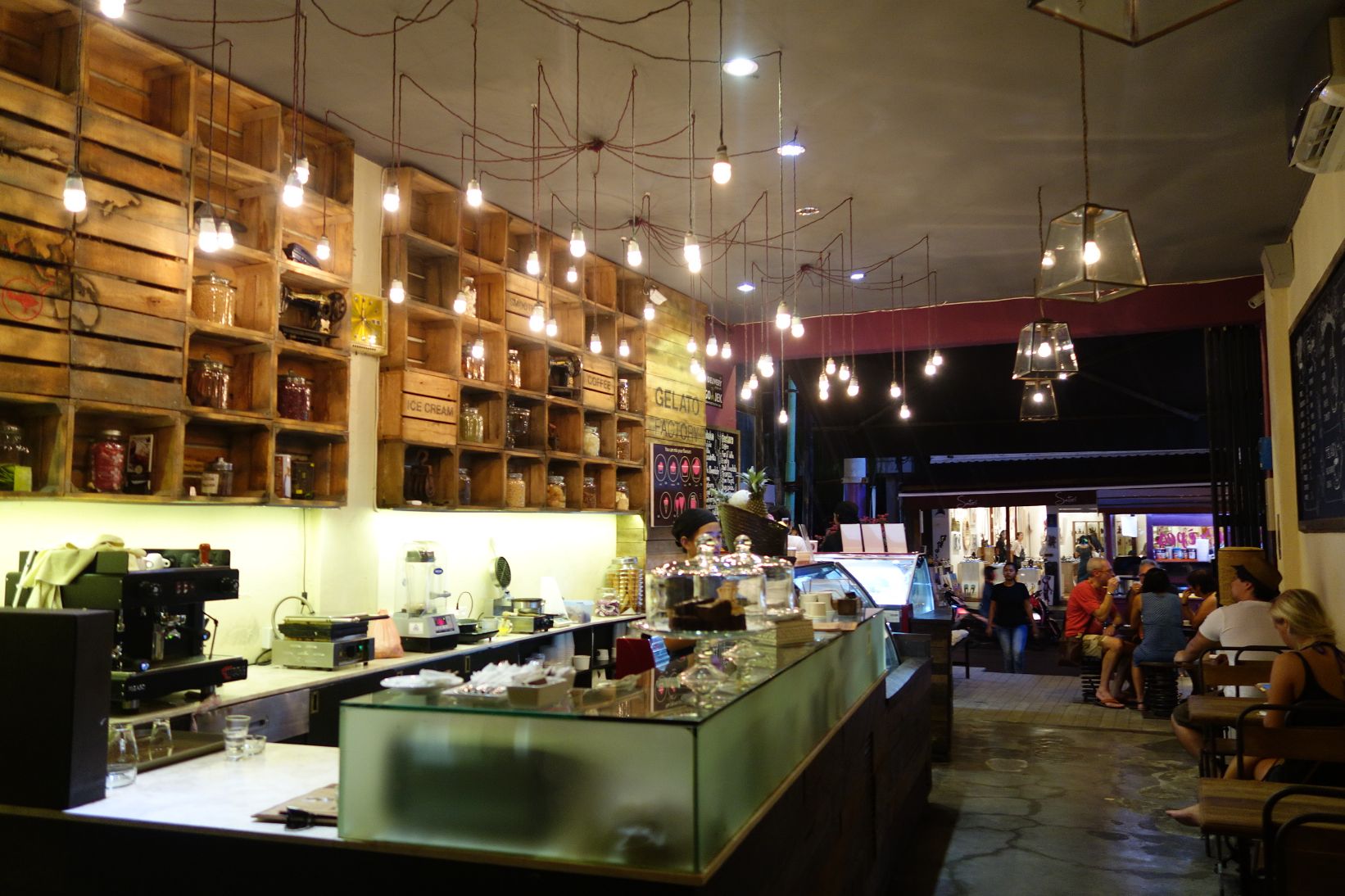 Gelato Factory, Bali
Address: Jalan Kayu Aya 32, Jalan Oberoi, Seminyak
Phone: +62 361 739124
Email: info@gelatofactorybali.com
Website: http://gelatofactorybali.com/
Opening hours: Open 7 days a week from 8am to 11pm
More walking…
Our Seminyak day out / night out didn't end here. We also had dinner at one of the restaurants in the area, which I will write in a separate blog post because it's so awesome and I took so many photos of it!
♥♥♥♥♥♥♥
For all stories related to our Bali honeymoon trip, visit the link below: