If you are on a diet and planning a trip to Japan, you better be prepared to throw that diet plan out the window because it would be a joke to visit Japan and not feast on Japanese food. You go to Japan to eat! Tokyo is a treasure trove of tasty treats and amazing eateries, and almost every restaurant that I visited in the city certainly did not disappoint, such as one restaurant I went to called Torigen Shinjuku.
We stumbled upon this restaurant while walking around alleyways in Shinjuku. It is a Japanese-style izakaya that serves mostly charcoal-grilled meats and vegetables, and offers a large selection of sake (Japanese rice wine), beers, and various drinks, both alcoholic and non-alcoholic.
The restaurant was dimly lit, which gave the restaurant that traditional Japanese feel. It looked almost mysterious and lonely, actually, but that atmosphere of gloom was quickly turned around by the gracious nature and friendly faces of the Japanese chefs and servers.
Upon entering, you will be greeted by the chefs from this open kitchen, where you can watch the fresh food being prepared right in front of you.
It was around lunch time when we visited, and we noticed that the customers during that time were mostly men in suits, probably businessmen or office workers who were on their lunch break. I'm not sure if it gets more packed at night, but when we went, there were only a few diners there.
We chose to stay in this zashiki, a small Japanese private dining room with low traditional tables where we sat on pillows on an elevated platform on the floor. In keeping with Japanese customs, we had to first take off our shoes before stepping inside the zashiki.
I really enjoyed the zashiki style of dining. It's more relaxed and is a great way to share a casual and fun meal with friends.
The servers at Torigen did not speak much English (although they tried their best) but they do have an English menu which makes it easy to order.
I forgot the names of the dishes we ate but here are photos of what we ordered:
This dish was mine. It's a Fried Chicken set which comes with white rice and a side of vegetables and miso soup. It also comes with a bowl of sauce with a thick, gluey consistency is made of beaten raw eggs (and something else). It has a really faint taste and didn't really alter the flavor of the chicken and rice much. Maybe it wasn't meant to have a strong taste and was really just for the texture (i.e., so the chicken won't be too dry).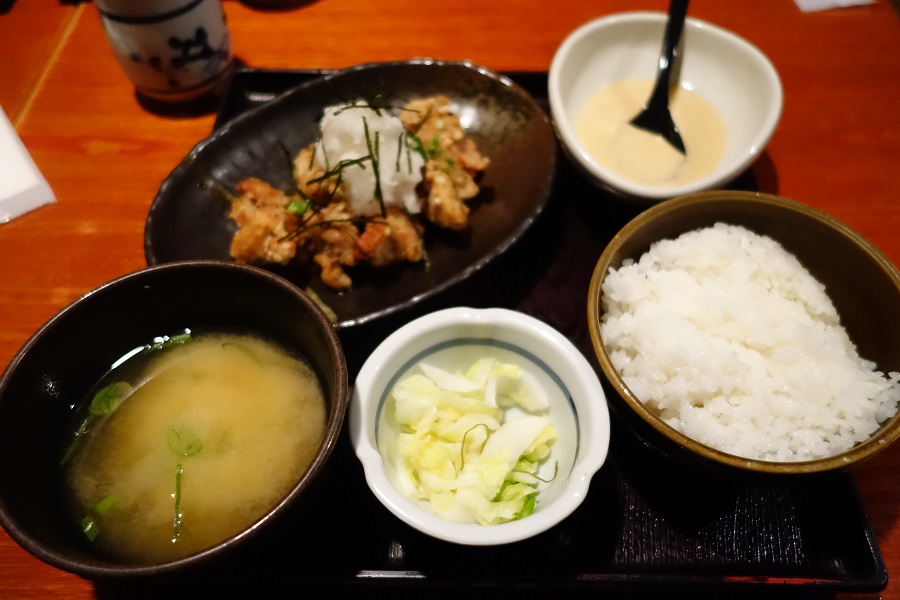 Here is a close up shot of my delicious and crunchy yurinchi (deep fried chicken). The white clump on top is grated radish sprinkled with nori shreds.
Mike ordered this next dish. I believe this is Chicken Nanban with Tartar Sauce.
Eric was craving for noodles so he ordered this soba (noodles made with buckwheat flour).
Torigen is a good place to grab some grub when you're famished since the servings are not only tasty but big. It would be ideal to go in big groups so that you can order a large variety of dishes and that way, you can try a little bit of everything. If you happen to be in the Shinjuku area, Torigen is the place to go to for some appetizing yakitori, delightful meats, and good sake and drinks.
Torigen Shinjuku Restaurant
Address: 1-12-7 Nishishinjuku | 1F-2F 2nd Shinsei Bldg., Shinjuku 160-0023, Tokyo Prefecture
Phone: +81 3-3346-2662
Website: http://www.torigen.jp/#_=_
Operating Hours: Mon – Fri 11:30 am – 2:00 pm and 4:30 pm – 11:30 pm; Sat – Sun 11:30 am – 11:30 pm