In my previous post about Ueno Park, I mentioned that within this expansive 133-acre park lies a great number of attractions and activities, including several museums, various temples and shrines, art galleries, theater halls, and a 35-acre zoo — the Ueno Zoo, which you will see more of in this blog post!
Founded in 1882, the Ueno Zoo is the oldest zoo in Japan. This mammoth of a zoo houses over 2,600 animals.
One of the most popular attractions in Ueno Zoo are none other than the pandas. It was said that in 2008, the zoo's giant panda named Ling Ling passed away so the zoo was without a panda for quite some time, until the arrival of two new baby pandas from China in 2o11 — Li Li and Shin Shin.¹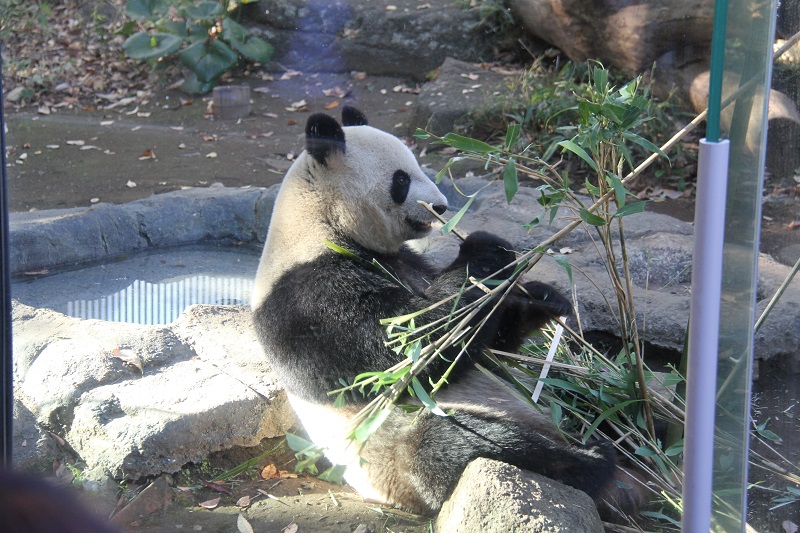 While walking around, we stumbled upon two interesting structures.
The sign explains who Takatora Todo is and what the house was for:
"Takatora Todo, a military commander, was ranked high by Hideyoshi Toyotomi and Ieyasu Tokugawa. This tea ceremony house was built about 350 years ago and used for the reception of shoguns who paid a visit to the the Toshogu Shrine for Worship. It was erected in memory of Ieyasu Tokugawa, the founder of the Tokugawas Shogunate. Now a trace of its former elegant appearance still remains."
More than just pandas, there are a lot (and I do mean A LOT) of interesting and amusing animals to keep an eye out for, such as the different species of birds.
And of course… all hail the queen! (The queen lioness, that is)
We went inside what looked like a small cave and saw more of our fascinating friends from the animal kingdom.
We entered the planet of the apes and saw some playful primates.
Up next were the tigers. Tigers are usually seen as ferocious wild beasts, ready to attack anytime. But the infographics on the state of extinction of tigers posted on Ueno Zoo's walls are so heartbreaking that it made me see tigers as these fragile beings.
These made me feel really sad.
But at least there is comfort in knowing that this tiger is safe and taken care of at Ueno Zoo.
We saw more kinds of birds! The assortment of these feathered friends is so huge at Ueno Zoo. Bird lovers will surely be thrilled to see all of them here!
After checking out the birds, we went out and saw this sign, and the first thing I asked Mike was:
So THIS is a dhole:
We visited the zoo in November so it was the autumn season at that time. However, there were some beautiful and brightly-colored flowers in one of the parts of the zoo so it suddenly felt like spring time!
There are lots of cute animals at the zoo and also lots of cute kids and babies, like this one:
Here are some more animals that we encountered at Ueno Zoo:
The animals that we saw next made me squeal like a little girl.
Mike and our friend Eric, being fish fans and enthusiasts of the marine life, felt the same kind of giddiness that I felt when I saw the cute animals when they stepped inside the vivarium where they keep these sea creatures. Here, they also saw reptiles like crocodiles, turtles, snakes, and frogs.
Almost time to go, but before we headed out, we had a chance meeting with…
I call Mike "Puffy" (and variations of "Puffy" such as "Puff," "Pufferfish," "Puffycake," "Puffin," etc.) and he was finally reunited with his spirit animal.
To give you an idea of how large Ueno Zoo is and how many animals you can expect to see, here is a map of the entire zoo:
You can also click here for a printable PDF of the map.
The Ueno Zoo is really a colorful and exciting world filled with all sorts of animals — the docile, the wild, the exotic, the playful, the sweet, and the rare. Because of its diversity and beauty, it is a place that can be enjoyed and appreciated by all kinds of people, whether young or old.
Ueno Zoo
Address: Ueno Zoo, 9-83, Ueno Park, Taito-ku, Tokyo 110-8711, Japan
Phone: 03-3828-5171
Website: https://www.tokyo-zoo.net/english/ueno/
For information on opening hours, admission fees, etc., visit Ueno Zoo's website