Who knew that a tiny, furry creature could change our lives?
It's been a year since Mike and I got our guinea pig, Booboo-8 Smith ("Booboo" or "BB-8" for short), just a month after our wedding, and since then, our home has been filled with lots of laughter and love because of this little guy.
This cute little poop machine is not just a pet to us. He's our child. I know that sounds crazy and weird, but believe me, if you see how affectionate he is to us, how he enjoys being coddled, and how hungry he can get for our love and attention, you'll see why we treat him like a baby — our baby. In fact, I told Mike: "Hey, maybe instead of making a human child, we can just raise a guinea pig. Babies and guinea pigs are very much alike in many ways! They're sweet and tiny. They cry when they're hungry. They don't do anything but eat and sleep. They poop a lot. But guinea pigs are even better than babies because: a) their poop doesn't stink, and b) you don't need to send them to school or pay for their tuition!"
Booboo has become such a special part of our lives. And because he has brought us so much joy, we thought that he deserved a nice celebration for his birthday! You throw birthday parties for people you love. Why shouldn't you throw a birthday party for animals you love?
When we got Booboo from the pet store, he was approximately 3 or 4 months old. Here's my first photo of him when he was just a baby… well, baby-er.
We did the Math (more like Mike did the Math because I suck at numbers) and we he figured that Booboo would be one year old around September or October of this year. We chose October 8 (for Booboo-8) but because of our busy schedules, we only got to celebrate his birthday last October 27.
The theme of his birthday party was PERUVIAN PORKSTAR!
Why Peruvian Porkstar? Guinea pigs were first domesticated in Peru, and though they are classified as rodents, they're also quite pork-like (they're not called guinea pigs for nothing).
Of course, guinea pigs are also considered to be a delicacy in Peru, which is really heartbreaking. 🙁
Anyway, Booboo's birthday party was just a really simple one. It was held in our small condo unit with only 4 human guests (myself, Mike, my mom, and my sister Alexa) and 1 animal guest (Blush, Alexa's dog). I'll be sharing with you what happened during his party!
Decors
Because I didn't really have plenty of time to D.I.Y., I just made use of things we had at home, like my colorful scarf and a brown blanket to cover the sofa. We also bought some colorful balloons to make the place look more festive.
The only thing I actually D.I.Y.-ed were these colorful pompoms. I just held them together by sewing them with a white string, leaving a bit of space in between each pompom. I haven't taken these down yet. I thought they could double as a Christmas decor!
Food
I really wanted to cook Peruvian-inspired food but because I was swamped, I relied on food delivery instead! Frankly, I don't think Booboo cares about the food anyway… especially since he can't really eat any of it!
We just ordered food from Yellow Cab and got a small ube (purple yam) cake from Red Ribbon.
So what did the birthday boy eat?
It was a special birthday salad for the birthday boy!
That morning, I went to the grocery to get him veggies and fruits. Nothing but the choicest, freshest, and crispiest treats for our Peruvian Porkstar!
The Birthday Cake
Booboo's birthday cake was the highlight of the party. Before I show you the actual cake, let me first share Mike's design.
The colorful stripes are supposed to represent the Rainbow Mountain from Peru.
I contacted my friend Shake, owner of Shake & Bake, to have a simple mini-cake made. Booboo is special, but I really didn't want to spend so much just for a tiny cake that he can't even eat! I had to explain to Shake: "I just need a cake that's good for two people… you see, it's actually for my guinea pig's birthday party." That sounded so odd and funny in my head!
Thankfully, she didn't judge me and didn't think I was odd. She just gushed, "Hahaha! How cute! Don't worry, I've had plenty of customers who have asked me to make birthday cakes for their dogs and cats!"
Shake was extremely busy with endless cake orders but she was kind enough to accommodate me. She said she could make a me a customized 6×3 double chocolate-flavored cake for an unbelievably low price*!
I knew that Shake was good, but to be honest, Mike and I weren't expecting too much from the cake, especially for the price we were paying. But when we got the cake, we were blown away!
THIS HAS GOT TO BE THE CUTEST CAKE EVER!!!
https://www.instagram.com/p/BMEEU40AGgA/?taken-by=alexailacad
Our expectations were surpassed when we received this big and beautiful cake with the most adorable details! She even designed it with carrots! And the guinea pig topper was a winner!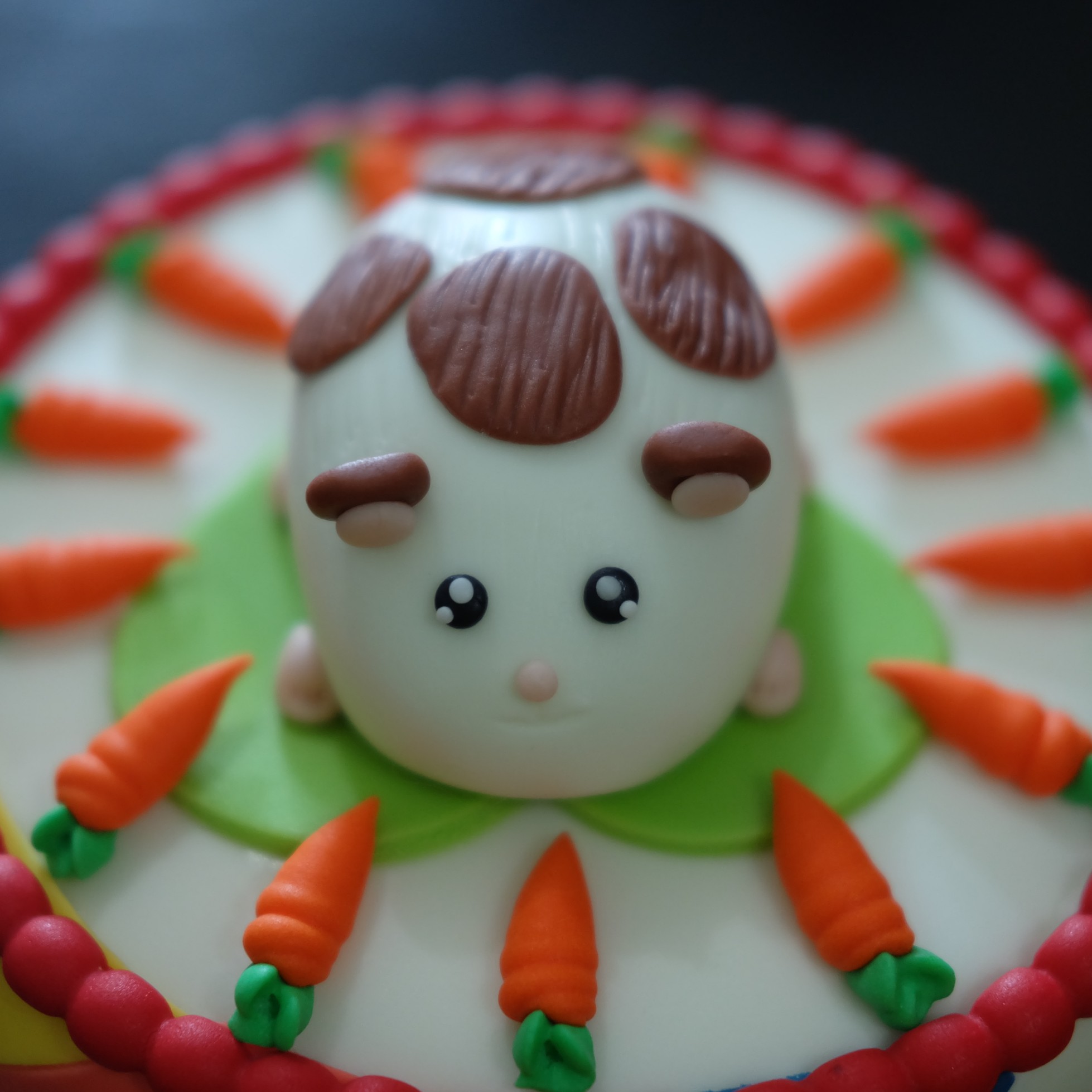 Also, we were expecting a titchy cake, no bigger than two or three cupcakes combined. But this cake was good for 6 to 7 people… maybe even more! After the party, we still had a lot of leftover cake so we brought it to our family lunch, and my family loved it! It was not only cute, but it was really delicious too! The chocolate flavor was rich and it had just the right amount of sweetness. The fondant was tasty too, and didn't taste like some cheap cardboard or figurine… not that I've eaten cardboard or figurine before, but I can imagine how those would taste like.
To order cakes from Shake, visit the Shake & Bake Facebook page or call / text 0932-845-6203.
*Disclosure: I paid for the cake but Shake gave me a good discount since we're friends and this is not the first time I've ordered from her. To protect her business, I prefer not to disclose the full amount here, but I can only tell you that she quoted me no more than PHP 1,000 for the size and design that I wanted. 
Here are some more photos from Booboo's party!
One of the funniest moment — at least for us humans, but not for the pets — was when one of the balloons burst, and everyone got startled. It was so funny when Booboo and Blush got so stunned that they hid under the tables! For a minute, Booboo was in such a state of shock that he wasn't even moving! My mom thought he was having a stroke! Haha!
Don't worry, the fuzzballs are okay. No heart attack, no stroke!
Watch this video to see what happened at Booboo's birthday party! Apologies for my oily face in the video. I was too busy running around (being a stage mother and event coordinator) that I barely had time to put powder on my face. Haha!