After having dinner at Golden Lake Restaurant and walking around Ashley Road, I took Mike, Eric, Paula, and my former workmates Tin and Mina to Canton Road, one of the most posh roads in Tsim Sha Tsui lined with luxury brand shops so we can spend hundreds of dollars and shop 'til we drop. Err, sure. In our dreams, maybe. The real reason we were in Canton Road, aside from meeting up at H&M, is this: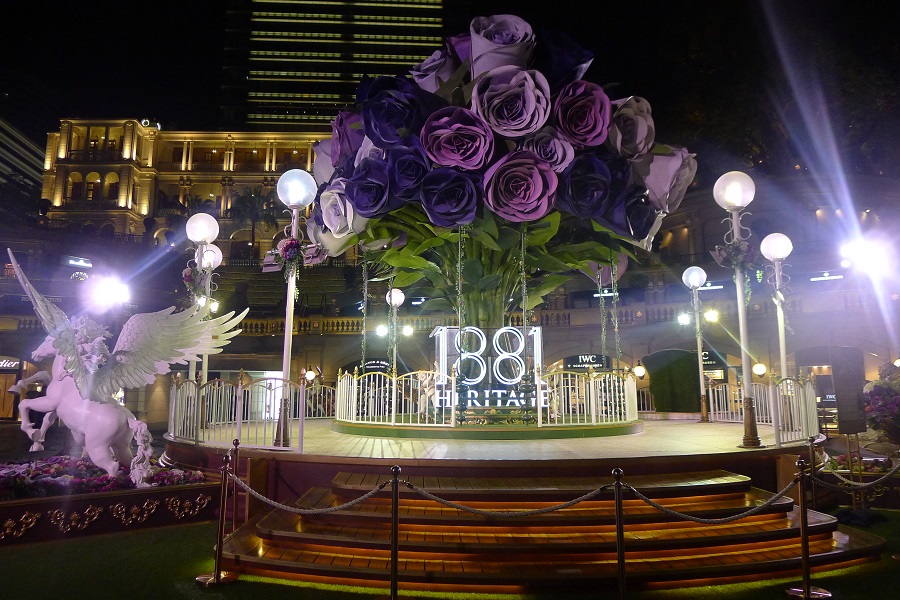 This enchanting place is called 1881 Heritage. Looking at it in all of its splendor now, you wouldn't think that it used to be the headquarters of the former Hong Kong Marine Police back in the 1880 and all the way until 1996. Now, it has been re-established as a heritage hotel with a wealth of bars, fine dining restaurants, a Heritage Hall where tourists can learn more about the site, and luxury shops including Cartier, Tiffany & Co., Piaget, Chopard, and more. It's kind of hard to imagine that this is the same place where pirates and smugglers were once held!
The 130+ year old site contains a Main Building, Stable Block, Time Ball Tower, and the Old Kowloon Fire Station. Some of the elements of this site have been preserved, such as the bomb shelter (which serves as a passageway leading to the Heritage Hall) and the Time Ball Tower. Here's a little interesting trivia about the Time Ball Tower from Discover Hong Kong:
From 1885 to 1907, this tower provided a vital service to ships in Victoria Harbour. Many of these vessels had arrived in Hong Kong after long voyages, during which their chronometers would have lost accuracy. A one-minute error could result in a ship becoming lost, with dire consequences for the crew. The ball mounted on the pole in this tower was raised manually every morning and, with data provided by the Hong Kong Observatory, it was dropped at 1PM everyday. The tower was in full view of the harbour and the dropping of the ball allowed ships to recalibrate their chronometers to an accuracy of one-tenth of a second, before they departed Hong Kong for other parts of the world.
This tradition of the dropping of the time ball has been brought back so tourists who happen to be there at 1:00 PM can witness this custom being executed. Too bad it was already late at night when we went! I would have wanted to see it.
We only made a quick stop to 1881 Heritage because the boys were really itching to see Bruce Lee at the Avenue of the Stars, so we did not really get to explore the place. We ended up just taking snapshots instead. Anyway, that is one of the things 1881 Heritage is known for: it's the perfect spot for photo shoots, especially during night time when it is at its most magnificent.
The place is gorgeous, but even more so during Christmas, where it looks like a divine dreamworld. We went on the last week of February so we missed the Christmas display, but we still found it beautiful.
The themes change every once in a while, so the next time you go there and look for these purple flower trees, you may not find them anymore because the ornamentation may have already been changed. Below are some of my photos from when I stumbled upon the site back in 2012. (I just found 1881 Heritage by accident when I was looking for the nearest train station going back to my friend's house). As you can see, though the cherubs and the Victorian feel are still there, the look and the colors are completely different from when we went last 2014. When I went in 2012, the theme was "Springtime in 1881 Heritage." I forgot what the theme was during our February 2014 visit.

Their current theme is "Love Is In The Air." They even have special Western Trio performances to serenade the guests. If you're in Hong Kong now until the 29th of March, go swing by 1881 Heritage, join the love fest, and take lots of pretty photos. (Bring a date if you can!)
You can also check out their other present and upcoming events here.
Also, free guided tours are conducted everyday, if you really want to know more about the culture and history of 1881 Heritage.
1881 Heritage
Address: 2A Canton Road, Tsim Sha Tsui, Kowloon, Hong Kong
Phone: +852 2926 8000
E-mail: 1881marketing@ckh.com.hk
Operating Hours: 10:00 AM – 10:00 PM
Website: http://www.1881heritage.com
How to Get There: From Tsim Sha Tsui MTR Station Exit E, walk toward Salisbury Road, turn right, walk through the pedestrian tunnel next to YMCA.
Photos by Mike Smith / Miguel Lazatin and me