While everyone is making banana bread these days, here I am making banana 'ice cream.'
Andi has been bugging me to give her ice cream a lot lately, and I can't blame her, really. We are in the dog days of summer, so we always find ourselves needing to eat or drink something to beat the heat.
I wish I could give Andi all the ice cream that she wants, but that's just not a good example of responsible parenting, right? But I want to be a good parent too by giving her treats and making her happy. And I thought the best way to do this was through a little trickery… trickery in the form of FAKE ice cream. (Sorry, Andi!)
All I needed to make my deceptive ice cream were ripe bananas! Actually, there are many ways to make homemade banana ice cream. Some recipes would make use of eggs, heavy cream, milk, lemon curd, and other ingredients, and that's fine too. Adding those might actually help you achieve a more ice cream-like consistency. However, because I was missing some ingredients and because I was a bit lazy, I stuck with just using bananas and crushed dark chocolates.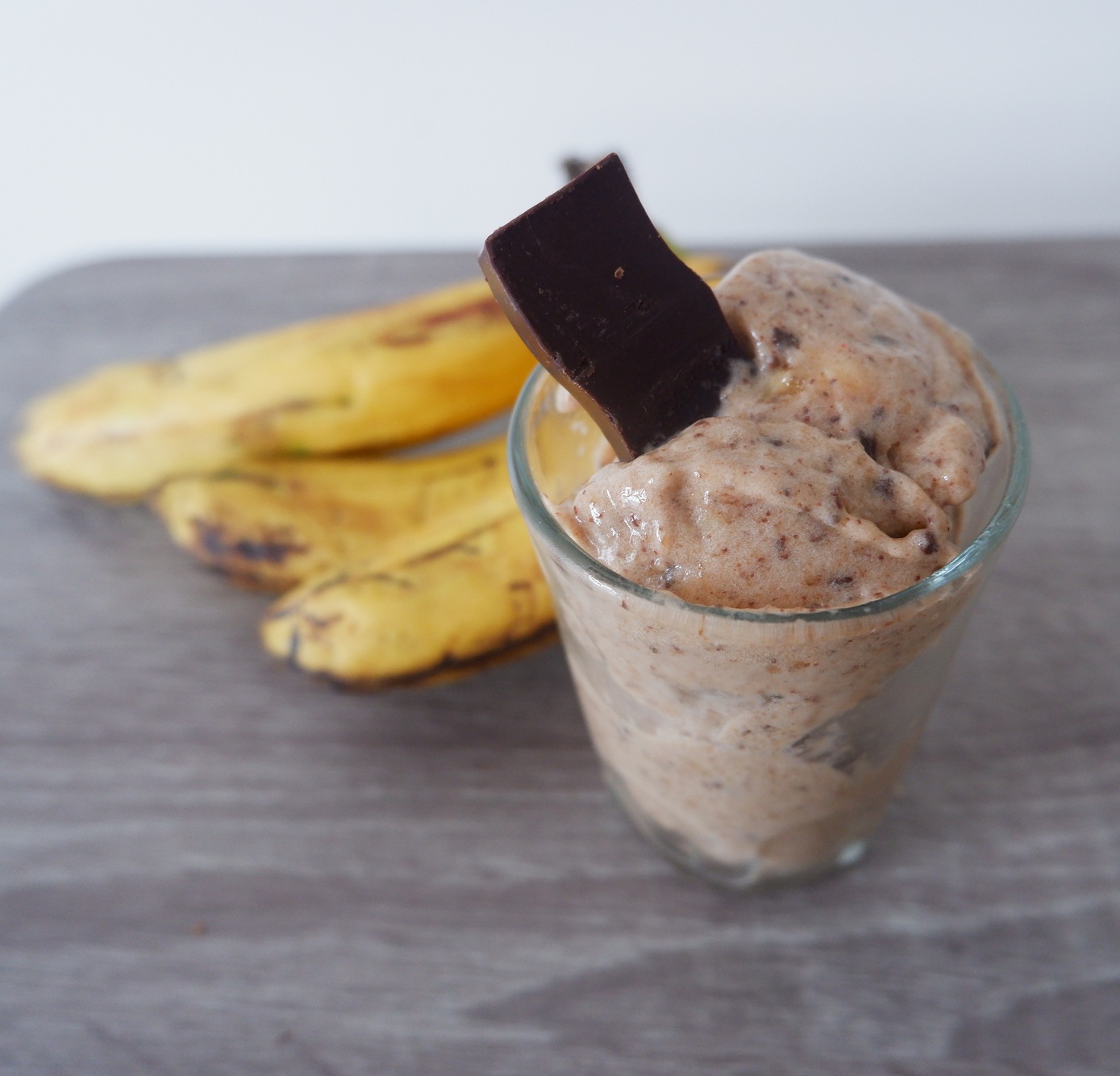 Can you really make 'ice cream' out of bananas? Yes you can!
Ingredient(s):
3 – 4 ripe bananas (bananas that are turning blackish are best!)
Optional: Dark chocolate bits (For this recipe, I manually crushed a few squares of Goya dark chocolate. Cheap but good!)
Instructions:
(1) Peel the bananas and cut up them up in small chunks
(2) Lay them out on a baking sheet and cover with cling wrap
(3) Freeze the sliced bananas for a few hours
(4) Once the bananas are frozen, take them out and put them in a blender.
(5) OPTIONAL: You may add more ingredients if you wish. I mixed some crushed dark chocolate bits in this one. Previously, I made another version with a few scoops of peanut butter because I wanted to make Banana and Peanut Butter Ice Cream. Other suggestions are nuts, berries, or cereal bits.
(6) Blend the bananas (together with the other ingredients, if there are any) in the blender until it becomes smooth and thick, similar to the texture of real ice cream
(7) Transfer mixture to another container and freeze for another few hours. The longer it is kept frozen, the more ice cream-y the texture will turn out.
(8) Enjoy your 'non-ice cream' or serve it to your kids without feeling the guilt!
Notes:
If the bananas get too hard and you need to soften them a little for blending, you may add whole milk or full cream milk. Don't use skim or low fat milk because it's not as creamy as whole milk or full cream milk.
You may also add vanilla extract for extra sweetness, if you wish.
This was super easy and fun to make, and if your kids are old enough, you can even make it together with them… although if they are old enough to understand, they might be aware that you're just duping them and ask you why you can't just give them the real deal!
So does it really taste and feel like ice cream? My husband says it's actually pretty close to ice cream. My 2-year old toddler couldn't tell the difference and she was licking the container clean and asking for more. However, do manage your expectations. Let's face it, it's no Ben & Jerry's. But at least it's a lot healthier. Isn't that the whole point of making this 'pretend ice cream'?
IF YOU MAKE THIS, PLEASE TAG @SCENESFROMNADINE ON INSTAGRAM SO I COULD ❤ AND SHARE IT! 🙂