What does the word 'sexy' mean to you?
For actress Erich Gonzales, being sexy certainly isn't just about being thin and fit. Being sexy means putting in the work to achieve one's body goals, eating and drinking right, and living a healthy lifestyle. In a society where sexiness is associated with merely being thin and fit, Erich's perspective is truly refreshing. More than just her enviable figure, it's also her positive and realistic attitude that makes her the perfect endorser for mySlim.
mySlim is a slimming and fat-burning drink by Vida Nutriscience, a brand that believes in the inherent beauty of Filipinas and encourages women to go beyond trendy diet plans and weight loss routines and quick fixes in achieving a healthy body. In a media event last March 21st held at Seda Vertis North, mySlim formally welcomed the newest addition to their growing family – the beautiful Erich Gonzales.
I had the distinct pleasure of hosting this media launch and chatting with Erich about her health regimen, as well as her thoughts on attaining the desirable physique that she possesses. As the newest face of mySlim, she stressed on working hard to reach one's dream body. Despite her hectic schedule which consists of long hours of taping, endorsements left and right, and numerous guestings, she still finds time to squeeze in a workout and eat well. She believes that there are no excuses in having an active lifestyle, no matter how busy you are. Of course, she also stressed on getting enough rest and not only taking care of one's body, but taking care of one's mind as well.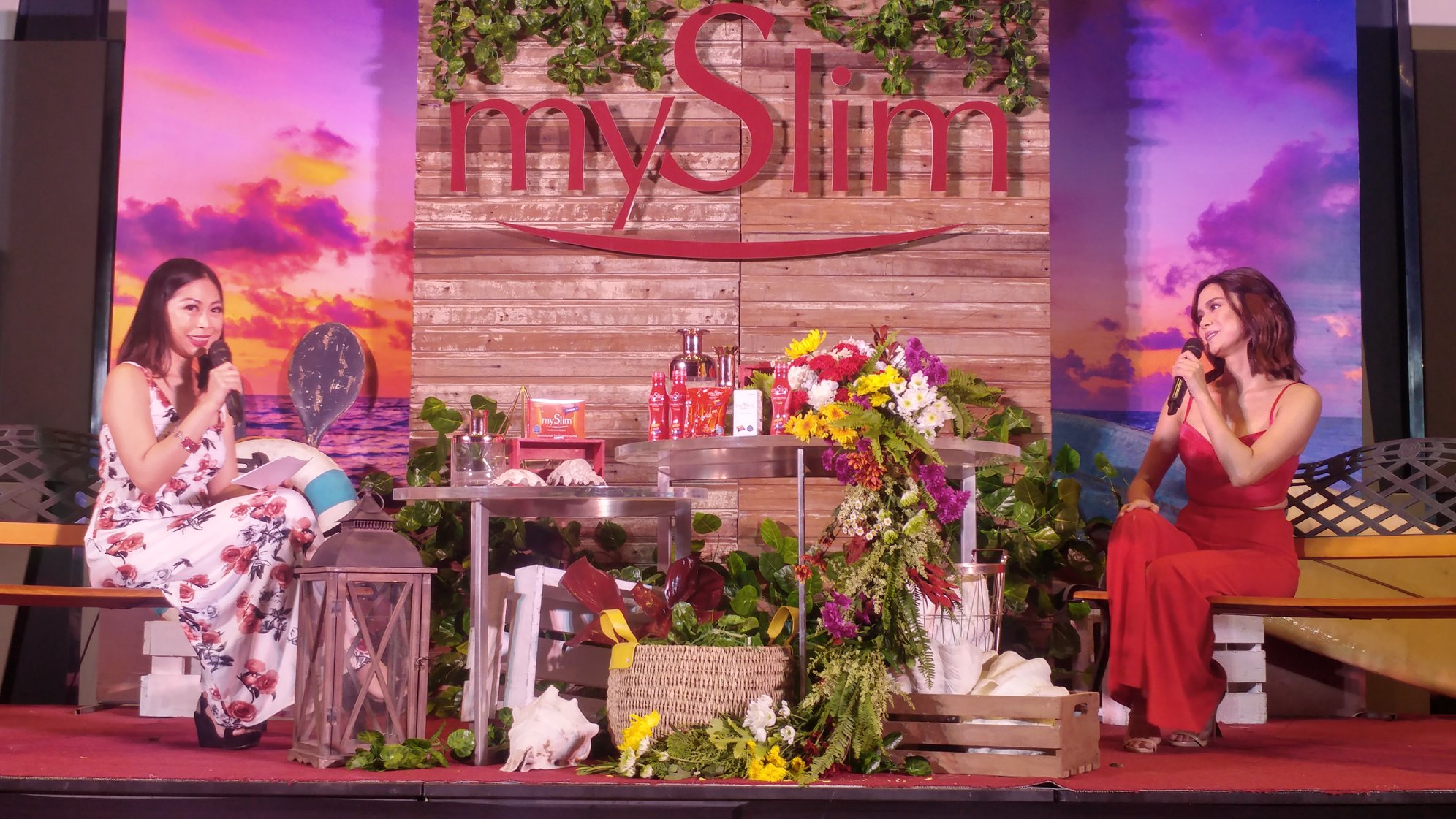 "In a country that consistently ranks among the best in the world in Gender Equality, especially in the work place, the sexy Filipina is one who embodies what it is to have self-worth and who takes care of body for the sake of health and fitness, and not just to look sexy." says Erick Armigos, brand architect of Vida Nutri-Science.
For Erich, a healthy body goes hand in hand with having a healthy mind. For her, it all starts from within. She talked about being comfortable in one's own skin and celebrating one's unique beauty instead of constantly comparing oneself to others. To Erich, sexy also means having self-confidence and a sense of self-worth, and having those translates to the desire to nurture one's body.
Erich nurtures her body by exercising regularly and with the help of mySlim. mySlim contains Yerba Mate, an anti-oxidant and a potent and safe detoxification agent and metabolic stimulant that is similar to, but more powerful than coffee and tea. Clinical studies prove that it helps lessen fat absorption by improving insulin sensitivity, giving your body an added fat-burning boost without adversely affecting muscle mass when you exercise regularly.
Carnipure, a form of L-Carnitine enables the conversion of fat into metabolic energy and reduces metabolic stress. This gives the body the ability to burn fat during workouts, even when there is still an abundance of energy from carbohydrates.
mySlim also contains Palatinose which is a powerful metabolic booster that makes the most out of your routine exercises. It's a type of carbohydrate that supplies glucose, our body's preferred energy source. Palatinose helps sustain the body's energy supply by breaking down slowly which gives our body more glucose over a longer period of time.
mySlim is available in three variants:
Ready-to-drink
Powder drink
Capsule food supplement
mySlim is available in leading drugstores nationwide.
For more information, visit the following links:
www.vidanutriscience.com
www.facebook.com/mySlimPH
www.instagram.com/mySlimPH
Here are some photos and videos from the event:
To inquire about my hosting services and rates:
– E-mail me at: itsnadinesmith@gmail.com
– Visit me on Facebook at: https://www.facebook.com/scenesfromnadine
– Follow me on Instagram (@scenesfromnadine) and use the hashtag #HostingByNadine