Bring on the pink coz we're having a baby girl!!!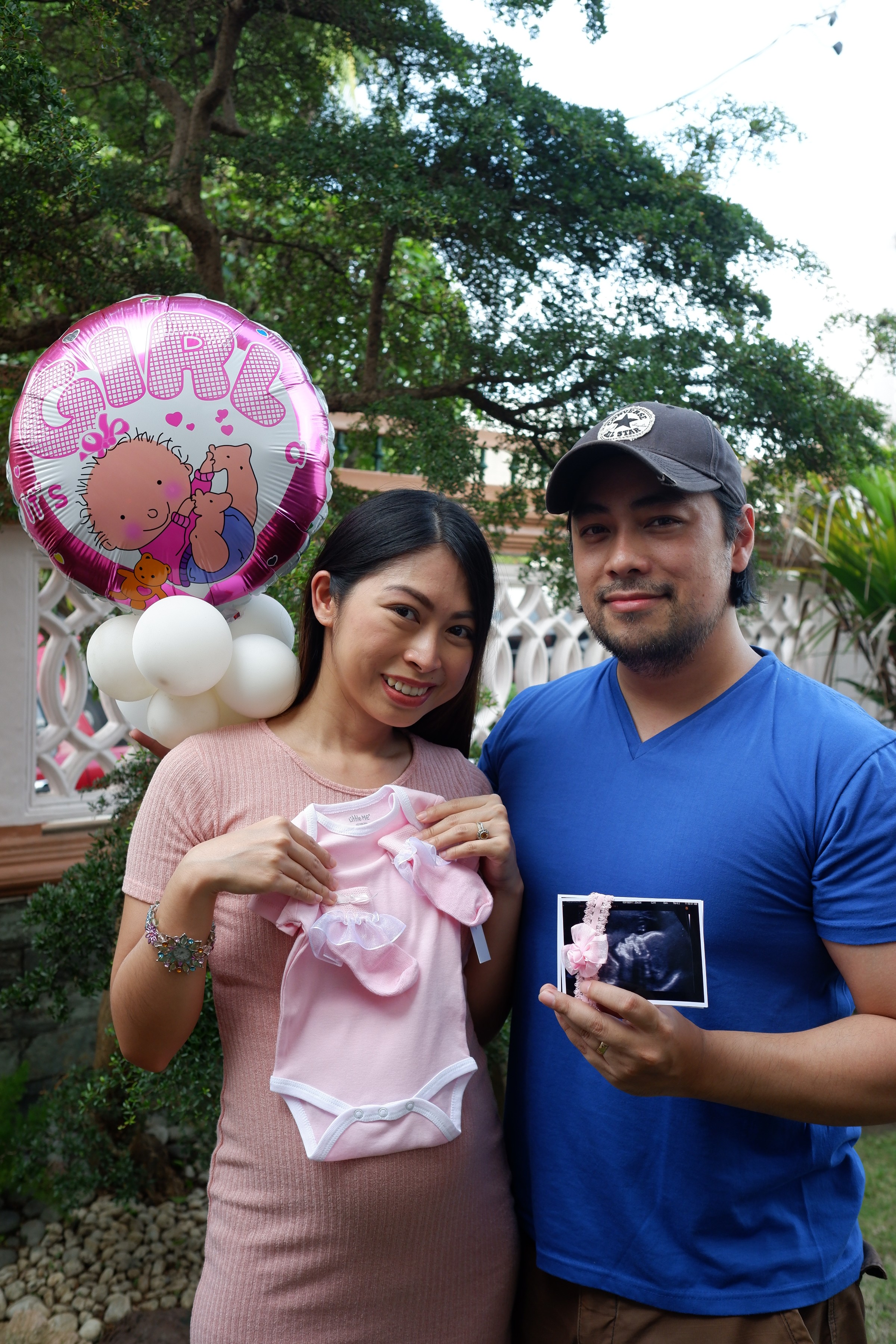 After months of referring to our baby as 'he or 'she' alternately just to be fair, we finally confirmed that we're having our own Fluffy Space Princess. (That's an Adventure Time reference!) No wonder I occasionally have some pink dessert pregnancy cravings. Cakes, doughnuts, cupcakes – as long as they're pink, I want them!
Majority of the people who know us all have guessed that it's a girl. To be honest though, all this time, Mike and I were convinced that we're having a boy because all the old wives' tales were there:
I was carrying "low"
I've had bouts of morning sickness but they're not severe, compared to other women
I'm a hairball but I'm a lot hairier now that I'm pregnant (so I thought that has to do with all the testosterone!)
Baby is VERY active! Most first-time moms feel their baby kick at 20 weeks and I felt mine at 17 weeks.
The Chinese Gender Predictor chart said so. (Now you know, it's not true!)
When we went in for my Congenital Anomaly Scan in World of My Baby in Podium, our suspicions felt even more solid. We wanted to find out the gender of the baby together with our family, so we specifically asked Dra. Ramirez, the sonologist, to keep it a secret from us. Only she, her assistant, and my best friend Christina/Aspe, who joined us for the ultrasound and took photos and videos, were the only three people who knew.
The last time we saw our baby at my last ultrasound, she was but a tiny speck with a flickering little heartbeat! At 22 weeks, she looked more like, well, a baby! We saw her head, her sweet face, her pointy nose, her full lips, and her five (yay!) fingers… and then we even saw her laugh AND give us the finger! Hahaha! I'm not kidding! She was probably annoyed that we woke her up! This baby sure has a personality! "What a cheeky little boy!" we thought!
Also, while Dra. Ramirez was performing the ultrasound, she commented that baby was very cooperative and said "Good boy!" My eyes widened and quickly said, "or girl!" She then corrected herself, "or girl!" Whoops!
Finally, it was time for baby to show his/her boy/girl bits. At this point, Dra. Ramirez told me and Mike to look away, and Aspe was filming everything. Our baby, who is quite camera-shy, just like her Daddy, suddenly crossed her legs so her "bird" or "flower" was covered. The doctor had to ring a bell on top of my tummy and make me cough so that she'd move. Finally, she saw it, and I could hear her and Aspe whispering to each other. I heard Dra. Ramirez tell her softly "That's 100%!" Upon hearing that, Mike and I thought that she was definitely pertaining to the baby's little 'sausage.' I mean, what else could it be? What else could they have been looking for, right?
Aspe's jobs were to keep mum about the baby's gender and to prepare a gender reveal gift for me, Mike, and my family. I can just imagine how hard it must have been for Aspe to keep quiet about such big news for an entire week! Mike and I, meanwhile, went on our babymoon in Astoria Palawan so we were at least distracted.
I honestly think that big gender reveal parties are impractical and a little gimmicky, so we didn't want a party party. We just wanted a very simple and intimate way to know the gender together with the people closest to us. Luckily, our family scheduled a get-together at my aunt's home to celebrate the August birthday celebrants in our clan, so we thought, "Hey, why not just do our gender reveal there?"
I told Aspe to not work too hard on the gender reveal gift and more importantly, not to spend so much money on it. But Aspe – being the perfectionist that she is – gave us something more than what we expected.
Her gender reveal gift box was so pretty, crafty, elaborate, and full of rhyme! Outside the box were the words: "Is it a he or a she? Soon you'll see. Open the box and follow the steps to reveal the mystery!"
We opened the first of the many boxes and saw another note that made us guess if it was going to be 'blue' or 'pink."
The next note said "Have a clue? Perhaps you do. Grab the bar that speaks to you." In the box were two Hersheys chocolate bars – one with blue glitters on the letters "HE" and the other one with pink glitters on the letters "SHE." Since we were positive it was a boy, we picked the "HE" bar.
After we plucked out the chocolate bar, a note asked us, "Are you sure? There's only one way to know. Lift the lid, burst the bubble, and now it will show!" Eeekkk! Almost there! Exciting!
We found a black balloon inside the box with the words "Pop me!" At first though, we didn't know that it was a balloon because it was already deflated! Haha! It looked more like a kidney! Anyway, using the pin that came with it, Mike slashed the balloon as we all held our breath.
Suddenly, pink confetti spilled from the balloon!!! We were so surprised and happy to find out that it's a girl!!!
But wait… there's more!
We gushed when we saw the ultrasound photo of our baby together with a cute pink onesie, booties, and hairband! Can you say "aww!"?! (We did!) The photo was a gift and a surprise from Dra. Ramirez and the pink baby gear were all from Aspe – as if they haven't done enough for us already! By the way, Aspe (the very excited tita of Manila) also got us two more onesies, socks, and baby towels. Someone went shopping!
We couldn't believe that we we're going to have our own little doll! We would have been okay with either a boy or girl, but from the start, Mike has always really wanted a little girl. The first thing my mom said was "I can't wait to buy baby girl clothes!" I'm so excited to dress her up too! Mike doesn't want her to be too girly, though, so that means no Barbie or Frozen gear for her! (By the way, I asked Mike how girly he thinks I am and he said "80% girly, 20% gay." Gee, thanks!)
My sister Alexa, who is very much excited to be an aunt, documented the entire gender reveal, that's why she's not in any of the photos or videos. She even made a 'same-day edit video' for us using only her phone, and it's wonderful!
Here is the cute video:
Do we have a name for her already? Yes, we do, but only our families and closest friends know! In fact, we came up with her name four years ago, way back when Mike and I have only been dating for a month! (If you think about it, it's pretty sweet that we were already contemplating on a baby name as early as a few weeks of going out!) Funny though, we only had a name for a baby girl. We only started thinking of a boy name later in my pregnancy! I guess we were really meant to have a girl!
We love her so much already. We can't wait to see this little lady!
We would like to say THANK YOU to the following people:
Dra. Ramirez and the staff of World of My Baby in Podium not only for joining in on the fun of this gender reveal, but also for just being so kind to us. I love them! Best place to have an ultrasound done!
My sister Alexa for the photos and video. These are memories we will treasure forever, and we can't wait to show them to baby
Our family for making this gender reveal more memorable and for being happy for us
My best friend Christina / Aspe for working so hard on this lovely gender reveal gift box. She made everything more special, not just for me and Mike, but also for our family.