I feel really lucky to be pregnant at a time when information on parenting and support for first-time moms (and dads) are so accessible! Since this is my first pregnancy, I have to admit that despite all my research, I am still so clueless about a lot of things, such as breastfeeding and how to take care of a fragile little baby (eek, scary!). Thankfully, I was invited by The Parenting Emporiumto attend a private class about these topics.
What is The Parenting Emporium?
The Parenting Emporium (TPE), founded by Beng Feliciano and Maricel Cua, is a venue of learning and support that fosters easier and better parenting by providing parents and soon-to-be parents with professional consultations, workshops, and seminars that address a wide range of topics including pregnancy, caring for newborns and toddlers, post-partum care, nutrition, education, and more.
As a retail store, TPE also carries premium baby and childcare brands that the owners themselves swear by. In this one-stop shop for baby and child needs, you can find great items from brands like Beginnings, Baby K'Tan, La-Z-Boy, Medela, Mustela, and many others.
TPE also functions as a social enterprise. They believe in paying it forward and giving back to the community. Hence, 3% of all purchases goes to their advocacies and beneficiaries.
Parenthood Shared
TPE believes that "no mother, father, or caregiver from any walk of life should stand alone. Each person can benefit from the support and wealth of knowledge offered by others, especially — but not limited to — those who are considered experts in their respective fields."
More than just being a store and a social enterprise, TPE is a community, and a positive community at that. Here, moms and dads are able to connect with like-minded people and receive the tools and assistance that they need to thrive as parents.
Breastfeeding 101
One of the main topics of our private class was breastfeeding, which was taught by Abbie Yabot, a Lactation Counselor and Parenting Educator. Before being pregnant, my knowledge about breastfeeding was limited. All I knew was that it hurts… a lot! I also thought it was as simple as offering your boob to the baby, and he or she will get the goods. But as I delved more into the subject, I realized that it's not as simple as I thought it was. I learned that yes, there are techniques to be able to breastfeed successfully!
Mike and I had previously attended another breastfeeding class before, which was quite informative. Still, it was a good decision to attend another breastfeeding lecture. What we liked about the class at TPE is Abbie's warm approach. Although she is a breastfeeding advocate (she breastfed one of her kids until she turned 6! Whoa!), she delivered her lecture in a very pleasant way. She highly encouraged breastfeeding, presented its many benefits to us, and shared what worked for her as a breastfeeding mom, but at the same time, she was never pushy and judgmental about those who choose not to breastfeed.
In Abbie's class, we learned about basic breastfeeding positions, signs of a good and poor latch, how to tell if baby is getting enough milk, and more. Oh, and I also liked how she emphasized on the dad's role in breastfeeding, which is basically giving moral support. Breastfeeding is serious business, and Abbie told the dads in the room "It's the little things like giving her a massage when her back is aching, or offering her a glass of water. Or when she feels so tired and sore, just tell her, 'Don't worry, you're still pretty.'" That'll work. Haha!
Although the class was more for me than for Mike (though I really wish he could breastfeed so we can take turns!), it was really good that he attended it with me. At least now he knows what a breastfeeding mom goes through, and if ever I get hormonal when it's my turn to breastfeed, he'll be more understanding about it!
At the end of the lesson, Abbie gave a disclaimer: knowing all the tips and tricks of proper breastfeeding doesn't guarantee 100% success. Things can go wrong, but it was comforting to know that there are people like her – highly-trained lactation consultants – that can visit moms in their homes and offer assistance in breastfeeding.
Newborn Care
For the second part of the private class, we learned about burping, umbilical cord care, bathing baby, dressing and swaddling baby, cloth diapering, baby's sleep, and sunbathing baby.
This part of the lecture was so much fun! It was more interesting because aside from just using slides, Abbie actually did live demonstrations of each sub-topic so we could fully visualize them.
Mike even got to swaddle a baby (well, a baby doll, at least). Not bad for his first time! And according to TPE's Instagram post, us moms "couldn't have felt more loved and supported by the active presence of their husbands as they learned all the skills!" I agree!
This talk was very beneficial for us, and we only wish that more time was devoted to this session. There was just so much to learn and so little time!
Gifts for the Parents-To-Be
At the end of the class, we received some very lovely gifts from TPE's partner brands: Moby Baby PH, Iflin Baby PH, Mellow Kids PH, Finn + Emma, and Coco Natura. I am so excited to use these on and for our baby!
For our snacks, we received these outrageously delicious chocolate chip cookies made with Coco Natura Coco Sugar. We ate them in one sitting! I don't feel so bad, though, because it has a low Glycemic Index (GI) of 35, which means it's helpful with weight management and good for diabetics!
Thank you, TPE!
It was truly a day well spent at TPE! I love learning about pregnancy and baby care, and TPE was really an ideal place to learn. It was quiet, comfortable, and welcoming. I finally got to meet Maricel, who was very friendly and animated. She was also nice enough to give us a quick tour of the store while explaining the different items in the shop to us. When she talked about the products, her passion and enthusiasm were really infectious. Seeing how much she loves the products kind of makes you go, "Take my money!"
Seriously though, this is like a baby wonderland. Toys, cloth diapers, baby carriers, baby toiletries, essential oils… you name it, they have it! This is the perfect place to go to if you are planning a baby shower and creating a registry, if you're about to give birth and need to make some last-minute purchases for the baby, or if you're a mom who just needs some pampering products for yourself!
Thank you, Beng and Maricel of TPE, for inviting us to this class and for helping us become more prepared as parents-to-be!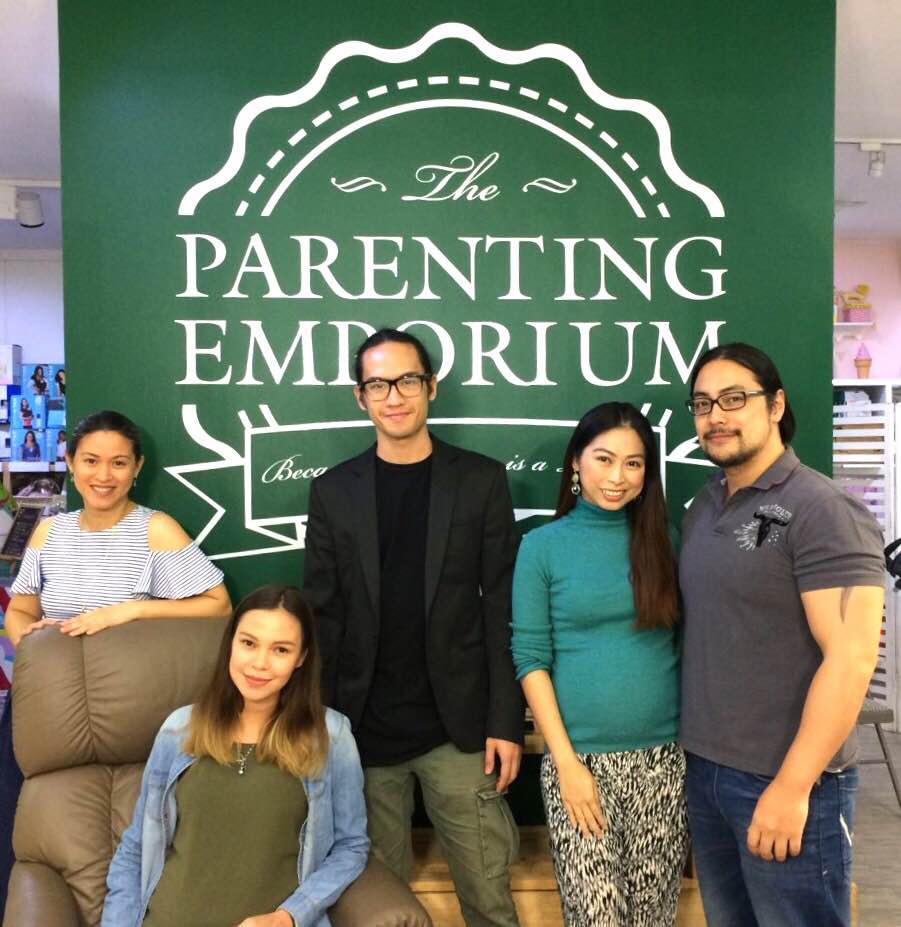 The Parenting Emporium
Address: No. 29, 1st Street, New Manila, QC
Phone: 7253723 / 7386272 / 0917-5614366
E-mail: theparentingemporium@gmail.com
Facebook: https://facebook.com/theparentingemporium/
Instagram: http://instagram.com/theparentingemporium