Actress Pauleen Luna just gave birth to her beautiful baby girl, Talitha, just in time for her birthday! I had the pleasure of meeting this pretty mama, as well as her husband Vic Sotto, when I hosted their baby shower with the Luna family held last September 30 at Zuni Restaurant in Greenbelt 5.
This tassel-themed baby shower was seriously one of the prettiest baby showers I have been to! When Vic and Pauleen stepped inside the venue and saw everything prepared for them and their #BabyBosleng, the joy on their faces was undeniable. Here are the photos from their shower! (NOTE: Photos with watermark are from Nice Print Photo. Those without watermark are from my phone)
I'm in pink tassels heaven! Gary Dacanay of Mindworks Productions did an exceptional job in prettifying the venue!
The happy couple!
That cake by Honey Glaze Cakes is just unbelievable! That is a work of art!
Gifts and souvenirs table, with items from Mothercare and Baby Bench.
I didn't get to take a lot of photos of the food by Zuni Greenbelt 5 since the buffet area was a little busy, but here's what I got:
I love this gorgeous dessert bar by One Sweet Day Ph! Pink + sweets? Oh my! I would have camped out here all day if I could!
Guests not only enjoyed the food and entertainment at the baby shower, but they also got to sample items from the various food carts like Loopers Handcrafted Churros, R-Freezy Fried Ice Cream, and Lollipuffs Cotton Candy, as well as bring home small bottles of perfume from NC Perfume Bar. Lucky guests! All they had to do was show up and they got all of these!
I asked for a Hello Kitty cotton candy from Lollipuffs! (I'm actually 8 years old, in case you didn't know). Unfortunately, because it was so hot outside, it melted in seconds! Here's my deformed Hello Kitty candy floss. Still yummy though!
One of the highlights of the baby shower was this Skin Care Station by Pru Botanica. It's such a great concept! Guests can fill up small jars with a combination of soaps, body oils, body salts, flowers, and petals. They also have hand sanitizers, dusting powders, and aroma waxes. The packaging is also really cute! And best of all, they're made with natural ingredients so they're safe for mamas-to-be (like Pauleen and me!)
At the time of the baby shower, a lot of people still did not know the name of Vic and Pauleen's baby. All they knew was that it starts with the letter T. When I asked Pauleen, she revealed the name to me (I had to keep mum about it, of course!) and said that the name Talitha means 'little girl' in Aramaic. So sweet!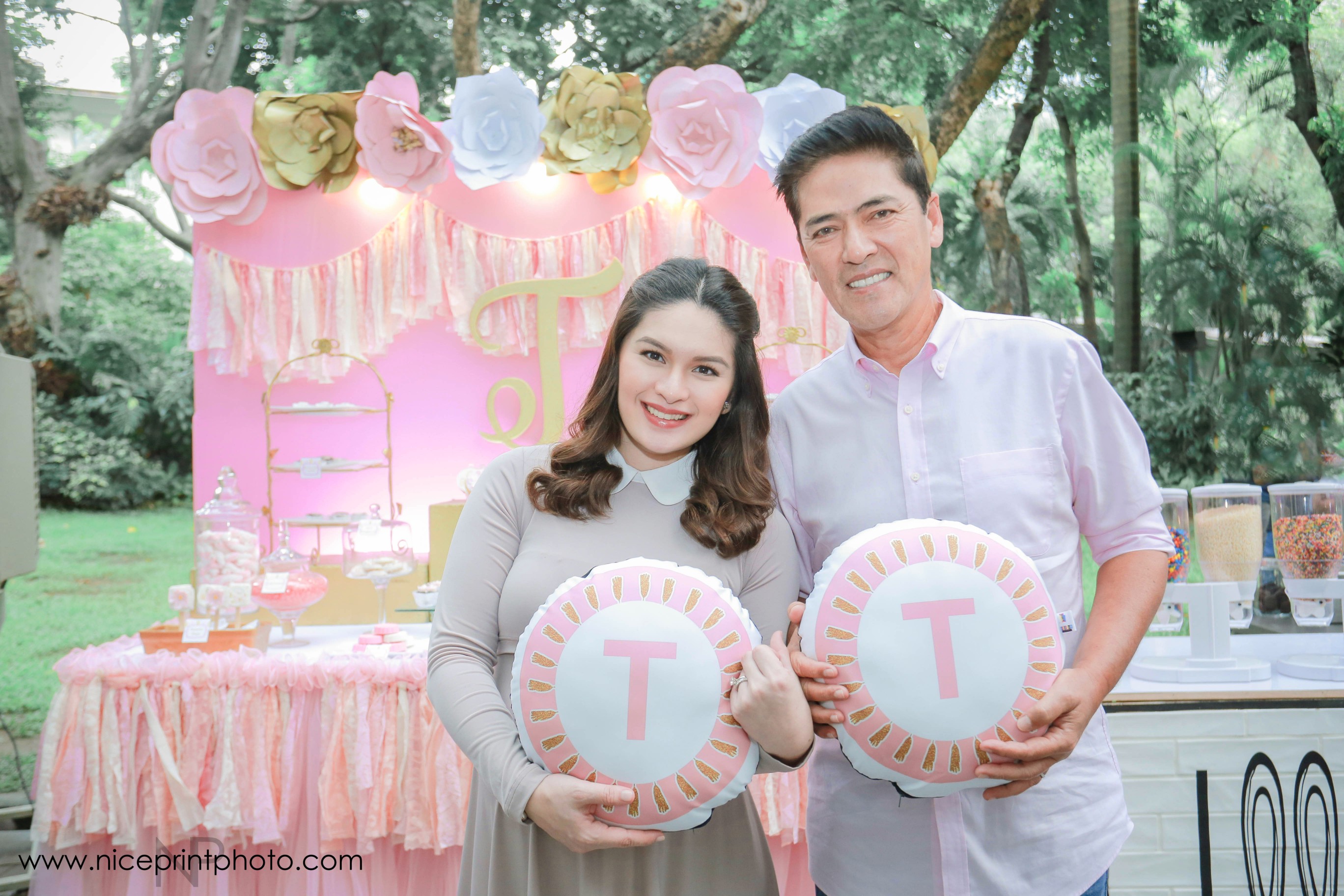 The program was short, sweet, and very intimate. It was mostly just the parents-to-be and Pauleen's family bonding and spending time with one another. We did play a few games, such as this one where the men had to untie and tie their shoelaces with a big balloon inside their shirts, as if they had a baby bump. Ahh, men, you think it's easy being pregnant?! Try bending with a tummy the size of a watermelon and you'll know what a struggle it is!
A lot of people have been asking me: "So, what are Vic and Pauleen like?" I can say that they are nice and down-to-earth, not at all 'showbiz-like.' Pauleen even asked me: "Are you a DJ?" (Oh gosh, she just made my day!) Noticing that I'm also pregnant, Vic joked, "Ah, buntis ka pala. Akala ko busog ka lang eh!" ("Oh, you're pregnant! I thought you're just full!") Pauleen and I chatted a bit about our pregnancy and I found out that we were both having December babies (her due date was supposed to be December 10, mine is December 21), although now we all know that her baby came out much, much earlier, making Talitha a November baby! But even though she came out sooner than expected, I'm sure Pauleen is thrilled that she gets to spend her birthday this year with her sweet bundle of joy!
Pauleen was energetic, playful, and cheerful. Vic, to my surprise, was quite soft-spoken! On TV, he talks a lot since he hosts for a living, but at the baby shower, he was actually a man of few words. Every time I interviewed them, Pauleen would say something and Vic would go, "Like what she said!" or "She said everything already," which cracked everyone up.
Congratulations again, Vic and Pauleen! I had fun hosting your lovely baby shower! 🙂 And big thanks to Events by Miss P for organizing this event and for getting me to host once again!
Watch this video by Nice Print Photo showing the highlights from Pauleen and Vic's baby shower:
SUPPLIERS:
Event Host: Hosting by Nadine Smith
Planner & Coordinator: Events by Miss P
Styling: Mindworks Productions by Gary Dacanay
Venue & Catering: Zuni Greenbelt 5
Gifts: Mothercare
Souvenirs: Baby Bench
Photo & Video: Nice Print Photography
Lights & Sounds: DjN Audio and Lighting System
Dessert Bar: One Sweet Day Ph
Cake: Honey Glaze Cakes
Skin Care Station: Pru Botanica
Pillows: Arteegram Manila
Food Carts: Lollipuffs (Cotton Candy), R-Freezy (Fried Ice Cream), Loopers Ph (Handcrafted Churros), NC Perfume Bar (Perfume Bar)
Calligraphy: Inkmed
Balloons: Blloons
TO INQUIRE ABOUT MY HOSTING SERVICES AND RATES: